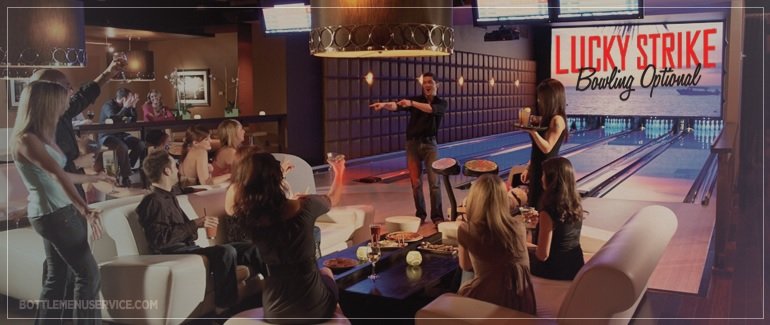 Awesome, Popular Downtown Los Angeles Top-Ranked Nightlife Entertainment Destination 2017:
Lucky Strike LA Live
Address: 800 W Olympic Blvd
Los Angeles, CA, 90015, USA
Capacity: 550
Venue Type:
Gastropub · Bowling Alley · Bar · Lounge · Dance Club
Hours of Operation:
Mon-Thu: 11:30 am – 1:00 am, Fri: 11:30 am – 2:00 am, Sat: 11:00 am – 2:00 am, Sun: 11:00 am – 1:00 am.
---
Girls Night Out
Venue Profile
Luxe Lounge
Venue Policies
How Can We Help?
Virtual Tour
Lucky Strike LA · ULTIMATE GIRL'S NIGHT OUT
Girls night out takes on a whole new meaning at Lucky Strike LA Live, part bowling alley, part nightclub, and all awesome. It's the perfect place to talk smack with the ladies and earn some bragging rights for your amazing tenpin skills.
Forget about that tattered old bowling shirt. These lanes call for your finest designer duds, which might catch a look from one of the Lakers after the buzzer sounds at the Staples Center across the street. It's all about being seen as you boogie to the hottest tunes while a VJ controls the theater-quality surround sound system and 14 flat screens.
Mix and mingle amid the hip crowd, or go for the V.I.P. experience in the Luxe Lounge — complete with full-service bar, two pool tables, and four private lanes.
Lucky Strike LA · VENUE PROFILE
Since the beginning Lucky Strike Entertainment has been dedicated to a unique upscale style that combines fun and hip. Lucky Strike LA represents the brand's most exciting foray into chic entertainment. This entertainment mecca truly has it all, boasting 18 bowling lanes, designer seating, sophisticated menus, live DJs, billiards, private rooms, plasma TVs, full-service bar and electronic art shows. The venue offers an extensive menu for lunch, dinner, late night dining, private and semi-private events. Good food, good drinks and good people makes for good times. The entire facility can accommodate 500 people inside and 50 people outside. Lucky Strike LA Live is a full entertainment experience with an upscale bowling, restaurant and bar with a retro contemporary look and feel.
View Venue Floor Plan
---
Lucky Strike LA Venue Amenities and Features: 18 Bowling Lanes · Billiard Tables · 17 Big Screens · Full service bars · DJ Booth · World Class Sound System · cutting edge a/v systems · 20ft x 12ft HDTV Projection Screen · LUXE Lounge · 550 person capacity · Parking Lots available at L.A. Live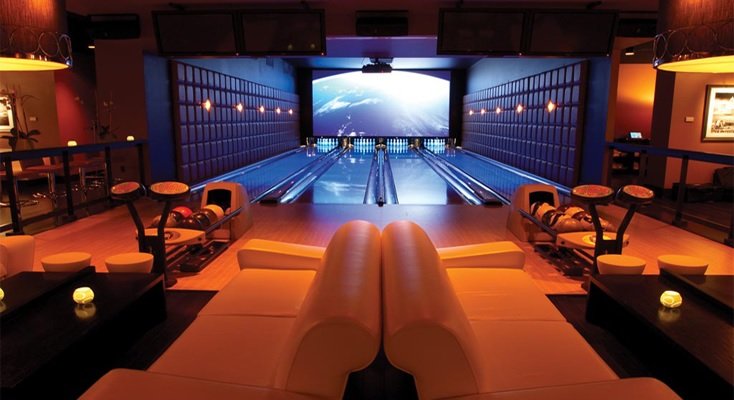 Lucky Strike LA Live · LUXE LOUNGE
Luxe Lounge offers private bowling alleys and lounge seating. Lucky Strike LA Live also hosts the ultimate nightlife atmosphere with the Luxe Lounge. What's a bowling lounge? Think bowling blended into a sleek atmosphere with plush designer seating, cozy dining areas, an exceptional menu, private party areas, a posh VIP suite called Luxe, billiards, deejays and electronic art shows projected all over the lanes and lounge. It's pure energy and pure fun! Luxe is a four lane private suite. The high-definition projection screens that span the pins and boasts a theater quality surround sound system. Luxe Amenities: 110 person capacity · Private Room · Full service private bar · 4 private lanes · 2 Billiard Tables
Lucky Strike LA Live · VENUE POLICIES
Thanks to the ample booze, the alley admits over-21s only after 8pm daily. Government issued I.D. attesting to the fact that the guests are 21 years of age or older is always required for entry to the venue. No exceptions. Management reserves the right to deny entry for argumentative, rude or offensive behavior.
Lucky Strike LA Live does enforce dress code requirements after 7pm nightly. But don't worry, dressing appropriately for the club isn't rocket science. Follow these tips and your clothes won't get you turned away.
Lucky Strike LA Live · DRESS CODE
First off, What's not allowed? As you now know, just because it is against the formal dress code doesn't necessarily mean it won't occasionally get through the door. Often times if you show up with a very stylish look, things are overlooked. Still, be mindful that these are things that are universally "not allowed" per official dress codes: baggy jeans, sports hats, tennis shoes, shoes that are considered too "sports like," shorts, cut-offs, jerseys, and beanies.
What about denims or jeans? Jeans are completely acceptable at every club in LA. You just want to make sure that your jeans look good, as most LA clubs frown upon torn, rugged jeans. Also, you shouldn't try to walk in wearing really baggy jeans. You will get rejected. Probably even laughed at. Bad idea.
Make sure your look matches the image of the venue. The bottom line is, you should do what you can to match the image of the crowd at the club you are going to. If you are going to a venue known for it's cool downtown crowd, definitely don't wear a suit. If you are going to a venue known for an upscale crowd, maybe a stylish sports coat is not such a bad idea. Tailoring your look to the venue goes a long way towards convincing the doorman to let you in.
Free Party Planner · HOW CAN WE HELP?
Let our free concierge service help you plan the best birthday. BottleMenuService offers an unparalleled database of L.A. top nightlife venues. Whether you're looking for a chic lounge, trendy mega-club or simply need a little input, BottleMenuService gives you insider access and perks to the most exclusive and in-demand nightlife hot spots – completely free of charge.
For a spectacular Birthday or All Occasion event, give us a call +1 (310) 749-9029. Furthermore, customers can inquire out about special amenities like VIP admission, table discounts, photographer and more via our online form. Whether you need a few recommendations or help with booking and arrangements, we will provide free, customized party planning service so you can have a truly special birthday.
---
Lucky Strike LA Live
800 W Olympic Blvd
Los Angeles
,
CA
90015
United States
---
Lucky Strike LA Los Angeles
---