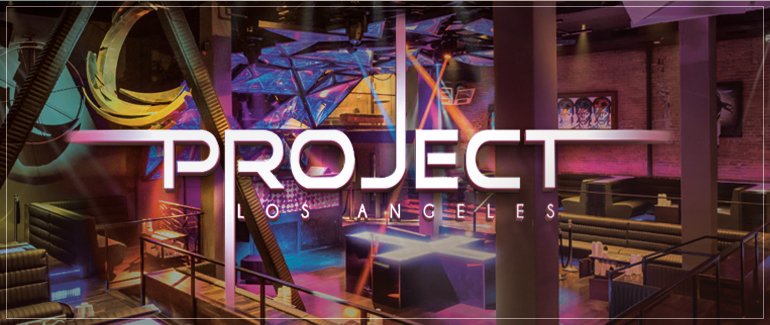 Project Club LA Los Angeles
DJs & neon lights attract crowds to the dance floor at this legendary nightclub of "SNL" fame in the heart of Hollywood.
Address:
6356 Hollywood Blvd
,
Los Angeles
,
CA
Phone: +1 (310) 749-9029
Typical Hours: 10:00 PM – 2:00 AM on Thursdays, Fridays, Saturdays
Project Club LA embodies world-class friendly service, exclusivity, fun, and the ultimate in Hollywood clubs with a personal touch. Their goal is to make you forget your troubles in an all-inclusive outlandish environment while providing excellent service.
The concept of Project LA is an interactive social experience that is all-inclusive, fun, and mesmerizing. Patrons will pass through velvet ropes and into an unforgettable experience. Project dazzles patrons with avant-garde performances, top DJs, big name entertainment and cutting-edge revelry. This LA top club is perfect for both Hip Hop Music and EDM. You're bound to see long lines of people eagerly waiting to enter this LA top club venue for a night of drinking, dancing, mingling, and who knows what else.
Bottle Service
Venue Profile
Dress Code
How Can We Be of Service
Project Club LA · Bottle Service VIP
Bottle Service is always best to ease entry into Project Club LA. The venue features 17 booths. Patrons can option for VIP table service on the lively dance floor or in large spacious booth. To RSVP, call/text +1 (310) 749-9029.
---
---
Table located around the dance floor.
---
Tables located in center of venue on dance floor.
---
The best table in the house!
---
Bottle Service Menu
Project Club LA · Venue Profile
The first Gensler designed nightclub in the world is right here in Hollywood. Welcome Project LA, which launches tonight in the legendary Roxbury space along Hollywood Blvd huddled in between Hemingway's and Beso. Headed by Boulevard Nightlife Group and Project London, find an immersive experience with angular lines, next-level laser lights over a modest dance floor, and a smattering of tables with clear views of the space.
It feels edgy and futuristic because that's the point — no exposed incandescent or weathered wood to be found. An illuminated DJ booth looks over the dance floor while a mesmerizing triangle light show done by V Squared Labs hangs above revelers. Check out this cocktail menu, though prices reflect UK pounds. One wonders, which celebrity will be the first one to order the F*** Me I'm Famous? (A cinnamon fireball served with pop rocks candy).
Venue Floor Plan
What is the dress code at Project Club LA
Dress code is required to ensure entry into Project LA, especially for men. To avoid any problems getting into the club it is recommended that men wear nice pants or jeans, a collared shirt or sport coat, and dress shoes. Please avoid shorts, sandals, hats, and athletic attire. If you are not sure if your clothes will pass the dress code play it safe and dress nice.
Many people have questions about the dress code at L.A. top clubs. And one area that always seems to draw more uncertainty is footwear. In order for men to be on the safe side, dress shoes will always be accepted. Work boots or athletic workout shoes and sandals will also always be a no go. That leads us to a gray area. Many sneakers are quite fashionable and expensive. These types of shoes are usually a go, but can depend on the event. During holiday weekends and major events, Project can be more strict on the dress code.
Most of the time Los Angeles nightclub dress codes are catered toward what men need to wear to get into the clubs. Women can get away with wearing almost anything they want. However, we have seen instances where flip flop sandals were looked down upon. A cute or sexy dress that fits your body type with a nice set of heels will always work.
In order to get into Project Nightclub, you want to catch the attention of the door hosts and promoters. They are usually the ones that want to make sure the best looking ladies get into the club quickly. Choose a dress that has vibrant colors to stand out. Always wear heels, even if they hurt, and NEVER EVER take them off.
Project Club LA VIP · How Can We Help?
Simply fill out the form below to submit your VIP RSVP directly to Project LA. We will send you a confirmation and keep you in the loop each step of the way. Plus our services come at no cost to you. If you do not hear from us within 24 hrs, or if you desire a quicker response, please send us a text message at at +1 (310) 749-9029.
Watch as one of the most unforgettable nights of your life unfolds … with a fun, sophisticated atmosphere filled with hip-hop music and world-renowned DJs in the heart of Hollywood.
---
Project Club LA
1661 Ivar Ave
Los Angeles
,
CA
90028
United States
---
Project Club LA
---