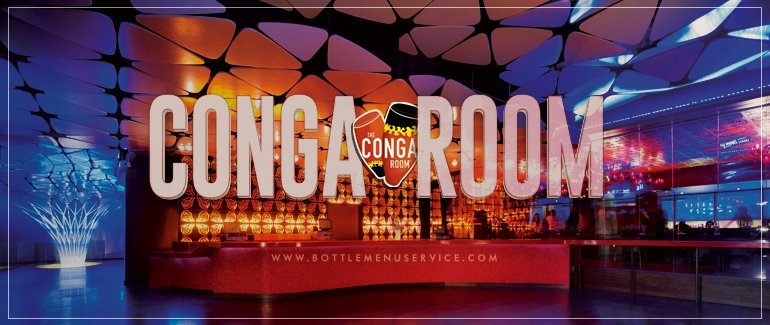 Downtown Los Angeles Top Club · Where to Club Downtown Los Angeles
Conga Room | Nightlife in LA
Address: 800 W Olympic Blvd
Los Angeles, CA, 90015, USA.
Capacity: 1000+
Venue Type:
Nightclub · Live Music · Restaurant · Concerts · Dance Club
Hours of Operation:
Fri-Sat: 9:00 pm – 2:00 am.
---
The world famous Conga Room is co-owned by Jimmy Smits, Jennifer Lopez, Paul Rodriguez, Sheila E., Amaury Nolasco, Baron Davis, Trevor Ariza, and Will.i.am. The venue features a pan-Latin cuisine and live entertainment ranging from salsa and world-beat to rock en Español, jazz, urban, top 40, and pop/rock as well as recently launched an EDM (electronic dance music) night on Fridays. Designed by the award-winning Belzberg Architects, Conga Room boasts a breathtaking VIP area with panoramic views of the Staples Center and Nokia Plaza. Representing the culture of L.A., #CongaRoom offers the best experience possible with all your favorite artists on Friday and Saturday nights in Downtown LA.
---
Bottle Service
Venue Profile
Venue Policies
VIP Concierge
Conga Room Promo Vimeo
Directions
Conga Room · Bottle Service
Looking to have the time of your life and have a VIP Experience? #CRLA is the known for being the premiere venue in downtown Los Angeles at LA Live. The World Famous Conga Room is the club venue of choice among trendsetting clientele with its upscale design, fine dining and award-winning performers. Dance the night away at the top nightlife venue in L.A. Downtown. From unique cocktails, imported beer, to VIP seating and bottle service, Conga Room is an experience in itself.
The best table at Conga Room is the dance floor table with a prime location and center of attention. If you really want to impress your friends, whether it's for a birthday or a night out on the town without breaking the bank, you can't go wrong with a dance floor table at Conga Room. Main room VIP tables start at a $300 minimum for a party of six. And $600 minimum for a larger party of 12 people. Dance floor tables require $900 table service minimum spend for a party of 18.
View Bottle Menu

Conga Room · Venue Profile
Located in the heart of Downtown L.A. at L.A. LIVE, The Conga Room's award winning world-class entertainment facility features a diverse array of event spaces, an expansive performance stage and dance floor, a live radio/video broadcast booth, Pan-Latino restaurant BOCA and catering services provided by the legendary Wolfgang Puck. With capacity to host anywhere from 10 to 1,055 guests – The Conga Room's state-of-the-art live event facility is the perfect fit for events from record launches to movie premiers, award shows to social, philanthropic, political, and corporate events. Conga Room also offers 3 fully stocked bars, plush VIP seating areas, an elevated DJ booth, an acoustically engineered ceiling and breathtaking panoramic views of Staples Center and L.A. Live.
View Venue Floor Plan
---
AMENITIES+FEATURES:
Accommodates up to 1,000+ guests
Space Size (Length x Width) in feet: 15,000 (4 levels)
VIP/Red Carpet Events
State-of-the-Art Broadcast and A/V Capabilities
Panoramic View of L.A. LIVE
Special Events Catered by Wolfgang Puck
Dance Floor
10 Private & VIP Rooms
Full staging capabilities
SPECS (CAPACITY) FOR EACH ROOM:
Ballroom · Seated – 400 People / Reception – 800 People
Platform · Seated – 30 People / Reception – 50 People
Balcony · Seated – 30 People / Reception – 90 People
Boca · Seated – 75 People / Reception – 100 People with Balcony which oversees the plaza at L.A. LIVE.
Papaya Bar · Seated – 50 People / Reception – 150 People with Balcony which oversees the plaza at L.A. LIVE.
Azuquita · Seated – 30 People / Reception – 50 People
Azucar · Seated – 40 People / Reception – 75 People
---
Virtual Tour
Conga Room · Dress Code Policy
Please dress 'up-scale'. Conga Room does enforce their dress code policy. The venue wants you to be comfortable while you are there, and that means looking your best.
WHAT TO WEAR AND NOT TO WEAR:
No sandals or flip-flops, Dress tennis shoes OK
No shorts
Jeans OK, but not ratty or baggy jeans
Baseball hats and beanies are not allowed
No white t-shirts, tanks, sleeveless shirts, jerseys or clothing with sports logos or hooded sweatshirts
Conga Room · Age Requirements
Conga Room strictly adheres to the regulations put forth by the California Alcohol Beverage Control regarding entrance into nightclubs. Patrons must be at least 21 years of age with valid ID to be granted entry. The following is not accepted as valid ID: Expired or punched IDs, DMV computer printouts, photocopy of ID or birth certificates. Foreign ID and passports are accepted if they include a photo ID, have a name and date of birth in English, and can be validated as a real identification. False or counterfeit IDs will be confiscated. No exceptions. All subject to the discretion of door staff. Management reserves all rights.
Conga Room · VIP Party Inquiry
For revelers with a taste for the high-life, Conga Room offers L.A. club packages that will make you feel like royalty. Need more information or help booking your bottle service? Let us know. We'd love to hear from you. Enter your reservation request below or call +1 (310) 749-9029. Please be as detailed as possible about your event and we will reach out to you shortly. If you do not hear from us within 24 hrs, or if you desire a quicker response, please send us a text message at +1 (310) 749-9029. Find the best L.A. club bus packages online at www.partybusnightclub.com
---
Conga Room
800 W Olympic Blvd
Los Angeles
,
CA
90015
United States
---
Conga Room
---