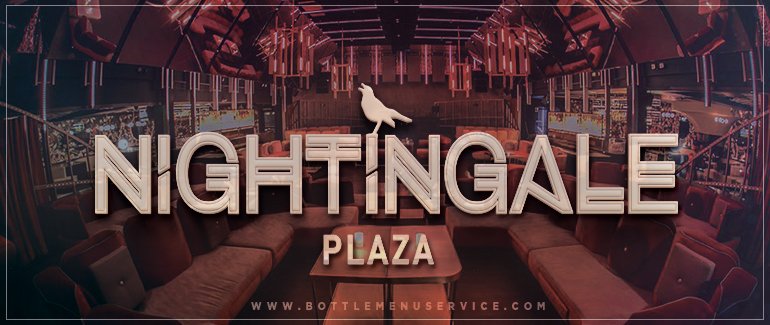 Best Exclusive Clubs in Los Angeles · L.A. Top Nightlife 2017:
Nightingale Plaza · Greystone Manor
Address: 643 N La Cienega Blvd
West Hollywood, CA, 90069, USA.
Capacity: 500
Venue Type:
Nightclub · Supper Club · Performance Venue · Dance Club
Business Hours:
Wednesdays and Saturdays, 10:00 PM – 2:00 AM
---
In the former Greystone Manor location, this buzzy nightclub from sbe is home to a thumping dance floor; two adjacent lounges that are more demure but no doubt clubby; and an oasis-like patio. Despite futuristic touches like mirrored ceilings and LED walls, Nightingale Plaza has a vaguely "European courtyard" theme, which explains the trippy, floral wallpaper throughout. Expect signature, pricey drinks, and of course, the best of bottle service VIP.
---
Venue Profile
Dress Code
Free Party Planner
Directions
Nightingale Plaza · VENUE PROFILE
Nightingale Plaza is SBE's latest club concept located in former Greystone Manor space, which is being reimagined as an avant-garde, nightclub named after Hollywood's after-party-rich Bird Streets. The entrance leads to an elegant lounge with surreal wallpaper strewn with phantom limbs, flowers with eyes and the occasional extraterrestrial dinosaur.
SBE enlisted the renowned Rockwell Group for the design. Inside, guests can lounge, dine, or dance in four distinct environments. Between a sculpted fire place, mid-century banquettes and the state-of-the-art kinetic ceiling covered in 15 folding mirrored panels over the dance floor, there is something for everyone. The ceiling starts in a closed position and over the course of the evening, as the energy builds, the mirrored planes gradually unfold revealing a digital light show above creating a dramatic reflective landscape.
The most instagrammable feature is the Rockwell Group-designed wallpaper, inspired by exotic foliage and magical surrealism. Plus, there's a photo booth, lined in the wallpaper, that can easily fit eight-plus people. But have a game plan upon entering, because mastering the boomerang-like gif setup can take a minute. It's only a matter of time before Nightingale gains mention in a hip-hop song, just like Drake and the Game did for its predecessor, Greystone Manor.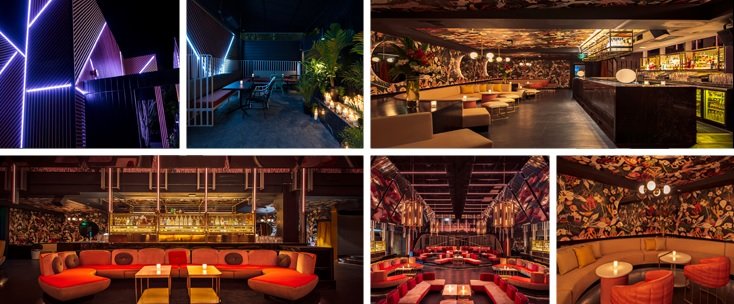 The property is poised to be the next step for elite Hollywood, where refined elegance meets tastefully crafted technology. This high-energy concept will provide the world-class luxury sbe patrons have come to expect, elevated by cutting edge technology and entertainment. Nightingale is open from 10pm to 2am Wednesday and Saturday nights.
View Venue Floor Plan
Nightingale Plaza One Sheet
Nightingale Plaza · DRESS CODE
First off, What's not allowed? As you now know, just because it is against the formal dress code doesn't necessarily mean it won't occasionally get through the door. Often times if you show up with a very stylish look, things are overlooked. Still, be mindful that these are things that are universally "not allowed" per official dress codes: baggy jeans, sports hats, tennis shoes, shoes that are considered too "sports like," shorts, cut-offs, jerseys, and beanies.
What about denims or jeans? Jeans are completely acceptable at every club in LA. You just want to make sure that your jeans look good, as most LA clubs frown upon torn, rugged jeans. Also, you shouldn't try to walk in wearing really baggy jeans. You will get rejected. Probably even laughed at. Bad idea.
What about my shoes? You are always safe with leather and dress shoes. Work boots or athletic workout shoes and sandals will also always be a no go. That leads us to a gray area. Have some trendy kicks that you want to wear out? Officially, they aren't allowed, but most LA top clubs are relaxing the rules on shoes if you compensate elsewhere in your outfit. Many sneakers are quite fashionable and expensive. These types of shoes are usually a go, but can depend on the club and the event. During holiday weekends and major events the nightclubs typically get stricter on the dress code. Have on a STYLISH collared shirt, jacket, nice pants with your fashionable sports shoes? Technically speaking it's against the "rules," but you might be just fine.
Nightingale Plaza · DRESS CODE FOR LADIES
The dress code is simpler for the ladies, just wear whatever you look hottest in! You can go glamorous with a cocktail dress, or keep it casual with jeans and a dressy top. There is only one thing that you need to know – heels. Wear heels. In all seriousness, all that most girls need to do is make it look like they put in a little bit of an effort. If a girl is attractive enough, she can get in wearing pretty much anything. But if you're thinking those sparkly sandals or designer brand flats are going to cut it, think again.
How Can We Help? · FREE PARTY PLANNER
Let our free concierge service help you plan the best birthday. BottleMenuService offers an unparalleled database of L.A. top nightlife venues. Whether you're looking for a chic lounge, trendy mega-club or simply need a little input, BottleMenuService gives you insider access and perks to the most exclusive and in-demand nightlife hot spots – completely free of charge.
For a spectacular Birthday or All Occasion event, give us a call +1 (310) 749-9029. Furthermore, customers can inquire out about special amenities like VIP admission, table discounts, photographer and more via our online form. Whether you need a few recommendations or help with booking and arrangements, we will provide free, customized party planning service so you can have a truly special birthday.
---
Nightingale Plaza
643 N La Cienega Blvd
West Hollywood
,
CA
90069
United States
---
Nightingale Plaza
---