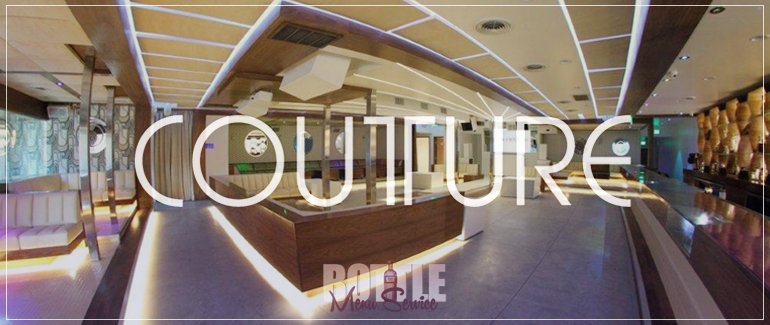 Couture Hollywood
Address: 1640 N Cahuenga Blvd
Los Angeles, CA 90028, USA.
Hours: Tue-Wed: 10PM-2AM, Fri-Sat: 10PM–2AM
Venue Type: Nightclubs, Lounges, Restaurants, Private Rental Venue
Capacity: 600
---
A pioneering cocktail lounge located in the heart of Hollywood, Couture is a 22nd century chic fantasy. Streamline and highly stylized, the venue is outfitted with plush banquette seating, action-packed light displays, illustrious full service bar and catwalk. Couture Hollywood is a LED-embellished destination that takes millennial nightlife to the next level. It's always Fashion Week at this premier fashion-eccentric cocktail lounge.
---
BOTTLE SERVICE
VENUE PROFILE
HOW CAN WE HELP?
COUTURE HOLLYWOOD · BOTTLE SERVICE
Introducing Couture, a new breed of nightclub that's mixing high fashion with champagne-fueled absurdity. Come here when you're looking to get all kinds of irresponsible. Imbibe some bubbly. Dance wildly. The venue provides an elite nightlife experience in the heart of Hollywood. Part stylish dance club, part indulgent restaurant, Couture offers an exciting dance floor along with a Euro-Fusion designed outdoor patio.
Get dressed up and spend a luxurious night on the town. Listen to L.A.'s best DJs and captivating music while you live it up at Couture. Sip, savor, see, and be seen! Sleek and sexy ambiance coupled with top-notch live entertainment make Couture the perfect backdrop to any occasion. The restaurant offers lunch, dinner, and late night meal choices for you and your friends to enjoy a taste of Hollywood. There's also a special deal on bottle service – $500 for Two Bottles – with table located in the main room. Limited availability for this deal on a weekly basis so be sure to check with us.
View Bottle Menu

COUTURE HOLLYWOOD · VENUE PROFILE
Couture provides the perfect setting to host your next event whether it be a private party, video shoot, fashion show, or wrap party. Low profile seating compliments a stylistically geometric shelf for drinks that live behind the bar. Glass cases built into the bar offer the latest in handbag fashion, silk scarves, and designer watches. Ideal for designers to showcase their latest collections, Couture is a high-end unique experience catering to fashionistas and artists.
View Venue Floor Plan
---
VENUE HIGHLIGHTS | AMENITIES INCLUDE:
Full-scale dance club and restaurant
Lovely landscaped and Caribbean inspired outdoor patio
Turbosound powered sound system
Customizable lighting system with over 14 moving head lights
The panoramic mirrored HDTV screens provide visuals
Fog and Haze machines can transform an elegant and VIP event space into an ultimate party experience.
COUTURE HOLLYWOOD · PARTY PLANNER
Need help selecting the right party? Try our personalized concierge service! Let our free concierge service help you plan the best birthday, bachelorette, or "just because I wanna" party ever. BottleMenuService is one of the biggest names in nightlife event planning and we offer an unparalleled database of current LA top clubs. Whether you're looking for a chic lounge, intimate bar, trendy mega-club, or simply need a little input, BottleMenuService gives you insider access and perks to the best exclusive clubs in Los Angeles – completely free of charge.
For a spectacular Birthday Party or All Occasion event, give us a call or text +1 (310) 749-9029. VIP nightlife specialists are standing by and ready to speak with you about special amenities like VIP admission, table discounts, party bus club packages, and more. Whether you need a few recommendations or help with booking and arrangements, we will provide free, customized party planning service so you can have a truly special birthday in LA.
---
Couture
1640 N Cahuenga Blvd
Los Angeles
,
CA
90028
United States
---
Couture Hollywood
---