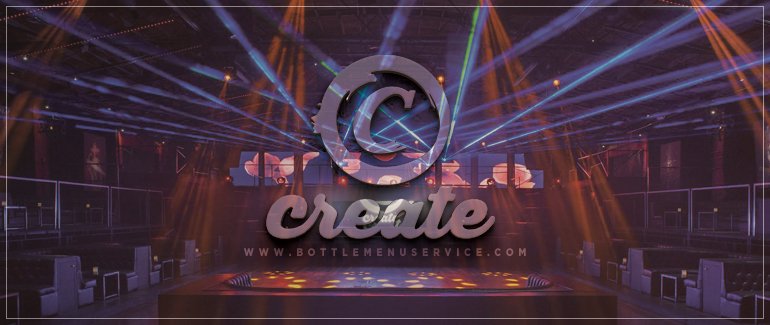 Most Famous Electronic Music LA Top club · Where to find best electronic music LA events:
Create Nightclub AT CREATE IN HOLLYWOOD
One Hollywood's premier EDM clubs with over 20,000 square feet of party bliss divided into three areas of nonstop nightlife action.
Address:
6021 Hollywood Blvd
,
Los Angeles
,
CA
Phone: +1 (310) 749-9029
Hours of Operation:
Fri-Sat DOORS 10PM TO 4AM
Age: 21+
Create Nightclub in Los Angeles not only showcases some of the world's highest-profile dance music talent, but also serves as a laboratory for emerging artists to explore and hone their craft, and where lighting and sound designers develop and test innovative technologies. If you're an EDM-only kind of clubber, CREATE is perfect for you.
Upcoming Events
Venue Profile
Table Minimums
Dress Code
Party Planning
CREATE Nightclub · UPCOMING EVENTS
CREATE Nightclub · VENUE PROFILE
Experience Create Nightclub in Los Angeles. One of the premier electronic dance music (EDM) clubs in Hollywood, Create is a SBE venue that houses 20,000 sq. ft. of spectacular possibilities limited only by your imagination. This year, head to Create to catch DJs like Tiesto, EC Twins, Blasterjaxx and more. If you like exploring a venue, then this is the place for you. It's divided into three rooms including a main room, a second floor lounge and an outdoor patio to help you cool off from all the partying inside of the main room.
In one instant the DJ steps onto the stage and the room erupts into a mass with individual dancers flowing in unison to the beat. Experimentation is key at this rather venue, which is surprisingly intimate compared to other various venues. It helps that each of the rooms has a smaller capacity sans the main room, which can cram a lot of individuals dancing, drinking and participating in some good ole fashioned debauchery, but I mean the legal kind. One of the most exciting elements of Create is that it's different. It features a variety of musical experimentation, which lends itself all the way through to the type of mixology served here. Definitely a place that fits its name, Create ignites creativity for the night.
Venue Floor Plan
CREATE Nightclub · VIP TABLE MINIMUMS
To experience the impossible opulence of VIP bottle service at its fullest, it is essential to make a visit to CREATE. And the advantages of having a VIP table is amplified when a super famous, talented DJ is scheduled to kill it that night. To RSVP VIP, call us at
+1 (310) 749-9029
.
* Pricing and table minimums vary depending on event, availability, group size, and table location.
---
---
Table located in main room. Minimum may be used on beverages. Minimum does not include $75 entertainment fee.
---
Table located in main room closer to DJ. Minimum may be used on beverages. Minimum does not include $75 entertainment fee.
---
Prime table located behind the DJ booth. Minimum may be used on beverages. Minimum does not include $75 entertainment fee.
---
Table located on the Stage, next to DJ booth. Minimum may be used on beverages. Minimum does not include $75 entertainment fee.
---
Bottle Service Menu
CREATE Nightclub · DRESS CODE
First off, What's not allowed? As you now know, just because it is against the formal dress code doesn't necessarily mean it won't occasionally get through the door. Often times if you show up with a very stylish look, things are overlooked. Still, be mindful that these are things that are universally "not allowed" per official dress codes: baggy jeans, sports hats, tennis shoes, shoes that are considered too "sports like," shorts, cut-offs, jerseys, and beanies.
What about denims or jeans? Jeans are completely acceptable at every club in LA. You just want to make sure that your jeans look good, as most LA top clubs frown upon torn, rugged jeans. Also, you shouldn't try to walk in wearing really baggy jeans. You will get rejected.
What about my shoes? You are always safe with leather and dress shoes. You can even occasionally get away with low profile "tennis shoes" as long as they look dressy enough and don't have any huge logos on them. Have some trendy kicks that you want to wear out? Officially, they aren't allowed, but most L.A. clubs are relaxing the rules on shoes if you compensate elsewhere in your outfit. Have on a STYLISH collared shirt, tie, jacket, nice pants with your fashionable sports shoes? Technically speaking it's against the "rules," but you might be just fine.
Special Events | VIP Party Planning · HOW CAN WE HELP?
Let our free concierge service help you plan the best birthday party. BottleMenuService is the biggest name in L.A. nightlife event planning. We offer an unparalleled database of the hottest venues in Los Angeles.
Whether you're looking for a chic lounge, trendy mega club or simply need a little input, BottleMenuService gives you insider access and perks to the best exclusive L.A. top clubs.
Simply fill out the form below to submit your VIP party inquiry. Find out about special amenities like VIP admission, table discounts, photographer and more. We will send you a confirmation and keep you in the loop each step of the way.
---
Create Nightclub
6021 Hollywood Blvd
Los Angeles
,
CA
90028
United States
---
Create Nightclub
---