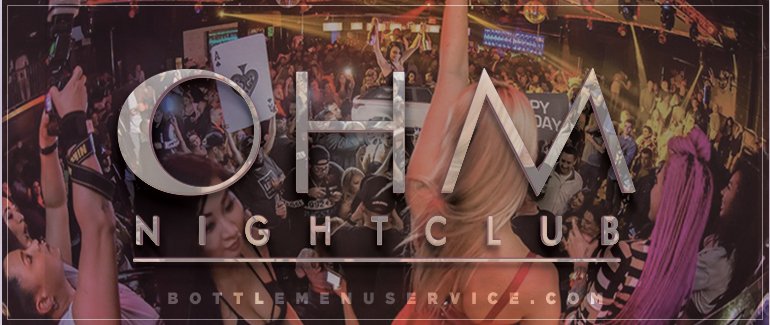 Best Exclusive Clubs in Los Angeles · Current Hollywood Top Club Destinations 2017:
Ohm Nightclub · LA Top Club
Where: Hollywood & Highland, 6801 Hollywood Blvd #433, Los Angeles, CA 90028
When: Fri-Sat, 10:00 PM – 3:00 AM, hours and days can vary by event
Venue Type:
Nightclub · Performance Venue · Restaurant · Lounge · Dance Club
Capacity: 1000
---
Ready to dance the night away, Hollywood style? Then the place to be is Ohm Nightclub – where the hottest DJs and coolest people in Los Angeles are meeting for weekend revelries. Ohm Nightclub is an upbeat LA top club featuring a dance floor with snazzy lighting effects, a chill lounge and patio with views. It's Hollywood's hottest slice of Vegas!
---
Upcoming Events
Ohm Bottle Service
Venue Profile
Venue Policies
How Can We Help?
Ohm Nightclub · UPCOMING EVENTS
Ohm Nightclub · BOTTLE SERVICE
Bottle service at Ohm Nightclub offers VIP tables to suit any club patron's mood and personality. Guests can book bottle service inside the bustling music venue area of Ohm Nightclub, with high end clientele and gorgeous, competent staff.
Or, if you crave a more relaxed LA nightlife atmosphere, guests can reserve their VIP table in the venue's intimate lounge, OHM LAB, with unforgettable decor and experienced mixologists. And, last but not least, table service is available at a spacious outdoor bar area overlooking Hollywood Boulevard.
Ohm has the goods to make even the most particular party-goer a regular. It's an intoxicating mix of scandalous sights and sexy sounds. Every section of the Ohm Nightclub has special reserved bottle service tables, where you and your crowd can set up. They've thought of everything here, even providing phone chargers built in so that the social media messaging never has to slow down.
For extraordinary service, come hang out at the Ohm Nightclub unique bottle service tables. And experience how awesome VIP bottle service is at Ohm sweet home!
Bottle Service Menu
Table Seating Chart
Ohm Nightclub · VENUE PROFILE
OHM combines chic interior design, white-glove service and stunning special effects to create one of the most unique party atmospheres in Hollywood. This sprawling venue seats up to 1000 party-goers every night. And it continues to offer up some of the best beats and entertainment in the LA area. With three unique experiences housed in one stunning 20,000 sq. ft. venue, Ohm Nightclub is poised to be the city's premier nightlife destination.
This LA top club venue spares no expenses when it comes to ensuring you enjoy an unforgettable experience. The club, whose motto is "a splash of Vegas in the middle of Hollywood," has over 150 LED screens linked together, creating a state-of-the-art light show to go with the sound system that cranks out 150,000 watts of body-rattling tunes. And with several dance rooms and a dynamic layout, there's plenty of room to show off your moves. The venue features a central dance area, a full-service bar, a central deejay booth and a number of high-backed tables. The dance floor provides a unique atmosphere where you can expect to see top DJs spinning a mix of hip hop, EDM, and Open Format music.

Ohm Nightclub Secret Speakeasy · OHM LAB
When the gorgeous crowd isn't grooving to world-class DJs, they're on the spacious Asian garden-inspired balcony complete with a separate bar and ample outdoor seating (all while overlooking Hollywood Boulevard). But the real treat at this venue is Ohm Lab, the sultry lounge hidden inside of the massive club. A throwback to big city speakeasies of the 1930s, Ohm Lab is a complete 180 from the main room. It's decorated to look like someone's study circa 1930. with vintage art lining the walls, light bulbs with exposed filaments and plush velvet and leather furniture. There's also a bookcase with dim candles, an old typewriter and lots of books. Some of the odder pieces on the bookshelves include violins and vintage gas masks. Specialty cocktails crafted by Matt Hish provide the finishing touch to OHM Lab. The intimate area may be tough to access, but it's definitely worth the effort.
Ohm Nightclub · VENUE POLICIES
Please note that there will be NO REFUNDS issued by OHM Nightclub or by any ticket website for any tickets purchased to attend any of our events for any reason.
OHM Nightclub does not allow intoxicated guests into the venue.
You must show a U.S government ID upon entrance.
If you do not meet the dress code expectations, you will not be allowed into the venue. NO EXCEPTIONS.
We close doors to the public at 1:30am for all our events, please arrive before this time to gain venue access.
Our artist hosting events are confirmed appearances, but never guaranteed to be a performance, show, or concert. Arrival time is to the artist's discretion.
Parking inside H&H structure after 9 pm will be a $15 flat fee. OHM Nightclub does not validate parking.
How Can We Help? · FREE PARTY PLANNER
Let our free concierge service help you plan the best birthday party. BottleMenuService is the biggest name in L.A. nightlife event planning. We offer an unparalleled database of the hottest venues in Los Angeles. Whether you're looking for a chic lounge, trendy mega-club or simply need a little input, BottleMenuService gives you insider access and perks to the most exclusive and in-demand nightlife hot spots – completely free of charge.
For a spectacular Birthday or All Occasion event, give us a call +1 (310) 749-9029. Furthermore, customers can inquire out about special amenities like VIP admission, table discounts, photographer and more via our online form. Whether you need a few recommendations or help with booking and arrangements, we will provide free, customized party planning service so you can have a truly special birthday.
---
Ohm Nightclub
6801 Hollywood Blvd #433
Los Angeles
,
CA
90028
United States
---
Ohm Nightclub Los Angeles
---