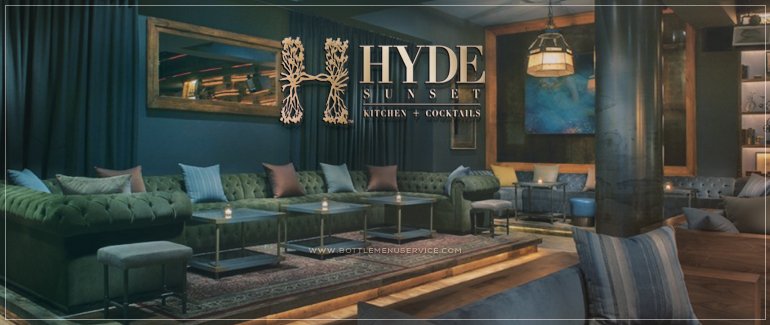 Secret hideaway for Hollywood royalty · Most exclusive nightlife destination in the entertainment capital of the world:
Hyde Sunset
Address: 8117 Sunset Blvd, Los Angeles, CA 90046
When: Thurs-Sat, 7:00 PM – 2:00 AM, hours and days can vary by event
Restaurant · Bar/Lounge · Event Space · Dance Club
---
West Hollywood restaurant meets Hollywood lounge, HYDE Sunset represents the next evolution in L.A. hospitality. The HYDE brand has always been a mark of exclusivity. And the newly redesigned HYDE Sunset doesn't buck that trend. The venue is usually besieged by paparazzi who huddle outside waiting to photograph celebrities A to Z. The strength of the velvet rope might as well be kryptonite for anyone not pretty enough, wealthy enough, or in-the-know enough to get in. But those who do make the grade will find themselves in a sea of young Hollywood taste-makers.
The very definition of exclusive, HYDE Sunset is the place for L.A.'s elite to let their perfectly coiffed hair down. The décor is an eclectic mixture of Arabian Nights meets upscale Hollywood with tables set up for maximal social interaction.
---
HYDE Sunset by SBE
Venue Profile
Venue Highlights
How Can We Help
Virtual Tour
HYDE Sunset · SBE's INFAMOUS CELEBRITY HIDEOUT ON THE SUNSET STRIP
Chic meets earthy elegance in the intricately designed new home of L.A.'s notorious nightlife hot spot, HYDE Sunset: Kitchen & Cocktails. The interior has the same sort of boys club ritz with various found objects and muscular furniture, though the place will likely be an ideal meeting place for all the glamorous types. Finally, after a long build out in the old XIV building, HYDE is ready to serve the willing denizens of Sunset Strip.
Los Angeles boasts a tremendous number of sexy spots to dine, drink, and dance, but Hyde Sunset Kitchen + Cocktails brings a whole lot more to its tables than the competition. Hyde Sunset is a stellar date spot that seduces you upon entry. The low lighting, plush furniture, dark wood, and Eastern carpets create a sleek, living-room ambiance that is both comfortable and intriguing. The outdoor patio surrounded by trees, graffiti murals, and a wood-burning fireplace adds to this inviting vibe. HYDE Sunset is one of those specials spots where the venue is your oyster to do whatever your heart desires. One can go to drink, eat, chill, woo a date, dance, hang out and enjoy the scene, and even pop bottles along side celebrities A-Z, all under the same gorgeous roof. It is a Must-Try in Los Angeles nightlife.
Table Seating Chart
HYDE Sunset · VENUE PROFILE
Hyde started down the street as a beloved celebrity club/lounge popular during the late hours. It was a small, intimate and private setting where Lindsay Lohan, Brittney Spears and Nicky Hilton entertained friends.
When Michael Mena XIV closed its doors, HYDE moved to the site at the corner of Sunset Blvd and Laurel Canyon. Elegant and inviting, the indoor/outdoor dining nightlife hot spot from SBE features a sprawling outdoor patio for diners. There's also an intimate indoor lounge and bar for dancing and live music. Inside, private tables, couches, and plush pillows fill a dimly lit living room. The patio houses eclectic décor and a large fire pit.
Approaching the entrance gives you an intimidating yet VIP feel as you are greeted by a team of sophisticatedly dressed beauties. Be forewarned. Your name on the a list is required. So be sure to sort that out ahead of time to avoid confusion and embarrassment. Walking in on the warm, wooden slated flooring gives the feel of a tropical resort in Bali. It paves the way past the long narrow lounge area to the right, and several sets of closed, curtained doors to the left. What's behind the curtains? An exclusive lounge that will only open after the restaurant closes, but for the select few only. These are the "well-known" of Hollywood, and friends to the dominators of the hospitality industry, SBE.
HYDE Sunset · VENUE HIGHLIGHTS
Accommodates up to 500 guests
Design by Waldo Fernandez and Art Collector Guy Hepner
Culinary creations from Top Chef Chris Crary
Full service L-shaped bar accommodating indoor and outdoor events
Table-side mixology and decanted bottle service
Specialty cocktails created by renowned mixologists. Only the freshest juices and ingredients are used.
State-of-the-art lighting designed by Steve Lieberman
Projection screens for customizable event content
Expansive outdoor patio
Stage with flexible space and modular furniture
Adjacent parking lot. Valet parking available.
How Can We Help? · FREE PARTY PLANNER
Let our free concierge service help plan your best birthday. BottleMenuService is the biggest name in L.A. nightlife event planning. We offer an unparalleled database of the most popular places to party after dark in LA. Whether you're looking for a chic lounge, trendy mega club or simply need a little input, BottleMenuService gives you insider access and perks to the best exclusive LA top clubs and nightlife hot spots. And, best of all, it's completely free of charge.
For a spectacular Birthday or All Occasion event, give us a call +1 (310) 749-9029. Customers can inquire out about special amenities like VIP admission, table discounts, photographer and more via our online form. Whether you need a few recommendations or help with booking and arrangements, we will provide free, customized party planning service so you can have a truly special birthday.
---
Hyde Sunset
8117 Sunset Blvd
West Hollywood
,
CA
90046
United States
---
Hyde Sunset
---