Bootsy Bellows LA | Bottle Service VIP
A-listers, reality TV stars, and industry insiders are in large supply, ordering multiple rounds of sparkler adorned bottles as gorgeous girls dance atop the tables. For those looking for an escape into the world of luxury and privilege, experience bottle service VIP at Bootsy Bellows on the Sunset Strip!
Often host to a number of celebrities with an ever-present line and a rumored hard door, Bootsy Bellows is best booked in advance with VIP table service. Guest list does not always guarantee entry. Be sure to book your party with BottleMenuService to ensure a seamless and unforgettable night. To RSVP w/ VIP, call us at +1 (310) 749-9029.
Which is the best table at Bootsy Bellows? There aren't that many tables at Bootsy – the club is pretty small. As a result, any table you get will be pretty good. If you're looking to book a table, please contact us by filling out the form below with the number of guys/girls in your party and we'll get back to you ASAP.
View Bottle Menu
How much is Table Service @ Bootsy Bellows?
At Bootsy Bellows, the price to book a table vary by night. Furthermore, table minimums may increase due to holidays and/or special events. Bottles are priced from $450 and up. Let our team set you up with bottle service VIP on your preferred upcoming Saturday night party at Bootsy Bellows. You won't regret it!
---
---
Back Room Table
VIP table located in the back lounge.
---
Main Room Table
VIP Table located in main room.
---
Stage Table
VIP Table located on the DJ stage.
* The above prices are estimates. For the most up to date pricing and available deals, contact a VIP host at +1 (310) 749-9029. ** Bottle prices do not include sales tax. 20% mandatory service charge and 3% entertainment fee will be added to all checks.
Bootsy Bellows | Venue Profile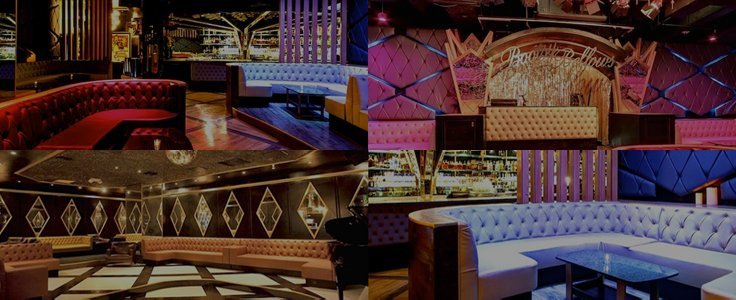 Bootsy Bellows is a '60s art deco inspired nightclub and lounge combined with a variety of live entertainment including costumed burlesque dancers, puppets, DJs, and impromptu concerts. Located on the infamous Sunset Strip in West Hollywood, the venue has already become a favorite hot spot to Hollywood's elite.
The gorgeous faces, the transformed atmosphere, and the abundance of champagne and alcohol are the reasons why Bootsy dominates the Los Angeles nightlife scene in exclusivity and luxury.
For those lucky enough to find entry into the main room too easy, there's a VIP room in back that promises even more exclusivity, as well as a swanky vibe provided by pink couches, diamond-mirrors, and a grand piano that's like a symbolic cherry atop an old-school Vegas sundae.
A fantastical realm where the ageless vices of old attract an equally ageless crowd, Bootsy Bellows is where Hollywood's modern-day Rat Pack goes to get naughty.
Insider Tip: The best night is Saturday. Dress the part & arrive early for entry.
Last Word: Two velvet ropes include one outside the black and gold doors and one inside, doubling as an old-school ticket booth that facilitates last minute bottle service and VIP seating.
Venue Floor Plan
Bootsy Bellows | Dress To Impress!
Dress code is required to ensure entry into Bootsy Bellows, especially for men. To avoid any problems getting into the club it is recommended that men wear nice pants or jeans, a collared shirt, and dress shoes. Please avoid shorts, sandals, hats, and athletic attire. If you are not sure if your clothes will pass the dress code play it safe and dress nice.
Many people have questions about the dress code at L.A. top clubs. And one area that always seems to draw more uncertainty is footwear. In order for men to be on the safe side, dress shoes will always be accepted. Work boots or athletic workout shoes and sandals will also always be a no go. That leads us to a gray area. Many sneakers are quite fashionable and expensive. These types of shoes are usually a go, but can depend on the event. During holiday weekends and major events, Bootsy Bellows can be more strict on the dress code.
Most of the time Los Angeles nightclub dress codes are catered toward what men need to wear to get into the clubs. Women can get away with wearing almost anything they want. However, we have seen instances where flip flop sandals were looked down upon. A cute or sexy dress that fits your body type with a nice set of heels will always work.
In order to get into Bootsy Bellows, you want to catch the attention of the door hosts and promoters. They are usually the ones that want to make sure the best looking ladies get into the club quickly. Choose a dress that has vibrant colors to stand out. Always wear heels, even if they hurt, and NEVER EVER take them off.
VIP Table Requests | Bootsy Bellows
Are you considering celebrating in true VIP style? Drop us a line and we'll provide you with all the info you need. We will send you a confirmation and keep you in the loop each step of the way. Plus our services come at no cost to you.
If you're looking to book a table on any upcoming Saturday night, simply fill out the form below and we'll get back to you ASAP. Watch as one of the most unforgettable nights of your life unfolds!
If you do not hear from us within 24 hrs, feel free to give us a call at +1 (310) 749-9029. We'd love to hear from you.