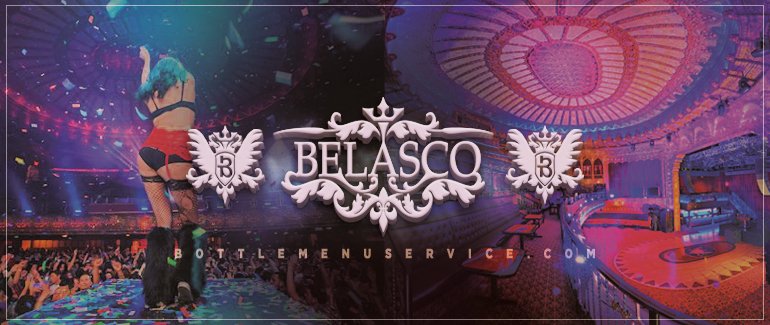 Best Exclusive Clubs in downtown L.A. 2017 · Big Discounts on Bottle Service Best LA Club Packages:
Belasco Theater
Where: 1050 S Hill St, Los Angeles, CA 90015
When: Thurs-Sun, 9:00 PM – 4:00 AM, hours and days can vary by event
Venue Type: Nightclub · Concerts · Performance Venue · Dance Club
Capacity: 1800
---
Bottle Service
Venue Profile
Upcoming Events
Dress Code
VIP Party Inquiry
YouTube
Belasco Theater · BOTTLE SERVICE
Restored iconic theater now vast entertainment complex with nightclub. From cocktails to bottle service, the price-value point delivered cannot be matched by any other venue. Belasco Theater prides itself in its overall selection in drinks including its extremely competitive price point. Beers are $7.00 and mixed drinks start at $13.00. Belasco Theater offers unrivaled VIP table service, amazing party packages and unbeatable bottle service pricing, such as $99 premium liquor bottle deals and complimentary champagne with your bottle service.
Bottle Service Menu

Belasco Theater · VENUE PROFILE
Belasco Theater boasts 40,000 sq. ft. of flexible event space, multiple rooms, two full kitchens and three separate restaurant spaces. Located in the heart of DTLA, blocks away from the L.A. Live complex and the Los Angeles Convention Center, this historic theater is the city's premier multi-purpose event and entertainment complex.

The space has a main theater with a towering domed ceiling and a capacity of 1,000. A multi-tiered balcony overlooks the main stage, and is outfitted with 24 booths. There's a 2,000 sq.ft. outdoor smoking-friendly patio and a 2,000 sq.ft. kitchen. A private ballroom with room for 200 has a 23- by 9.5-foot stage and its own entrance from Hill Street. A wine bar, VINTAGE 10 FIFTY, off the main lobby, with room for 150, has three plasma TVs. And a basement lounge with room for 200 has its own bar and dance floor.
Belasco Theater · UPCOMING EVENTS
Belasco Theater · DRESS CODE
First off, what's not allowed? NO baseball caps, jerseys, excessively baggy apparel, men's sandals, men's shorts, sweat suits/track suits, tennis shoes, printed tee shirts, or any style of clothing that me be found offensive.
What about denims or jeans? Jeans are completely acceptable at every club in LA. You just want to make sure that your jeans look good, as most LA clubs frown upon torn, rugged jeans. Also, you shouldn't try to walk in wearing really baggy jeans.
What about my shoes? You are always safe with leather and dress shoes. Work boots or athletic workout shoes and sandals will also always be a no go. That leads us to a gray area. Have some trendy kicks that you want to wear out? Officially, they aren't allowed, but most LA top clubs are relaxing the rules on shoes if you compensate elsewhere in your outfit. Many sneakers are quite fashionable and expensive. These types of shoes are usually a go, but can depend on the club and the event. During holiday weekends and major events the nightclubs typically get stricter on the dress code. Have on a STYLISH collared shirt, jacket, nice pants with your fashionable sports shoes? Technically speaking it's against the "rules," but you might be just fine.
The dress code is simpler for the ladies; go glamorous with a cocktail dress, or keep it casual with jeans and a dressy top. In all seriousness, all that most girls need to do is make it look like they put in a little bit of an effort.
Belasco Theater · HOW CAN WE BE OF SERVICE?
For revelers with a taste for the high-life, Belasco offers VIP options that will make you feel like royalty. To inquire about availability and pricing, please fill out the below form or call our VIP Services team at +1 (310) 749-9029. Please be as detailed as possible about your event. We will reach out to you shortly.
If you do not hear from us within 24 hrs, or if you desire a quicker response, please send us a text message at +1 (310) 749-9029. Want more and get more. Book a party bus LA club package online at www.partybusnightclub.com
---
Belasco Theater
1050 S Hill St
Los Angeles
,
CA
90015
United States
---
Belasco Theater Bottle Service
---