VIP Club Tour · Best Saturday Night Clubbing LA
Confused which is the best VIP club tour to experience current LA top clubs? Hollywood Blvd Crawl is your golden ticket to experience hassle-free VIP clubbing Los Angeles nightlife. If you want to spend your Saturday night drinking and dancing at the coolest clubs, instead of gazing with longing from behind the velvet rope, give the Hollywood Blvd Crawl VIP Club Tour a shot.
Experience Hollywood's swanky nightlife in VIP-only style with the best LA club crawl to Saturday top nightlife destinations. Party like Hollywood royalty as a designated guide escorts you through some of the most in-demand Hollywood nightclubs, where you'll receive free admission and VIP club access with line by-pass entry, and even some free premium drinks to fuel the epic night. For a fraction of the cost and none of the hassle, Hollywood Blvd Crawl delivers an exclusive nightlife experience that gets you in L.A.'s coveted club scenes, in effortless style.
How it Works!
Book Now!
What to Wear!
VIP Club Tour · Current LA Top Clubs · Where We Go
You can spend your Saturday night drinking and dancing at the coolest clubs, instead of gazing with longing from behind the velvet rope, on the best VIP Club Tour. Your VIP host will meet you and your guests at Calle Tacos (or Royal Bar Hollywood), where you can mingle with your fellow club crawlers, before hitting three or more of the hottest Hollywood nightspots, like Playhouse and Lure, with no cover and little to no wait. Perfect for singles, couples, groups or anyone who wants a night out on the town, your guide has the entire evening mapped out, so you can relax and party, without worrying about where you're going next. The clubs vary from night to night, but are all within walking distance, and may include: Lure Nightclub, Project Club LA, The Cosmo, Playhouse and/ or Couture Los Angeles Nightclub.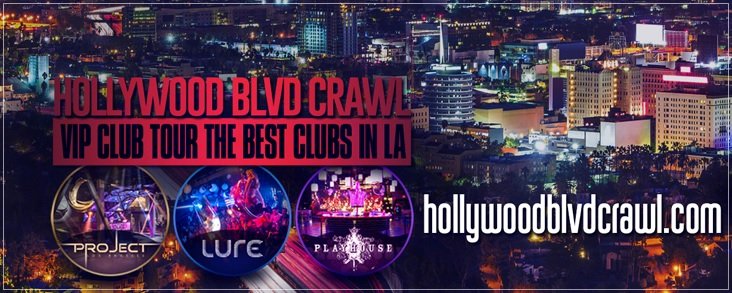 Couture Hollywood · A pioneering cocktail lounge located in the heart of Hollywood, Couture is a 22nd century chic fantasy. Streamline and highly stylized, outfitted with plush banquette seating, action-packed light displays, illustrious full-service bar and catwalk, this LED-embellished destination takes millennial nightlife to the next level. It's always Fashion Week at Los Angeles's premier fashion-eccentric cocktail lounge, Couture. Couture is L.A.'s first fashion-inspired lounge. Part bar/restaurant, part boutique, part runway—at its best (i.e., idealistically), a glamorous destination to see and be seen, albeit a bit gimmicky. Located at 1640 N Cahuenga Blvd Los Angeles, CA 90028.
Lure Nightclub · High-octane ambiance meets high-end indulgence within Los Angeles's ultra-exclusive Lure Nightclub. At a sprawling 18,000 sq. feet and outfitted sumptuously with oversize VIP cabanas, plush lounge seating and of L.A.'s most buzzed-about dance floors, it's little wonder as to why this mega-club is frequented by Hollywood's leading A-listers and headlined by some of industry's biggest DJs. Upscale celebrations are the ultimate status symbol so immerse yourself in celebrity style at the critically acclaimed Lure Nightclub. Located at 1439 Ivar Avenue, Los Angeles, CA 90028.
Project Club LA · Project Club LA embodies world-class friendly service, exclusivity, fun, and the ultimate in Hollywood nightlife with a personal touch. Owned and operated by Boulevard Nightlife Group, the 8,500 sq. ft main room and outdoor patio was designed and built by architectural powerhouse Gensler, and features a state of the art Funktion One Sound System plus a custom lighting structure designed and built by award winning V Squared Labs. Project Club LA attracts a sophisticated, sexy, yet fun and energetic crowd. Celebrities, musicians and world renowned deejays regularly party with guests at this one of a kind venue. Located at 6356 Hollywood Blvd, Los Angeles, CA 90028.
The Cosmo · A psychedelic spin on old-Hollywood decadence, Cosmo delivers bold, indulgent nightlife encounters. From sparkler twirling on the dance floor to extravagant crystal chandeliers cascading overhead, it may be said that this megawatt nightclub is only paralleled in opulence to the West Coast socialites which frequent. A nightlife palace cast in regal purple tones, The Cosmo is a chic wonderland of the eclectic persuasion and the proud host of countless parties not to be missed or easily forgotten. Located at 6364 Hollywood Blvd, Los Angeles, CA 90028.
Playhouse Nightclub · They don't call it a Playhouse for no reason, as this is the venue you head to when you want to let loose and play for your night out on the town. A slim dance floor sits directly in front of the DJ booth – but this is by far the best seat in the house if you want to get in all of the action. The venue is 10,500 square feet overall, making it more intimate than some of the other clubs, but still fully equipped for the crazy parties that only Los Angeles can host. However, if you want to see rather than be seen, head to the lounge upstairs where you can enjoy fresh air from the retractable skylight. Located at 6506 Hollywood Blvd, Los Angeles, CA 90028.