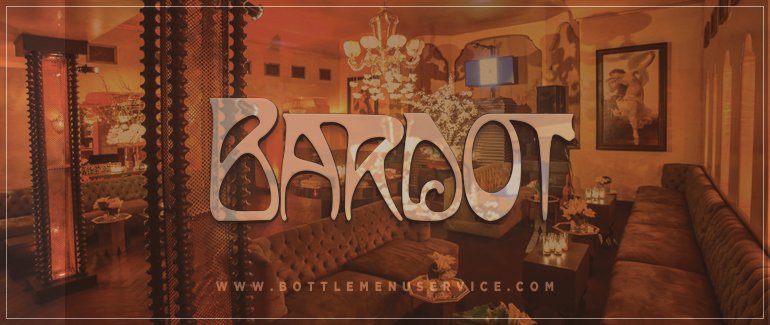 Best Exclusive Clubs in Los Angeles · LA Top Club Nightlife Destination 2017:
Bardot | Avalon Hollywood
Where: 1737 Vine St. (Hollywood) Los Angeles, CA 90028
When: Mon-Sat, 9:30 PM – 2:30 AM, hours and days can vary by event
Venue Type: Nightclub · Live Music · Bar/Lounge · Dance Club
Capacity: 400
---
Situated just above the immense Avalon club, the versatile Bardot is a seductive Hollywood mainstay that attracts a blend of funky artists, hipsters, and club kids.
Bottle Service
Venue Profile
Dress Code
Free Party Planner
Bardot · BOTTLE SERVICE
Bardot is certainly a scene. The door can be tough, but unlike other insider-y spots around town, the vibe inside is surprisingly laid back. Best bet for easy access? Bottle service, of course! And for the best seat in the house, spring for bottle service (a mere $400!) at one of the patio VIP tables.
Bottle Service Menu
Bardot · VENUE PROFILE
Once you make it past the drawbridge of a merciless doorman, only your instincts lead you up and through a series of narrow stairs and velvet curtains until you finally reach a low-lit, slightly barren interior. Entering Bardot feels similar to finding your way into the heart of an ancient castle.
The cold opulence of the room is warmed somewhat by gentle candlelight, soft suede couches and the lively murmur of the beautiful hipster crowd, who, despite being hidden in various nooks and crannies, still manage to remind us that we are, indeed, in Hollywood. Just when we were starting to believe we had stumbled into an enchanted fortress.
Entertainment rotates nightly, so switch it up or stay faithful. Either way, you know you will be back for more, throwing your own shadow against Bardot's sexy amber walls.
Table Seating Chart
Bardot · DRESS CODE
First off, What's not allowed? As you now know, just because it is against the formal dress code doesn't necessarily mean it won't occasionally get through the door. Often times if you show up with a very stylish look, things are overlooked. Still, be mindful that these are things that are universally "not allowed" per official dress codes: baggy jeans, sports hats, tennis shoes, shoes that are considered too "sports like," shorts, cut-offs, jerseys, and beanies.
What about denims or jeans? Jeans are completely acceptable at every club in LA. You just want to make sure that your jeans look good, as most LA top clubs frown upon torn, rugged jeans. Also, you shouldn't try to walk in wearing really baggy jeans. You will get rejected. Probably even laughed at. Bad idea.
What about my shoes? You are always safe with leather and dress shoes. You can even occasionally get away with low profile "tennis shoes" as long as they are solid black (including the laces) if they look dressy enough and don't have any huge logos on them. Have some trendy kicks that you want to wear out? Officially, they aren't allowed, but most LA top clubs are relaxing the rules on shoes if you compensate elsewhere in your outfit. Have on a STYLISH collared shirt, tie, jacket, nice pants with your fashionable sports shoes? Technically speaking it's against the "rules," but you might be just fine.
Free Party Planner · HOW CAN WE HELP?
Let our free concierge service help you plan the best birthday party. BottleMenuService is the biggest name in L.A. nightlife event planning. We offer an unparalleled database of the hottest venues in Los Angeles. Whether you're looking for a chic lounge, trendy mega club or simply need a little input, BottleMenuService gives you insider access and perks to the most exclusive and in-demand nightlife hot spots – completely free of charge.
For a spectacular Birthday or All Occasion event, give us a call +1 (310) 749-9029. Furthermore, customers can inquire out about special amenities like VIP admission, table discounts, photographer and more via our online form. Whether you need a few recommendations or help with booking and arrangements, we will provide free, customized party planning service so you can have a truly special birthday.
---
Bardot
1737 Vine St
Los Angeles
,
CA
90028
United States
---
Bardot Hollywood
---