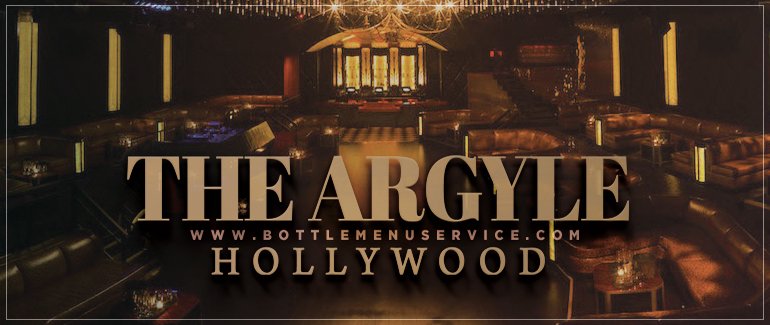 Best Exclusive Clubs in Los Angeles · LA Top Club Nightlife Destination 2017:
The Argyle Hollywood
Address: 1600 Argyle Ave
Los Angeles, CA 90028.
Capacity: 470+ (300 upstairs, 150 downstairs, 20 patio)
Venue Type:
Nightclub · Bottle Service · Live Music · Dance Club
Hours of Operation:
Mon: 10pm-2am, Thu-Sat: 10pm-2am.
---
The Argyle Hollywood is open three nights a week for the nightclub and five nights a week for the downstairs lounge. Upstairs features a modern nightclub with a one of a kind light show on the ceiling. There is a massive dance floor is massive with several booths on it and then a second level on both sides of the club with large booths. Bottle service is fairly priced at Argyle compared to the other clubs but still isn't cheap. The club books only high energy DJs and the promoters that work there are known for bringing in a fun young party crowd. The cool thing about Argyle is that if you don't want to be in the main club, customers can reserve bottle service downstairs. Guest list works for both upstairs and downstairs, but it's important to plan ahead before heading over.
---
Bottle Service
Venue Profile
Dress Code
How Can We Help
Virtual Tour
Argyle Hollywood · Bottle Service
There is prime real estate for Argyle Hollywood, which is located on Argyle Avenue, across from W Hotel Hollywood. Argyle Hollywood has 21 VIP tables available for premium bottle service. Even though this Hollywood nightlife celeb-infested party haven has plenty of key VIP spots to reserve your bottle service VIP, make haste. This is where all tables get booked and sell out every night so be sure to reserve your table with enough time before hand.
VIP table service is for those looking to receive the real VIP service with your own private booth separate from the general public. The Argyle is open Mondays, Thursdays, Fridays and Saturdays. Bottle service is available all nights as well as guest list for those who do not want to spend too much money. If you are not getting bottle service, there is a great bar with plenty of bar tenders that will give you any number of great mixed drinks.
Be sure to look your best, dressed-to-impress, to up your chances for entry past the Argyle Hollywood velvet rope. Furthermore, if you are on the guest list, arrive early with a good guy to girl ratio. Enjoy the spectacular view as well as the excellent service that staff will provide for you. Dress to impress because you never know which Hollywood celebrity might be partying next to you.
View Bottle Menu
Argyle Hollywood · Venue Profile
Below the streets of Hollywood lies a secret place known for the company it keeps and the company it keeps out. A subterranean hideaway visited for business and pleasure by everyone who's anyone. Neither modest nor pretentious, it's a throwback to an era of glamour and sophistication.
Above the underground bar rests an oasis amidst Los Angeles nightlife, a debauched dancery that's soon to be mentioned with devoted reverence and yearning nostalgia. It's a champagne jam where high art, high fashion, and high times mingle on the dance floor and the DJ is only as important as the next song.
The space stands as a colorful canvas that lends itself to the artistry of its guests, creating a welcome respite from the monotonous and the detached. Where an air of spontaneity and excess endures and lavishly theatrical celebrations engage the crowd with ever-changing style and composition. The Argyle welcomes guests to take part in their brazen performances.
Find your favorite VIP section to reserve in the club
Argyle Hollywood · Dress Code
First off, What's not allowed? As you now know, just because it is against the formal dress code doesn't necessarily mean it won't occasionally get through the door. Often times if you show up with a very stylish look, things are overlooked. Still, be mindful that these are things that are universally "not allowed" per official dress codes: baggy jeans, sports hats, tennis shoes, shoes that are considered too "sports like," shorts, cut-offs, Capri's, jerseys, and beanies.
What about denims or jeans? Jeans are completely acceptable at every club in LA. You just want to make sure that your jeans look good, as most LA top clubs frown upon torn, rugged jeans. Also, you shouldn't try to walk in wearing really baggy jeans. You will get rejected. Probably even laughed at. Bad idea.
What about my shoes? You are always safe with leather and dress shoes. You can even occasionally get away with low profile "tennis shoes" as long as they look dressy enough and don't have any huge logos on them. Have some trendy kicks that you want to wear out? Officially, they aren't allowed, but most L.A. clubs are relaxing the rules on shoes if you compensate elsewhere in your outfit. Have on a STYLISH collared shirt, tie, jacket, nice pants with your fashionable sports shoes? Technically speaking it's against the "rules," but you might be just fine.
Argyle Hollywood · How Can We Help?
For revelers with a taste for the high-life, The Argyle offers VIP options that will make you feel like royalty. Need more information or help booking your bottle service? Let us know. We'd love to hear from you. Need help selecting the right party? Try our personalized concierge service. Call us at +1 (310) 749-9029 or enter your reservation below. Please be as detailed as possible about your event. We will reach out to you shortly. If you do not hear from us within 24 hrs, or if you desire a quicker response, please send us a text message at +1 (310) 749-9029. Want more and get more. Book your party bus LA club package online at www.partybusnightclub.com
---
The Argyle
1600 Argyle Ave
Los Angeles
,
CA
90028
United States
---
Argyle Hollywood Los Angeles Club
---