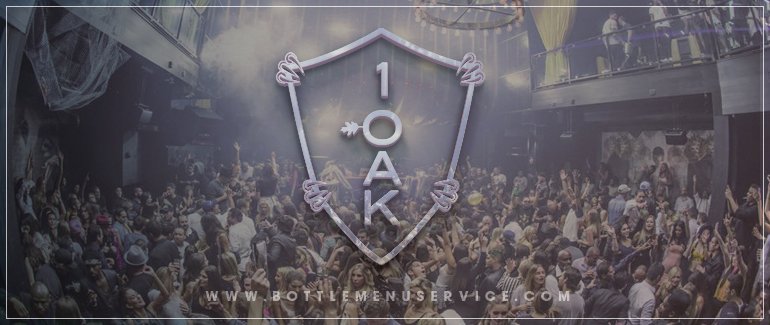 1OAK LA Top Club
Celebrities from all forms of entertainment party the night away at 1OAK LA; where to find top rated L.A. Hip-hop parties.
Address:
9039 Sunset Blvd
,
West Hollywood
,
CA
Phone: +1 (310) 749-9029
Nights Open: Tues 10PM TO 2AM, Thurs-Sat 10PM TO 2AM
You cannot go past 1OAK LA for atmosphere, killer beats and the most exclusive of celebrity guest lists. This isn't just your average hip hop club. It's THE hip hop arena of LA; where star-studded nights are the norm.
The venue is always with crawling with celebrities; dressing to impress is a MUST. Keep your eyes open at this red-hot party place, if celebrity sighting is on your L.A. bucket list of adventures. 1 OAK brings glam nightlife back to Sunset Strip.
Bottle Service
Table Minimums
Reservations Request
What to Wear
Venue Profile
Party Planner
Bottle Service VIP | 1OAK LA
The Downstairs: Bottle service table minimums are $2000-2500 to start (plus tax and operational fees which are approximately 32%) on main level. * If there is a celebrity performance that night, the downstairs rate is $2500 and up.
Bottle Service Menu
The Upstairs: Bottle service VIP table starts at $1500 plus tax and operational fees. * Table minimums (for both Upstairs and Downstairs) are higher for parties of more than half males.
VIP Table Minimums | 1OAK LA
Mezzanine VIP Table (Small)
Table on 1st floor w/ view of DJ & dance floor.
---
Mezzanine VIP Table (Large)
Table on 1st floor w/ view of DJ & dance floor.
---
Main Floor VIP Table (Small)
VIP booth along the wall of 1st floor.
---
VIP booth along the wall of the 1st floor.
---
VIP table on stage behind the DJ booth.
---
VIP table on dance floor in front of the DJ.
VIP Table Requests | 1OAK LA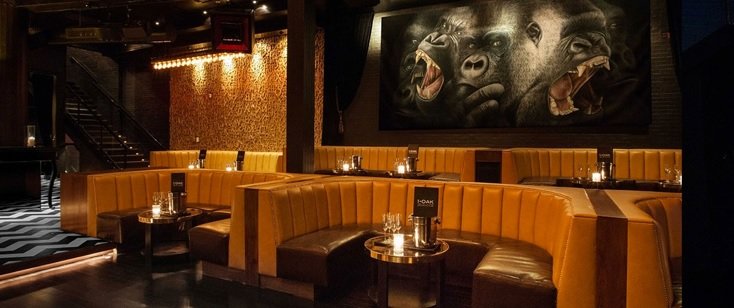 Are you considering celebrating in true VIP style? Drop us a line and we'll provide you with all the info you need. We will send you a confirmation and keep you in the loop each step of the way. Plus our services come at no cost to you.
Simply fill out the form below and watch as one of the most unforgettable nights of your life unfolds. If you do not hear from us within 24 hrs, please give us a call at +1 (310) 749-9029.
The following items are almost always on the dress code banned list at LA top clubs: shorts, sandals, work boots, loose fitting or baggy jeans, athletic attire, cutoffs, hats, and jerseys. * During holiday weekends and major events, 1 OAK can be stricter on the dress code. *
If you are not sure if your clothes will pass the dress code, play it safe. We recommended that men wear nice pants or jeans, a collared shirt or sport coat, and dress shoes.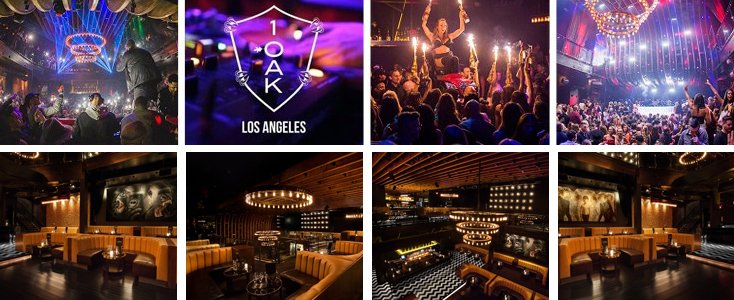 A crown jewel in New York City's swanky indulgence, 1OAK has earned its acclaim as a truly "one-of-a-kind" nightlife brand, setting the standard high for stylish sophistication and new-age glamor. At its L.A. outpost, 1OAK emulates the city's ritzy and fashionable elements; a captivating experience for L.A.'s high-profile partiers.
Splendid yet minimalistic chandeliers, modern ceiling, state-of-the-art lighting installations, avant-garde wall art and opulent saffron booths fill the space, highlighted by a spectacular, black lacquered wrap around bar. With a spacious dance area, 1OAK combines the posh lounge with a high-intensity club ambiance.
---
Venue Floor Plan
Free Party Planner | Special Events Services
Let our free concierge service help you plan your party. Take advantage of our unparalleled database of LA top clubs. If you're looking for a chic lounge, trendy mega club or simply need a little input, BottleMenuService provides insider access and perks to the most exclusive and in-demand nightlife hot spots. Plus our services come at no cost to you.
For a spectacular Birthday or All Occasion event, give us a call +1 (310) 749-9029. Furthermore, customers can inquire out about special amenities like VIP admission, table discounts, photographer and more via our online form.
Whether you need a few recommendations or help with booking and arrangements, we will provide free, customized party planning service so you can have a truly special birthday.
---
1 OAK LA
9039 Sunset Blvd
West Hollywood
,
CA
90069
United States
---
1OAK LA Nightclub
---