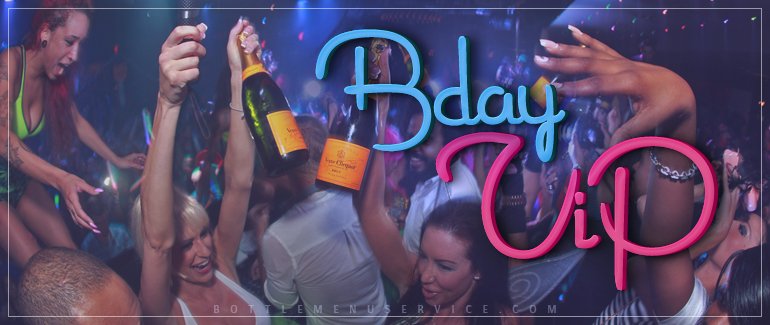 Have a birthday coming up or just planning a party? Want to make your visit to Los Angeles the spectacular VIP birthday experience that you and your friends deserve? Are you Looking for a memorable nightlife experience? You've come to the right place.
BottleMenuService will set up your upcoming birthday with VIP treatment at NO COST party planning. Make affairs easier, more pleasant and more memorable with personalized, all-inclusive VIP party packages built to suit any budget. BottleMenuService Birthday Bottle Service is a night fit for royalty that you will remember forever.
VIP Birthdays
Free Party Planner
Get A Table Reservation
How to VIP Birthday Party
When to Book
Birthday Bottle Service VIP
So you're in charge of planning the perfect "Birthday party to remember"? Los Angeles is the perfect place for a birthday party celebration. Our Los Angeles VIP Birthday Party Packages are here to make it easy. Not sure where to start? Don't worry, BottleMenuService is here to help.
Everyone deserves to be spoiled at least once a year. And your big night deserves a major celebration. Celebrate your birthday with us like a VIP. Be a part of the limelight and enjoy the ultimate VIP clubbing experience Los Angeles has to offer. Choose from several VIP table arrangements … maybe even party alongside celebrities. We will share our VIP club access to current LA top clubs. Your guests will Skip-the-Line and receive immediate entry into top nightclubs in LA. Pop bottles at the most in demand nightlife real estate at most exclusive, celeb-infested Hollywood clubs. Get ready to party like it's your birthday because it actually is! Throw a birthday blowout that will make your friends' birthdays look like a study session with L.A.'s best Birthday Bottle Service VIP powered by BottleMenuService.
When you go out for a night on the town, you want to party in style. Through our broad range of venues and close relationships we can offer amazing bottle service packages and specials along with exclusive VIP treatment for clients that will make your party unforgettable! No waiting for hours in club general admission queues, or missing half the night waiting at the bar to be served. Our exclusive Birthday Bottle Service Packages guarantee you a great night out at the best nightclubs in the entertainment capitol of the world.
Birthday Bottle Service free party planning · VIP clubbing made easy!
Need help planning the perfect "Birthday party to remember?" Don't worry. You're at the right place. We LOVE birthdays and we LOVE L.A. nightlife! Our Los Angeles nightclub Birthday Party Packages are to make it easy. We can help you plan a memorable night, or will handle all of the details, from start to finish, to ensure that you get a truly epic Birthday Bottle Service party night out. We build Guest List, setup Tables, offer VIP Passes, and do everything possible to ensure you have a great time! All of our services are free and open to the public. Call or text us at any time +1 (310) 749-9029.
BottleMenuService is here to help you have a smooth nightlife experience. Enjoy hassle-free nightlife and a fun birthday party night out in LA. You'll be sure to turn heads when you and your friends walk up to the best LA clubs and by-pass intimidating bouncers with VIP Birthday Bottle Service. Feel free to ask us any questions you have about L.A. clubs.
Birthday Bottle Service VIP services available for any occasion!
Whatever the occasion; bachelorette party, birthday party, or just a weekend getaway. Party like a pro, and get the VIP treatment with Bottle Services Packages from BottleMenuService. With our connections at all the best L.A. nightspots, and our insider, hands-on knowledge, we will make sure that you get the best table reservations possible, hassle free entry and star treatment from the start to the finish of your night out. All our services can be tailored to what you want, and to fit any budget. Birthday Bottle Service is the golden ticket to VIP clubbing LA top clubs. And you don't even have to be celebrating a birthday to use our free party planning service.
Birthday Bottle Service VIP luxury at L.A.'s best!
Whether your planning to book a Birthday Bottle Service package for just a few friends or even a Los Angeles Bachelorette Party for a weekend – we guarantee a time you will never forget. Don't risk leaving your birthday night to chance. Bet on a sure thing with one of our complete high-end packages from the leader of L.A.'s luxury VIP experience. BottleMenuService helps you feel like a celebrity or even better yet an industry insider when you choose any of our bottle service packages. Let us be your direct connection to an amazing time in our city. Our exclusive relationships with each venue grant you the best possible pricing and locations for bottle service in Los Angeles. Don't miss out on an incredible experience with friends and family because you're being quoted more than you need actually need to pay to party.
Nothing is better than having a glamorous night out with Birthday Bottle Service VIP in LA!
You'll feel like royalty as you get a comprehensive taste of the famous Hollywood nightlife club scene.

Get noticed and have more fun with birthday bottle service VIP table RSVP's at LA top clubs.
Wanna get noticed? Get a Table Reservation. If you are looking for the ultimate VIP experience at LA top clubs then birthday bottle service is best. LA clubs have evolved into epic party experiences with world renowned DJs, live concert-like performances, and celebrity galore. This obviously draws huge crowds and many times extremely packed nightclubs. In order to get the best real estate in the club with your own private table for your party to let loose without dealing with the entire general admission crowd, reserving bottle service is required. Plus bottle service gets your party in faster and with less of a hassle.
Why Table Service Is More Fun? You get your own private table and space to enjoy the night. Feel free to dance and mingle without getting run into by others. Plus you have the ability to sit as well. Having a table makes it easier to meet new friends and invite them to party with you. Table service also is 100% more upscale and makes it way easier to be noticed by everyone in the club, and you have the top unblocked views of the live performances and DJs. You have waitresses, bussers, and security that work just for you and the tables in your area. Table service includes full service to ensure you have a smooth experience.

Why book your Birthday Bottle Service VIP Tables are best with BottleMenuService?
When you use our site for bottle service and table reservations you are making a reservation directly with the venue. Think of us as your digital promoter for LA top clubs as we make it easier than ever to directly place your reservation into their system at no cost to you. You simply arrive at the club and check in with the staff at the table reservation entrance. Bottle service reservations will be under your name. One of our VIP hosts will be at your side until you're all in the club.
Your table location is dependent upon a few factors that include your arrival time at the venue and your planned spend for the night. Be aware that your reservation comes with your own table and area to sit as well as your own waitress, busser, and security staff. You'll be granted your own spot that is separate from the general public to dance, drink, and enjoy the event. Call/text +1 (310) 749-9029 to experience VIP luxury at its best in Los Angeles nightlife.
Birthday Bottle Service · VIP SERVICE SIMPLIFIED
Make your birthday wish come true with an easy-to-customize party package. Party like a celebrity with an all-inclusive, exclusive VIP birthday bottle service experience. Our VIP birthday bottle service packages are built to suit any budget and personality. Celebrate you upcoming VIP birthday inside one of L.A.'s top-ranked Hollywood nightclubs with birthday bottle service at your very own reserved VIP section with all the amenities. Every one of our guests are special to us and we stay loyal with the best DJs, best crowds and, most of all, a fun exclusive environment for you and your friends to experience the best Birthday Bottle Service currently available in L.A. nightlife. Come experience the ultimate LA nightlife birthday turn-up at LA top club event destinations.
BOOK A PARTY · Birthday Bottle Service
When planning a birthday, it's always best to book in advance. We choose the best place to celebrate your upcoming birthday based on your needs. But rest assured. We only offer our clients the best bottle service package deals and most extravagant nightclubs in LA. You can expect VIP club access to insider pricing and all-inclusive party packages, special amenities, hard to get VIP tables, exclusive L.A. venue bookings, complete VIP treatment, and so much more. Call us at +1 (310) 749-9029 to book your VIP Birthday Bottle Service.
---
Birthday Bottle Service
---