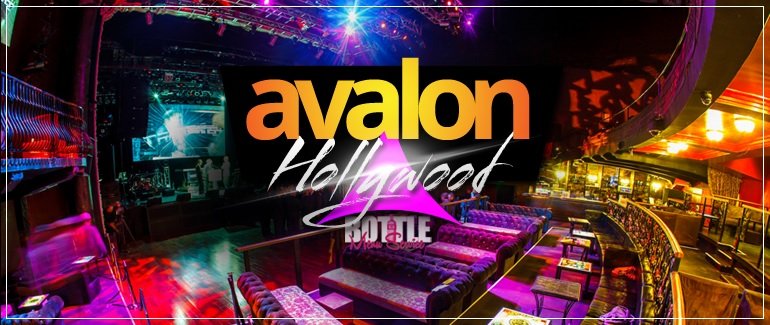 Best Exclusive Clubs in Los Angeles · Best LA EDM Club Nightlife Destination 2017:
Avalon Hollywood | LA Top Club
Where: 1735 Vine St. (Hollywood) Los Angeles, CA 90028
When: Thurs-Sat, 9:30 PM – 6:00 AM, hours and days can vary by event
Venue Type: Dance Club · EDM DJs · L.A. After Hours
Capacity: 1500
---
Avalon Hollywood is a multitasking art deco venue that offers both live music and club nights. The killer sound system, cavernous space with four distinct rooms, and multiple bars make it a perfect venue for both. Avalon is one of L.A.'s most premiere and historic landmarks for Electronic Music. The club is best-known for its DJs, who often spin well past the 2am cutoff for drinks. The best DJs in the world play at Avalon. The crowd can be a mixed bag, depending on the night. But if you're looking to dance, you likely won't be disappointed.
---
Upcoming Events
Venue Profile
Dress Code
How Can We Be of Service
Avalon Hollywood · UPCOMING EVENTS
Avalon Hollywood · VENUE PROFILE
From theatrical performances to famous headliners like the Beatles and Soundgarden, Avalon Hollywood has been entertaining the masses since the 1920s, but it wasn't until 2003 that a major makeover turned the space into a DJ-driven dance club L.A. hot spot.
Although big-name bands still play the cavernous hall, the emphasis is clearly on electronic compositions, which might explain why Sasha made the venue his first West Coast residency and Paul Oakenfold continues to blow the glow stick-lit roof off.
Regardless of the evening's agenda, lines form deep in front of the Spanish Colonial facade, with patrons running the gamut from mini-dress beauties to shaggy rave kids itching to sweat their sneakers off.
A pair of long bars flank the room, as well as small cylindrical tables and white couches for the bottle service crowd, while those looking to escape the revelry can head to the expansive mezzanine, home to VIP lounges, a third bar, and bird's-eye views of the broiling masses below.
Funky hipsters and the celebrity set often venture to Bardot, the club's sister lounge upstairs, but nothing beats Avalon for some of the best nu electro, techno, and house music in LA.
Avalon Hollywood recently completed a million dollar renovation of the club which included brand new lighting and sound systems.
View Floor Plan Ground Level
View Floor Plan Balcony Level
Bottle Service Menu
Avalon Hollywood · DRESS CODE
First off, What's not allowed? As you now know, just because it is against the formal dress code doesn't necessarily mean it won't occasionally get through the door. Often times if you show up with a very stylish look, things are overlooked. Still, be mindful that these are things that are universally "not allowed" per official dress codes: baggy jeans, sports hats, tennis shoes, shoes that are considered too "sports like," shorts, cut-offs, jerseys, and beanies.
What about denims or jeans? Jeans are completely acceptable at every club in LA. You just want to make sure that your jeans look good, as most LA top clubs frown upon torn, rugged jeans. Also, you shouldn't try to walk in wearing really baggy jeans. You will get rejected. Probably even laughed at. Bad idea.
What about my shoes? You are always safe with leather and dress shoes. You can even occasionally get away with low profile "tennis shoes" as long as they are solid black (including the laces) if they look dressy enough and don't have any huge logos on them. Have some trendy kicks that you want to wear out? Officially, they aren't allowed, but most LA top clubs are relaxing the rules on shoes if you compensate elsewhere in your outfit. Have on a STYLISH collared shirt, tie, jacket, nice pants with your fashionable sports shoes? Technically speaking it's against the "rules," but you might be just fine.
How Can We Help? · FREE PARTY PLANNER
Let our free concierge service help you plan the best birthday party. BottleMenuService is the biggest name in L.A. nightlife event planning. We offer an unparalleled database of the hottest venues in Los Angeles. Whether you're looking for a chic lounge, trendy mega club or simply need a little input, BottleMenuService gives you insider access and perks to the most exclusive and in-demand nightlife hot spots – completely free of charge.
For a spectacular Birthday or All Occasion event, give us a call +1 (310) 749-9029. Furthermore, customers can inquire out about special amenities like VIP admission, table discounts, photographer and more via our online form. Whether you need a few recommendations or help with booking and arrangements, we will provide free, customized party planning service so you can have a truly special birthday.
---
Avalon Hollywood
1735 Vine St
Los Angeles
,
CA
90028
United States
---
Avalon Hollywood
---