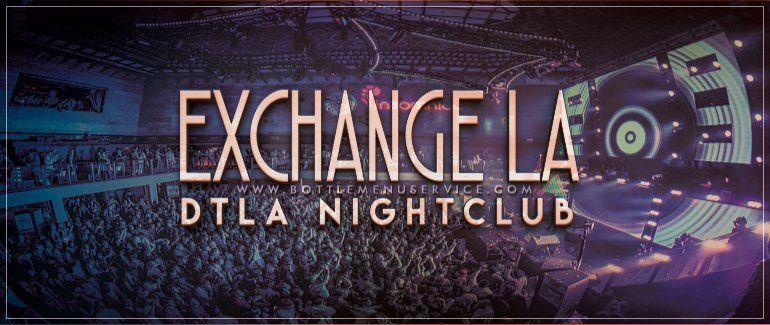 Where to Find Top Electronic Dance Music DJs · LA EDM Music Events · Downtown Los Angeles Top Nightlife Destination:
Exchange LA Insider's Guide
Where: 618 S Spring St, Los Angeles, CA 90014
When: Fri-Sat, 10:00 PM – 4:00 AM, hours and days can vary by event
Venue Type:
Nightclub · Live Music · EDM (Electronic Dance Music) · Concerts · Dance Club
Capacity:
1500
Los Angeles nightlife can't get any hotter than this downtown club located inside the building of the former Los Angeles Stock Exchange. Exchange LA has six full bars, four spacious dance floors and plays a range of music, including electronic, hip-hop and Top 40 hits. With its classy décor and modern music playlist, this upscale dance club provides a fun atmosphere for a mixed LA crowd.
Vegas-Style LA
Upcoming Events
Table Minimums
Venue Profile
Dress Code
How Can We Help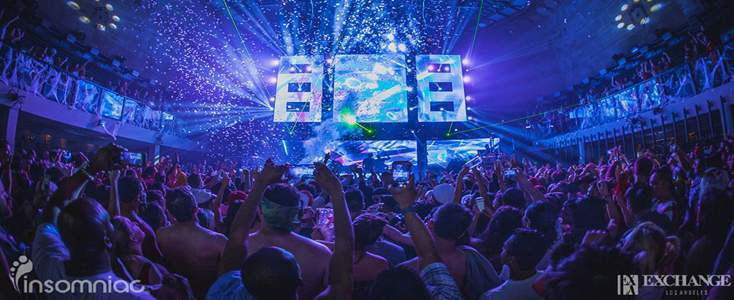 Exchange LA · DOWNTOWN L.A.'s NIGHTLIFE RESURGENCE
Your first thoughts upon walking into Exchange LA very well may be "Holy. Crap." This huge venue (1,500 people) reminds us most of Vegas mega clubs, so we feel right at home. The mezzanine level is a great way to view the club in its entirety. Their partnership with Insomniac makes for some top notch DJ talent coming in and out of the lineup. And those nights with a big name can get PACKED and really heat up the place.
Basically, Exchange LA is an awesome party place when you're in the mood to party hard. Like Vegas. Pro Tip: Use the downstairs bar for those crazy nights to get a drink faster. Unless you have a table, in which case, you're already a pro and probably skipped reading the Pro Tip.
Exchange LA · UPCOMING EVENTS
Exchange LA · VIP TABLE MINIMUMS
Table Reservations close at 4:00 AM. To RSVP, call/text
+1 (310) 749-9029
. Exchange has two menus – a higher priced menu for special events (bigger DJs) – see below. On special events (NYE, Halloween, etc) pricing might be higher.
---
---
Table located on 1st floor around the edge of the floor. Extra comp available for birthdays.
---
Main Room Table (Special #1)
Table located in main room. Includes 2 bottles of vodka. Extra comp available for birthdays.
---
Table located on 1st floor. Extra comp available for birthdays.
---
Table located on 2nd floor mezzanine with view of DJ. Extra comp available for birthdays.
---
Dance Floor Table (Large)
Table located in middle of 1st floor. Extra comp available for birthdays.
---
Large Table located on 2nd floor mezzanine with view of DJ. Extra comp available for birthdays.
---
Large table located in center of mezzanine. Extra comp available for birthdays.
---
Bottle Menu (Special Events)
Table Seating Chart
Bottle Menu (Regular)

Exchange LA · VENUE PROFILE
Exchange LA is THE mega-club in Downtown Los Angeles. Housed in the former LA Stock Exchange building, approximately one mile from the Staples Center and the LA Convention Center, this expansive, four-story venue (25,000-plus square feet) can accommodate 1,500 guests, and includes six full-service bars, exclusive VIP rooms, table service, concierge, designated catering area, valet parking, and more restrooms than any club in Los Angeles.
After $5 million in renovations, this is your new way to properly celebrate Downtown's rebounding drinking market. To begin, you'll want to pull back the original 1,400-pound solid bronze doors to find a covert hallway—a good place to meet up before you ascend the giant staircase and abandon all notion of the outside world. At the top is the cavernous Trading Room—aka the dance floor—under a hand-painted ceiling 40 feet up. The balcony, dubbed the Federal Reserve, has a personal host at each reserved table. And all the way up, accessed by a secret elevator, is the Board Room—a crimson-colored private viewing box for your most delicate after-dark dealings.
Exchange LA features a state-of-the-art Funktion One sound-system. The scope of the interior provides really amazing acoustics. The sound is crisp and the bass is body-shaking without losing clarity. Expect to hear a lot of Hip-Hop and Trance they bring in commercial deejays with the sole mission of getting hundreds of people onto the dance-floor and shaking it. There's always a line at Exchange LA. And as with most Los Angeles clubs there's a dress code and the bouncers can be picky. Guest lists and bottle service are the best way to make sure you don't spend an hour out the front. Once you're in it's time to go for broke.
Exchange LA · DRESS CODE
First off, What's not allowed? As you now know, just because it is against the formal dress code doesn't necessarily mean it won't occasionally get through the door. Often times if you show up with a very stylish look, things are overlooked. Still, be mindful that these are things that are universally "not allowed" per official dress codes: baggy jeans, sports hats, tennis shoes, shoes that are considered too "sports like," shorts, cut-offs, jerseys, and beanies.
What about denims or jeans? Jeans are completely acceptable at every club in LA. You just want to make sure that your jeans look good, as most LA top clubs frown upon torn, rugged jeans. Also, you shouldn't try to walk in wearing really baggy jeans. You will get rejected.
What about my shoes? You are always safe with leather and dress shoes. You can even occasionally get away with low profile "tennis shoes" as long as they look dressy enough and don't have any huge logos on them. Have some trendy kicks that you want to wear out? Officially, they aren't allowed, but most L.A. clubs are relaxing the rules on shoes if you compensate elsewhere in your outfit. Have on a STYLISH collared shirt, tie, jacket, nice pants with your fashionable sports shoes? Technically speaking it's against the "rules," but you might be just fine.
How Can We Be of Service? · FREE PARTY PLANNER
Let our free concierge service help you plan the best birthday party. BottleMenuService is the biggest name in L.A. nightlife event planning. We offer an unparalleled database of the hottest venues in Los Angeles. Whether you're looking for a chic lounge, trendy mega-club or simply need a little input, BottleMenuService gives you insider access and perks to the most exclusive and in-demand nightlife hot spots – completely free of charge.
For a spectacular Birthday or All Occasion event, give us a call +1 (310) 749-9029. Furthermore, customers can inquire out about special amenities like VIP admission, table discounts, photographer and more via our online form. Whether you need a few recommendations or help with booking and arrangements, we will provide free, customized party planning service so you can have a truly special birthday.
---
Exchange LA
618 S Spring St
Los Angeles
,
CA
90014
United States
---
Exchange LA Club
---