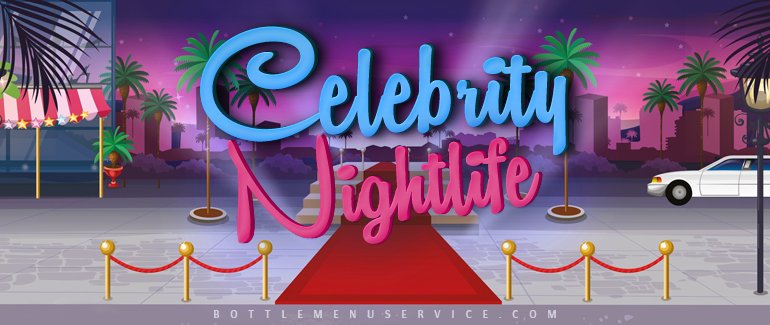 Celebrity Nightlife LA Insiders Guide
Lights, camera, action! Los Angeles is most notable for A-list celebrity sightings and opulent nightlife. Star-studded parties and lively nights out are an integral part of the L.A. celebrity culture. And celebrity nightlife definitely runs wild in LA!!! Like the rest of us, celebs enjoy living it up, and letting loose. It's celebrity nightlife; so the place to see (and be seen in) has to be Hollywood!!
Only The Best Exclusive LA Clubs Attract Elite Celebrity Nightlife
The glitz and glamour of Hollywood celebrity nightlife creates a mystique that has many people dreaming of being a part of…even if just for an evening. But keep in mind that only the best exclusive Hollywood clubs have the ambiance to lure L.A.'s jet set elite and celebrity. Hence, you can't just simply go out to any club and expect to rub elbows with these stars. Furthermore, nightclubs and lounges seem to come and go every week in Los Angeles. One minute, a place can be the hottest spot in town, with every famous face in Hollywood walking in and out of its doors, and the next it can be as irrelevant as last week's Variety.
10 Best Celebrity Nightlife LA Hot Spot Destinations
Admit it: when you go to LA, the one thing you really want is to spot a celeb. While there is no guarantee you will spy a familiar face when you are here. There are some locations where you can up the odds. The key to finding an A-lister? Hang out where they do. Hit up any of these LA hot spots for a fabulous night out that might turn into a star-studded affair. Throw on a sexy black dress with highest heels; grab your friends; and head to your next great night out in LA. Hope you're on the VIP guest list!!
Playhouse Hollywood
Playhouse Nightclub Hollywood | Celebrity Nightlife in LA
Welcome to your go-to party place for the best Hip Hop celebrity nightlife in LA. For those of you that prefer revelry spiked with risk, we invite you to Playhouse Hollywood. We all know that celebrities love a good party. Playhouse is a great place when you're after a fun night out and celebrity sightings with all the exclusive VIP club perks imaginable. And with past performances by top celebs like Diddy & 50 Cent, one thing is for sure, Playhouse knows how throw a damn good party!! To RSVP w/ VIP, call: +1 (310) 749-9029.
Bootsy Bellows
Best of Celebrity Nightlife in LA: Bootsy Bellows
Bootsy Bellows is not for the prude at heart. The brainchild of David Arquette, Bootsy has become a go-to for stars in LA. The club boasts some impressive names on the guest list. (e.g. Justin Bieber, Katy Perry, Future, Chris Brown, Rita Ora, Adam Lambert, Kevin Durant). And these famous names are a few of the many entries on what reads like a Who's Who of Hollywood. Oh yeah, and Mr. Arquette himself is sometimes seen whooping it up with guests at the L.A. hot spot.
Poppy
Best of Celebrity Nightlife in LA: Poppy
When it comes to exclusive nightclubs, Poppy may just be L.A.'s ultimate. Only open on Thursday nights, this place has drawn musical stars like Drake and his pals to party in the "fantasy upscale lounge" (as the owners call it). It's a lushly designed spot; with a cozy private bar upon entry. Then, further in, guests find a large room filled with banquettes and tables as well as an outdoor space, too. DJs like L.A.'s own EC Twins spin tunes for those who can find a small spot for dancing, but Poppy is really about the see-and-be-seen scene, with bottle service fees in the stratosphere. What bottle do you have at your table? That's the status-symbol question at this club that is definitely geared for Angelenos with very deep pockets.
Academy Nightclub
Celebrity Nightlife in Los Angeles | Academy LA
Academy has risen from the ashes of Create Nightclub, opening in January of 2018 in the same large Hollywood space. It remains the place that packs in the high intensity crowds that love EDM and other DJ-created sounds. Expect capacity crowds in this space designed for musical and visual experimentation. Laser and LED lights explode around the party-goers; confetti flies down on the dancers; and arctic blasts cool things off when the joint gets really jumping. Head out to the patio to escape the madness for a moment. For a space of your own, book a VIP table. Otherwise, jump in and revel in the Electronic Dance Music rave going off all around you. Currently only open on Friday and Saturday nights, so check the club's online calendar for up-to-date info.
Nightingale Plaza
Most Popular Celebrity Nightlife LA Hot Spot Hip Hop Stars Rap About
From the kinetic ceiling covered in revolving mirrored panels, to the LED walls. Tech meets nightlife in this top L.A. party spot. The most noteworthy feature is the Rockwell Group designed wallpaper. It's inspired by exotic foliage and magical surrealism.
Plus, there's a photo booth, lined in the wallpaper, that can fit 8+ people. But have a game plan upon entering. Because mastering the boomerang like gif setup can take a minute. It's only a matter of time before Nightingale Plaza gains mention in a hip hop song. (e.g. like Drake and the Game did for its predecessor, Greystone Manor).
Lure Nightclub
Classic Vegas Party Life Vibe with Splash of Epic L.A. Nightlife
If you happen to be into the whole showy Vegas glitzy thing, then Lure might be the L.A. nightspot worth your cash. With over 100 kinetic light spheres that dance with the music, this centerpiece of architectural dazzle is a lightning rod that attracts Hollywood heavyweights and socialites. And, moreover, if there's a big concert or music-related event in LA, it's almost certain that the after party will move to Lure Nightclub!!! Paris Hilton, Jay-Z and Ariana Grande have all partied at the club. And that list is sure to grow as the club continues to book show-stopping performers and cultivate its reputation among L.A.'s elite. Entertainment is provided by top DJs that drop more than vicious beats. They put on a show that keep the dance floor packed for hours under a 50,000-watt sound system. * Fridays and Saturdays are when experience the cutting-edge in cool clubbing L.A.'s Lure.
Hollywood Roosevelt
Celebrity Nightlife Favorite For The VIP Set
The Hollywood Roosevelt has drawn the likes of massive stars like Clark Gable, Marilyn Monroe, and more recently Angelina Jolie. And Teddy's is arguably the bait for all the star power. Dim lighting that any celeb, young or old, would love; plush VIP booths; over the top chandeliers; and a tough reservation policy… It's no wonder this celebrity hangout continues to attract everyone from Scarlett Johansson to Gerard Butler. DJs spin top 40, which sometimes include celeb DJs like Samantha Ronson; located at 7000 Hollywood Blvd.
1 OAK Los Angeles
Impromptu celeb performances from the top music stars on Sunset Strip
Since 1 OAK arrived in LA it has set the bar for all mega clubs in town. One thing you can expect from 1OAK is from the time you show up til the time you leave you'll be there and part of a wild party. The owners of 1OAK are notorious for bringing out celebrities and artists so don't be surprised if Jamie Fox gets up on the microphone and performs.
This club is so awesome and plays the best hip hop in the world. They always have a ton of massive guest DJs; and this place goes off every night it's open. The crowd is very upscale. And the door is very tight; so you might be in trouble if you're not getting VIP bottle service. However, this club holds almost 1000 people so they do need to let people in.
** 1 OAK LA is famous for impromptu performances by some of the biggest names in the industry; which brings a zeal to the crowd. And although any night could be "the big night" at this L.A. top club, 1 OAK Tuesday nights are a magnet for the rich and famous. When the stars come out to play in L.A., they favor the 1OAK LA crème de la crème nightlife.
Boulevard3
Best Mansion Party Spot Celebrity Nightlife Venue in LA
Who can resist a nightclub on Sunset Blvd. Moreover, one with such a reputation! Boulevard3 is renowned among celebrities and Angelenos alike. And, furthermore, the LA top club hosts major parties weekly with Boulevard3 Fridays and Saturdays; events that don't need creative names because that's all you need to know. The venue is enormous with a huge dance floor and professional dancers; yet Boulevard3 manages to maintain a fun, down to earth atmosphere. They also host a slew of events, which means everyone from Paris Hilton to Cheryl Burke to Jane Fonda have been spotted there.
The Nice Guy
L.A.'s Most Stylish and Secretive Celebrity Nightlife Playground
The space became an instant safe haven for stars, due to its no-photos policy and notoriously strict door. The Nice Guy features everything from craft cocktails to indulgences (e.g. fried mozzarella) to light fare (e.g. kale salad). But, most of all, the vibe is its greatest draw.
The fashionable hangout is not quite a nightclub, but not quite a restaurant. The restaurant only takes reservations. And its eminent clientele include Drake, Nicki Minaj, and Gigi Hadid and Zayn Malik. The Nice Guy is easily the favorite hangout of the trendiest celebrities in LA; located at 401 N La Cienega Blvd.
---
Celebrity Nightlife
---