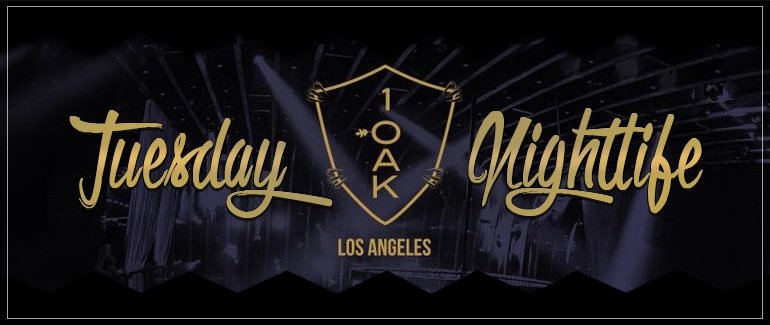 Best Exclusive Clubs in Los Angeles · 1 OAK Tuesday LA Top Club Destination 2017:
1 OAK Tuesday · 1 OAK LA
Address: 9039 Sunset Blvd
West Hollywood, CA, 90069, USA.
Capacity: 600
Venue Type:
Nightclub · Live Music Venue · Bottle Service · Upscale · Dance Club
Operating Hours:
Tuesdays: 10:30 pm – 2:00 am
---
Discover 1 OAK Tuesday LA top club nightlife lifestyle. The One-Of-A-Kind brand is known around the world for their keen sense of style, enduring design and unrivaled fun. Since their Los Angeles debut, the venue has become a mainstay on the Los Angeles nightlife scene. 1 OAK Tuesday nights offer a unique experience for all guests. 1 OAK Tuesday nights also brings in top hip hop artists and deejays, with Lil John, Wiz Khalifa, and DJ Mustard all recently performing. Complete with an insane lights display controlled by the DJ, 1 OAK Tuesday night is the place to be for any special occasion or big night out. 1OAK LA is located at 9039 Sunset Blvd in West Hollywood.
---
1 Oak Tuesday Nights
Venue Profile
Bottle Service
Concierge Service
Map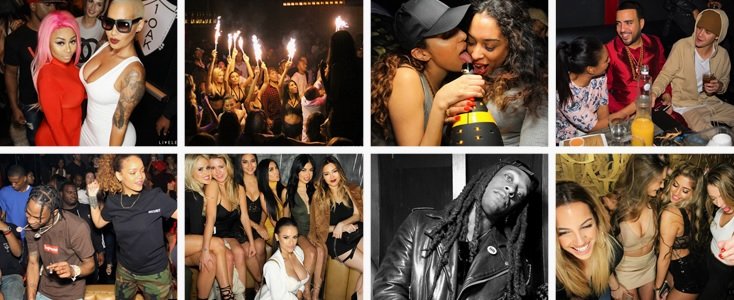 1 OAK Tuesday · Best Tuesday Night LA Club Destination
Join us Tuesdays at 1OAK for an unforgettable Tuesday night. 1 OAK LA is one of the top nightclubs in Los Angeles, with other locations in NYC and Las Vegas. 1Oak also brings in top hip hop artists and DJs, with Lil John, Wiz Khalifa, and DJ Mustard all recently performing Tuesday nights at 1 OAK LA. Complete with an insane lights display controlled by the DJ, 1 OAK Los Angeles is the place to be for any special occasion or big night out. Their Tuesday night party is legendary, so join us at 1OAK's #MADEAT1OAK Tuesday night for one epic evening. 1OAK is always with crawling with celebrities, especially when they have big performances lined up. Brush shoulders with the rich and famous at 1 OAK Tuesdays.
BottleMenuService does not offer guest list on Tuesdays at 1 OAK LA, strictly VIP table service only. Doors open 10:30 pm to 2:00 am every Tuesday. All patrons subject to the doorman's discretion. Early arrival is highly suggested. And VIP table reservations with bottle service always best at 1 OAK Tuesday nights.
1 OAK Tuesday · LA Nightlife Club Venue Profile
A crown jewel in New York City's swanky indulgence, 1OAK has earned its acclaim as a truly "one-of-a-kind" nightlife brand, setting the standard high for stylish sophistication and new-age glamor. At its L.A. outpost, 1OAK emulates the city's ritzy and fashionable elements for a unique nightlife destination that is truly a testament to the 1 OAK illustrious brand's reputation. Boasting two levels of grand party space, 1OAK LA is a lounge and nightclub which expertly blends contemporary and classically elegant designs. Splendid yet minimalistic chandeliers, modern ceiling, state-of-the-art lighting installations, avant-garde wall art and opulent saffron booths fill the space, highlighted by a spectacular, black lacquered wrap around bar. With a spacious dance area, 1OAK combines the posh lounge with a high-intensity club ambiance. 1OAK LA NYE will be a captivating experience for L.A.'s high-profile partiers.
1OAK LA CLUB VENUE FEATURES AND AMENITIES: 9,500 square feet · 550 person capacity · DJ and Live Entertainment · Sound and Lighting by John Lyons · DJ booth with built-in LED Screens · Two Full Service Bars · Large Plush Bottle Service Booths · Valet Parking and Event Catering.
View Venue Floor Plan
1 OAK Tuesday · VIP Tables · Bottle Service
An offshoot of an NYC hot spot, 1OAK LA is a spacious and raucous nightclub that features celebrity hosted performances, top DJs and unrivaled bottle service. Built around the idea that timeless design, attention to detail, and unrivaled hospitality will never go out of style, 1 OAK Tuesday is a premiere LA nightlife destination for your VIP table service and/or next event. At 1 OAK Tuesday nights, everything is done in excess. So when you're at 1 OAK Tuesday night, expect to bend the rules a little bit to fit your idea of fun. You'll lounge alongside some Hollywood's most notable fashion, sports, musical and celebrity icons. But play it cool; everyone's here to do a little something dangerous.
Since 1 Oak arrived in LA it has set the bar for all mega clubs in town. If you're not getting bottle service then you're in trouble. Bottle service reservations are sat either downstairs in the main room or upstairs on the balcony looking into the room. For guest list arrivals we would recommend coming with more girls than guys in your group and to be there by 1030. One thing you can expect from 1 Oak Tuesday nights is from the time you show up till the time you leave you will be there and part of on wild party. We highly recommend making a bottle service reservation if you plan on going there. The owners of 1 Oak are notorious for bringing out celebrities and artists so don't be surprised if you see A-list stars getting up on the microphone to perform.
1 OAK Tuesday · Quick Facts
Layout: Two floors. Downstairs is the main focus of the venue where most of the tables are located alongside a large dance floor and huge DJ station. Upstairs there are more tables but it's not a preferred place to sit.
Vibe: Massive club, loud music, tons of people. This is what a club is or what a club should be.
Line situation: Long and hard to get in. Bottle Service Reservation highly recommended.
Nearby: Whiskey A Go Go, The Viper Room, The Den, The Sunset Strip.

Dress Code Policy: Dress code is required to ensure entry into 1OAK LA, especially for men. To avoid any problems getting into the club it is recommended that men wear nice pants or jeans, a collared shirt or sport coat, and dress shoes. Please avoid shorts, sandals, hats, and athletic attire. If you are not sure if your clothes will pass the dress code play it safe and dress nice. Women can almost get away with anything they want; however, we have seen instances where flip flop sandals were looked down upon. A cute or sexy dress that fits your body type with a nice set of heels will always work.
---
How much is table service at 1 OAK Tuesday Nights in LA?
1 OAK Tuesday nights have some of the highest table minimums in Los Angeles. The Downstairs starts at $2000-2500 to start – plus tax and operational fees (which is approx 32%). * If there is a celebrity performance that night, the downstairs rate is $2500 and up. The Upstairs starts at $1500 minimum – plus tax and operational fees (which is approx 32%). The best table at 1 OAK is the dance floor table if you want to be the middle of the action, or the DJ table if you're trying to be a bit more exclusive. The table options on standard nights include:
Mezzanine table (small) – $2000, 4 bottles – 8 comps – VIP table on mezzanine with a view of DJ and dance floor.
Mezzanine table (large) – $2500, 5 bottles – 12 comps – VIP table on mezzanine with a view of DJ and dance floor.
DJ table – $3000, 6 bottles – 10 comps – Table located on stage behind the DJ.
Main floor VIP table – $3500, 7 bottles – 15 comps – VIP booth located along the wall of the 1st floor.
Dance floor table – $5000, 10 bottles – 15 comps – Table located on the dance floor and in front of the DJ.
View Bottle Menu
1 OAK Tuesday · LA VIP Club Concierge
For revelers with a taste for the high-life, 1 OAK Tuesday nights offer VIP options that will make you feel like royalty. Need more information or help booking your bottle service? Let us know. We'd love to hear from you. Need help selecting the right party? Try our personalized concierge service. Call or text us at +1 (310) 749-9029 or enter your reservation below. Please be as detailed as possible about your event and we will reach out to you shortly. If you do not hear from us within 24 hrs, or if you desire a quicker response, please send us a text message at +1 (310) 749-9029. Want more and get more – book your party bus LA club package online at www.partybusnightclub.com
---
1OAK LA
9039 Sunset Blvd
West Hollywood
,
CA
90069
United States
---
1 OAK Tuesday Best LA Club
---