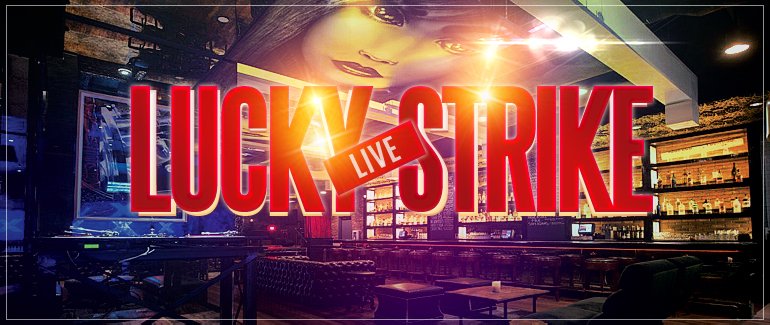 Hollywood LA Top Nightlife Destination 2017:
Lucky Strike Hollywood · Lucky Strike Live
Address: 6801 Hollywood Blvd
Los Angeles, CA, 90028, USA
Capacity: 550
Venue Type:
Gastropub · Bowling Alley · Bar · Lounge · Dance Club
Hours of Operation:
Mon-Wed: 12:00 pm – 1:00 am, Thu-Fri: 12:00 pm – 2:00 am, Sat: 11:00 am – 2:00 am, Sun: 11:00 am – 1:00 am.
---
Lucky Strike Live
Venue Profile
Venue Policies
Party Packages
How Can We Help?
Lucky Strike Hollywood dubbed Lucky Strike Live
Lucky Strike Hollywood, dubbed Lucky Strike Live, packs a hell of a punch as L.A.'s top bowling and dining nightlife destination for tourists and locales alike. Located smack on the corner of Hollywood and Highland, Lucky Strike Live has rapidly erupted from hidden bowling alley into Hollywood's hottest nightlife entertainment hub. The world-famous combination bowling alley-restaurant-lounge, Lucky Strike Live, features live performances every week by rock's latest and greatest. This live music venue provides an intimate, authentic and homegrown experience created to help emerging artists take their careers to the next level while also serving as a performance destination for established acts. Lucky Strike Live blends edgy steampunk aesthetic, mouthwatering cuisine, and beautifully modern lane design into a one-of-a-kind celebrity-magnet for Hollywood's hippest and craziest crowd. Celebrities, such as Ashton Kutcher and Justin Bieber have been known to frequent Lucky Strike Live. You can literally bowl with the stars.
Lucky Strike Live is bursts with character like no other venue in Hollywood! An all-around fantastic experience is just waiting to be had at Lucky Strike, where Los Angeles diners can eat and drink like never before. Come check out what all the buzz is about. Live deejays often entertain the evening crowd while dining. Crowds are boisterous at the restaurant and the music is blaring, so get ready for a very loud night out.


Lucky Strike Hollywood · Venue Profile
Lucky Strike has been universally recognized in the media as the leading brand in the boutique bowling category. With state-of-the-art private and semi-private function rooms, Lucky Strike Hollywood has hosted countless entertainment and sports celebrities along with thousands of corporate and private events. Spanning over 19,000 square feet, Lucky Strike Live features 12 state-of-the-art bowling lanes, tournament-quality billiards, and a private party room "The Marilyn Room" with capacity up to 40 persons. Lucky Strike Live holds up to 500 guests with existing seating.
View Venue Floor Plan
Lucky Strike Hollywood · Venue Policies
Thanks to the ample booze, the alley admits over-21s only after 8pm daily. Government issued I.D. attesting to the fact that the guests are 21 years of age or older is always required for entry to the venue. No exceptions. Management reserves the right to deny entry for argumentative, rude or offensive behavior.
Dress code is enforced after 7pm nightly. But don't worry, dressing appropriately for the club isn't rocket science. Follow these tips and your clothes won't get you turned away.
Lucky Strike Hollywood · Dress Code
First off, What's not allowed? As you now know, just because it is against the formal dress code doesn't necessarily mean it won't occasionally get through the door. Often times if you show up with a very stylish look, things are overlooked. Still, be mindful that these are things that are universally "not allowed" per official dress codes: baggy jeans, sports hats, tennis shoes, shoes that are considered too "sports like," shorts, cut-offs, Capri's, jerseys, and beanies.
What about denims or jeans? Jeans are completely acceptable at every club in LA. You just want to make sure that your jeans look good, as most LA clubs frown upon torn, rugged jeans. Also, you shouldn't try to walk in wearing really baggy jeans. You will get rejected. Probably even laughed at. Bad idea.
Make sure your look matches the image of the venue. The bottom line is, you should do what you can to match the image of the crowd at the club you are going to. If you are going to a venue known for it's cool downtown crowd, definitely don't wear a suit. If you are going to a venue known for an upscale crowd, maybe a stylish sports coat is not such a bad idea. Tailoring your look to the venue you are going to goes a long way.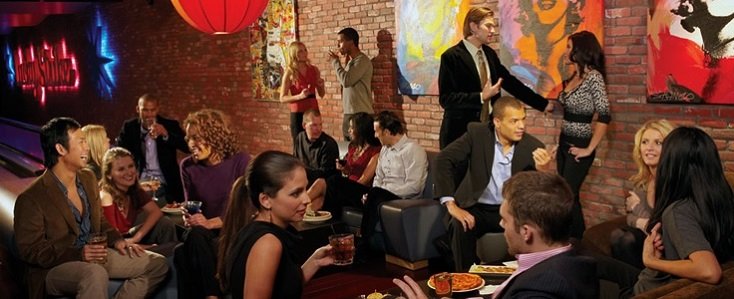 Lucky Strike Hollywood · Party Packages
Lucky Strike offers upscale party spaces, sophisticated menus, full-service bars, and cutting edge a/v systems. Party packages offer food, beverage and entertainment options to accommodate any party. Treat yourself to some hand crafted cocktails courtesy of our expert mixologists, or just cool off with an ice cold beer from our huge selection of local draft brews. BottleMenuService will work with you to create the perfect party package built to suit any budget or personality. And, of course, Lucky Strike offers patrons an extremely posh bowling experience if they are itching to plow down a few pins somewhere that is actually cool. Lucky Strike Hollywood is a lounge style venue that gives people an intimate space to chat with friends, enjoy a gourmet burger and listen to some good tunes.
So whatever your event may be, whether it's a company holiday party, a sit down dinner, or an all-inclusive bowling-drinks-n' rock n' roll experience, Lucky Strike Hollywood is ready to work with you to make your next event something magical.
Free Party Planner · How Can We Help?
Let our free concierge service help you plan the best birthday. BottleMenuService offers an unparalleled database of L.A. top nightlife venues. Whether you're looking for a chic lounge, trendy mega-club or simply need a little input, BottleMenuService gives you insider access and perks to the most exclusive and in-demand nightlife hot spots – completely free of charge.
For a spectacular Birthday or All Occasion event, give us a call +1 (310) 749-9029. Furthermore, customers can inquire out about special amenities like VIP admission, table discounts, photographer and more via our online form. Whether you need a few recommendations or help with booking and arrangements, we will provide free, customized party planning service so you can have a truly special birthday.
---
Lucky Strike Live
6801 Hollywood Blvd
Los Angeles
,
CA
90028
United States
---
Lucky Strike Hollywood
---