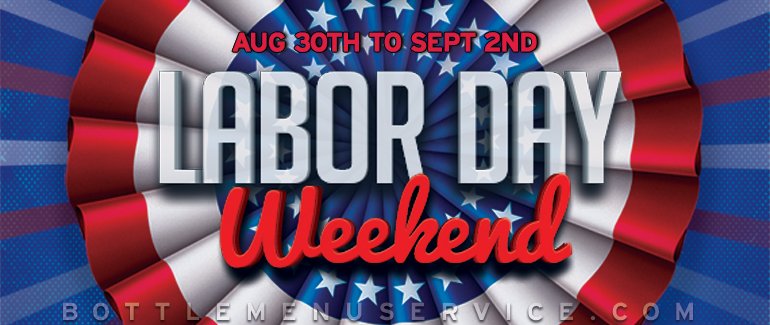 Labor Day Weekend 2019: A Complete Guide to This Year's events at the best exclusive L.A night spots; Sept 6th thru Sep 8th, 2019. Here you can find all the Labor Day Weekend parties; hip hop events; and celebrity hosted nightlife at some of hottest Los Angeles night clubs Labor Day Weekend. Now let's get to it!!
2019 GUIDE | LABOR DAY WEEKEND PARTY EVENTS
The countdown to Labor Day has begun!! Before we dive head first into all things you would rather not stress about; let's make sure that your LDW 2019 is one for the books. Los Angeles provides no limit of things to do; some awesome and some not so awesome. Since time is precious in this fast paced city; we decided to curate a list of the top 10 night spots in Los Angeles over Labor Day Weekend.
This is your complete guide to all the best events – on both land and water – to party LDW 2019 in LA; Sept 6-8th. Read on to learn where to party over Labor Day Weekend. Check out any one (or two) of these LA top club events; and your LDW will 100% be a great one!!
---
Playhouse Nightclub: Your Complete Labor Day Weekend Party Spot
Spend you Labor Day Friday and Saturday with the best of Hip Hop nightlife in LA at Playhouse Nightclub; Sep 6th and Sep 7th, 2019 / 10 PM. They don't call it a PLAYHO– USE for no reason. At 10,500 sq. ft., Playhouse is fully equipped for the crazy parties that only LDW 2019 in LA can host. To RSVP w/ VIP, please give us a call (310) 749-9029.
---
Poppy Nightclub | Labor Day Weekend Friday
---
Special Guest TBA at Ohm Nightclub | Labor Day Weekend
---
Labor Day Weekend VIP Club Tour: Free Drinks & No Covers
---
Labor Day Weekend VIP Club Tour: Round Two
---
Lure Hollywood | Labor Day Weekend Saturday
---
Special Guest at Project Nightclub | Labor Day Weekend 2018
---
Labor Day Weekend Party at Playhouse Nightclub
---
Labor Day Weekend Yacht Party: Pier Pressure Long Beach
---
---
Labor Day Weekend Events Guide
---