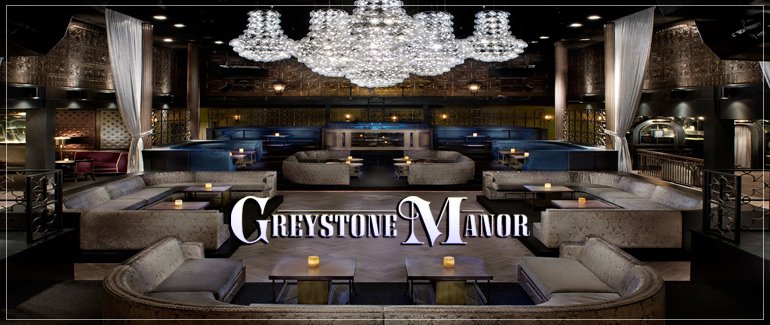 Pure vintage charm and unstoppable nightlife power keep Greystone Saturday nightlife topping the charts for the stunning people visiting this LA hot-spot. Greystone Manor is located at 643 North LA Cienega Blvd in West Hollywood, Los Angeles, CA 90069.
Greystone Saturday · Greystone Manor Supperclub
From 10pm to 2am, Greystone Manor evolves into a captivating nightlife space designed by Award-winning designer Mark Zeff who blends elements of neo-Renaissance with neo-Gothic decor, incorporating refined woodwork and rich fabrics with gold gilded irons and ornate moldings. The final product is a breathtaking room with twenty-foot ceilings, graced with nine LED-infused chandeliers, two elegant bars, and secluded lounge retreats outfitted in vintage leather and velvet sofas. The visual ambiance of Greystone Manor is enhanced with the legion of sensual nymph-like performers and aerialists that drape themselves around the venue and act out choreographed baroque-inspired vignettes. The energy is felt through Greystone Manor venue's state-of-the art Funktion-One sound system and an incredible LED lighting system.
Bottle Service
Plan Your Party
Venue Profile
VIP Concierge Service
Virtual Tour
Map
Greystone Saturday · Bottle Service
How much is table service at Greystone Manor? Greystone Saturday features a wide range of table options for bottle service: Bar Table – $450 – 4 comps Lounge Table – $900 – 8 comps Main Table – $1500 – 10 comps Large Main Table – $2000 – 12 comps Dance Floor Table $2500 – 12 comps.
What is the dress code at Greystone Manor? Collared shirt / jeans / dress shoes for guys. Avoid anything that can be considered sportswear (track jackets, jerseys, sneakers, hats, etc). If you are getting bottle service you will have some more leeway. Greystone Saturday party scene/crowd can be defined as celebrity guests, industry hotshots, trendy club kids, name-droppers, models, scenesters, dapper Hollywood professionals, 20s to mid-30s.
Greystone Manor is a supper club situated in the heart of West Hollywood offering an alluring combination of cuisine, mixology, and cutting-edge design and entertainment. Our venue is perfect for events like birthday parties, anniversaries, family reunions, graduation party and more. Whether you are planning an intimate dinner for friends, a corporate luncheon or an extravagant soiree, sbe's best-in-class service, versatile venues and award-winning catering will guarantee that your event will be a success. Celebrate your birthday with a fistful of swank at the Greystone Saturday–Hollywood's famed exclusive nightclub. Let us turn your Birthday into a lavish soiree. Customize Your Package to Make Your Birthday Wish Come True. Must be 21+ to purchase and present valid ID upon entry. This sumptuous celebrity VIP nightclub truly offers a one-of-a-kind nightlife experience in Hollywood, featuring dramatic, live aerial performances.
Greystone Saturday · LA Club Venue Profile
Greystone Manor is a Supperclub situated in the heart of West Hollywood that delivers an alluring combination of cuisine, mixology, and cutting edge entertainment. Greystone Manor evokes a contemporary rendition of the Renaissance, replete with ornate chandeliers and millwork that enhance its overall decadence. An open dance floor is surrounded by two full-service bars where chic mixology is orchestrated with precision. The energy of the space is ignited by state-of-the-art sound and lighting systems, while secluded alcoves and lounge retreats boast vintage sofas finished with aged leather and velvet. This luxurious venue accommodates roughly 500 guests. Celebrity sightings are frequent at this West Hollywood hot-spot.
Greystone Manor pays homage to the nostalgic era of old Hollywood, evoking glamour and decadence throughout the design. Upon arrival, guests feel as if they're visiting a private estate, walking through the entrance gate and past a courtyard, finally reaching the grand ballroom where two staircases descend upon the revelry. Even the service has an intimate feel, as a personal butler greets table service guests and offers to collect and store their coats.
VIEW VENUE FLOOR PLAN
Greystone Saturday · Nightlife Concierge
For revelers with a taste for the high-life, Greystone offers a variety of VIP options that will make you feel like royalty. Need more information? Or help booking your bottle service? Let us know. We'd love to hear from you. Need help selecting the right party? Try our personalized concierge service. Call us at +1 (310) 749-9029 or enter your reservation below. Please be as detailed as possible about your event and we will reach out to you shortly. If you do not hear from us within 24 hrs, or if you desire a quicker response, please send us a text message at +1 (310) 749-9029. Want more and get more. Book your party bus LA club package at www.partybusnightclub.com
---
Greystone Manor
643 N La Cienega Blvd
West Hollywood
,
CA
90069
United States
---
Greystone Saturday
---