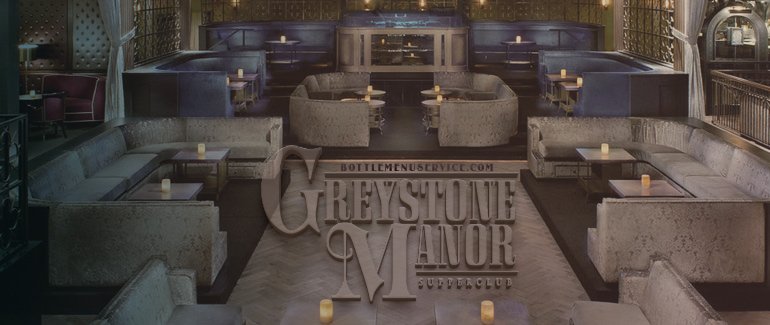 Best Exclusive Clubs in Los Angeles · Los Angeles Top Nightlife 2017:
Greystone Manor · Nightingale Plaza
Address: 643 N La Cienega Blvd
Los Angeles, CA, 90069, USA.
Capacity: 500
Venue Type:
Nightclub · Supper Club · Performance Venue · Dance Club
Hours of Operation:
Thu-Sun, 10:30 pm – 2:00 am
---
Greystone Manor is L.A.'s most exclusive supper club. Greystone blends the charm and allure of celebrity and classic Hollywood with state-of-the-art sound, lighting, and performances. With elaborate chandeliers, dramatic lighting and free-flowing drinks, Greystone is a luxurious supper club. The celebrity hot-spot embodies Hollywood glamour. Grab a group of friends. Don your most fashionable finery. Prepare to enjoy a night on the town at Greystone Manor. On any given night clubbing GREYSTONE MANOR in L.A., you are sure to share the dance floor with celebrities galore.
---
Venue Profile
Venue Policies
Reimagined for 2016
How Can We Help?
Directions
Greystone Manor · Venue Profile
Greystone Manor is a fusion of dining, mixology and entertainment into a world-class upscale nightlife experience. SBE nightlife group has positioned this venue as an exclusive supper club for chic clientele in the heart of West Hollywood. The venue evokes a contemporary rendition of the Renaissance, furnished with ornate chandeliers and millwork that enhance its overall decadence. An open dance floor is surrounded by two full-service bars. Here is where chic mixology is orchestrated with precision. The Energy of the space is ignited by state-of-the-art sound and lighting systems. Secluded alcoves and lounge retreats boast vintage sofas finished with aged leather and velvet.
Greystone pays homage to the nostalgic era of old Hollywood. It evokes glamour and decadence throughout the design. Upon arrival, guests feel as if they are visiting a private estate, walking through the entrance gate and past a courtyard, finally reaching the grand ballroom where two staircases descend upon the revelry. Even the service has an intimate feel. Personal butlers greet guests and offers to collect and store their coats.
The visual ambiance of Greystone Manor is enhanced with the legion of sensual nymph-like performers and aerialists that drape themselves around the venue and act out choreographed baroque-inspired vignettes. The energy is felt through venue's state-of-the art Funktion-One sound system and an incredible LED lighting system. In addition to bottle service and VIP table service, Greystone Manor is also available for private events.
View Venue Floor Plan
Greystone Manor · Dress Code
First off, What's not allowed? As you now know, just because it is against the formal dress code doesn't necessarily mean it won't occasionally get through the door. Often times if you show up with a very stylish look, things are overlooked. Still, be mindful that these are things that are universally "not allowed" per official dress codes: baggy jeans, sports hats, tennis shoes, shoes that are considered too "sports like," shorts, cut-offs, Capri's, jerseys, and beanies.
What about denims or jeans? Jeans are completely acceptable at every club in LA. You just want to make sure that your jeans look good, as most LA clubs frown upon torn, rugged jeans. Also, you shouldn't try to walk in wearing really baggy jeans. You will get rejected. Probably even laughed at. Bad idea.
What about my shoes? You are always safe with leather and dress shoes. Work boots or athletic workout shoes and sandals will also always be a no go. That leads us to a gray area. Have some trendy kicks that you want to wear out? Officially, they aren't allowed, but most LA top clubs are relaxing the rules on shoes if you compensate elsewhere in your outfit. Many sneakers are quite fashionable and expensive. These types of shoes are usually a go, but can depend on the club and the event. During holiday weekends and major events the nightclubs typically get stricter on the dress code. Have on a STYLISH collared shirt, jacket, nice pants with your fashionable sports shoes? Technically speaking it's against the "rules," but you might be just fine.
Greystone Manor · Dress Code for Ladies
The dress code is simpler for the ladies, just wear whatever you look hottest in! You can go glamorous with a cocktail dress, or keep it casual with jeans and a dressy top. There is only one thing that you need to know – heels. Wear heels. In all seriousness, all that most girls need to do is make it look like they put in a little bit of an effort. If a girl is attractive enough, she can get in wearing pretty much anything. But if you're thinking those sparkly sandals or designer brand flats are going to cut it, think again.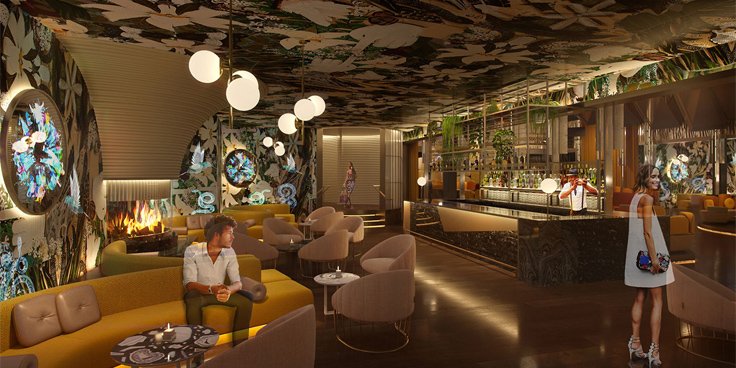 Greystone Manor LA Club · Reimagined for 2016
SBE partnered with Rockwell Group to transform and reimagine Greystone Manor as an avant-garde cortile. The legendary nightlife venue has been a top performer for SBE. The revamped venue will offer multiple, new environments. Guests will be able to enjoy dinners and lounge, while still offering a central nightclub for that coveted entertainment and dance experience. From entry to dance floor, Greystone Manor will be a glamorous environment layered with a rich language of materials. The redesign will include illuminated LED animation, graphic coverings inspired by exotic foliage and magical surrealism, soft banquettes in plush fabrics, and elements of marble and champagne metal. Greystone will transport patrons into an electric and dynamic escape. The venue's new look will offer patrons transformative experiences room-to-room. For more information SBE, please visit www.sbe.com
Free Party Planner · How Can We Help?
Let our free concierge service help you plan the best birthday. BottleMenuService offers an unparalleled database of L.A. top nightlife venues. Whether you're looking for a chic lounge, trendy mega-club or simply need a little input, BottleMenuService gives you insider access and perks to the most exclusive and in-demand nightlife hot spots – completely free of charge.
For a spectacular Birthday or All Occasion event, give us a call +1 (310) 749-9029. Furthermore, customers can inquire out about special amenities like VIP admission, table discounts, photographer and more via our online form. Whether you need a few recommendations or help with booking and arrangements, we will provide free, customized party planning service so you can have a truly special birthday.
---
Greystone Manor
643 N La Cienega Blvd
West Hollywood
,
CA
90069
United States
---
Greystone Manor Supperclub
---