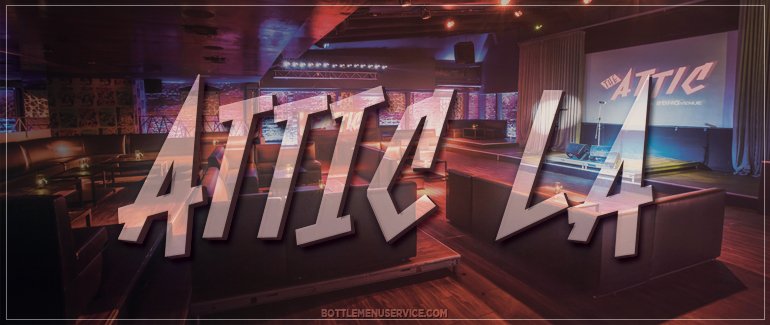 Hollywood LA Top Nightlife Club Destination 2017:
Attic Hollywood · Attic Club
Address: 1643 Cosmo St
Los Angeles, CA, 90028, USA.
Capacity: 350-500 people
Venue Type:
Nightclub · Live Music · Bar · Lounge · Event Space · Dance Club
Hours of Operation:
Fridays and Saturdays, 10:00 pm – 2:00 am.
---
Climb and crawl up to The ATTIC Hollywood and you will know why Los Angeles is a buzz about the hottest new nightclub. An escape from reality, The ATTIC is an unexpected place of youth and rebellion. This secluded, hidden treasure provides a vibe unparalleled to the norm. ATTIC hides you from tomorrow and has you calling for more. The pulse of youth, desire, excitement and imagination are housed just upstairs… in The ATTIC.
---
Venue Profile
Venue Highlights
Concierge Service
Map
Attic Hollywood · Venue Profile
The ATTIC Hollywood boasts up to 4000 sq ft of prime real estate that can be completely customized to suit any special event. As a versatile and easy adaptable venue, The ATTIC is an ideal setting for film screenings or wrap parties, private events, corporate gathering, receptions, weddings and all types of full scale parties. The ATTIC comes equipped with state of the art amenities, including a high definition projector, a removable 30 ft screen, sound system, staging, etc, making this a turn key operation for screenings, presentations, and live performances. The venue also lends itself to full seated banquets, with a huge kitchen and two full bars that put most restaurants to shame. The ATTIC Hollywood can accommodate 350-500 people (depending on nature of the event).
VIEW VENUE FLOOR PLAN
Attic Hollywood · Venue Highlights
The ATTIC Hollywood is located at 1643 Cosmo Street, Los Angeles, CA 90028. The ATTIC offers optional valet parking at the corner of Hollywood Boulevard and Cosmo Street and is available after 7:00 PM to 2:00 AM. There are two attendant parking lots located at the intersection of Cosmo and Selma Streets, just at the end of the block. Metered parking is available throughout the area with meters in effect until 8:00 PM Sunday through Thursday and midnight on both Friday and Saturday.
VENUE HIGHLIGHTS:
Entry Requirements: Guest list and/or Bottle Service. Strict dress code and ratio policy.
Hours of Operation: Fridays and Saturdays, 10pm-2am.
Venue Capacity: 350-500 People
Dress Code Policy: Fashionable Upscale
Best Night: Saturdays
Music Genre: Open Format
The ATTIC venue features: multiple bars, Accept Credit Cards, Bottle Service, Guest List, Smoking Patio, Seating Area, two Dance Floors and Security.
Attic Hollywood · Nightlife Concierge
For revelers with a taste for the high-life, The ATTIC offers a variety of VIP options that will make you feel like royalty. Need more information or help booking your VIP bottle service? Need help selecting the right party? Let us know. We'd love to hear from you. Please be as detailed as possible and we will reach out to you shortly. When your request has been sent, you will be notified by email to confirm availability. If you do not hear from us within 24 hrs, or if you desire a quicker response, please send us a text message at +1 (310) 749-9029.
Want more and get more. Book your party bus LA club package online at www.partybusnightclub.com
---
The Attic Club
1643 Cosmo St
Los Angeles
,
CA
90028
United States
---
Attic Hollywood
---