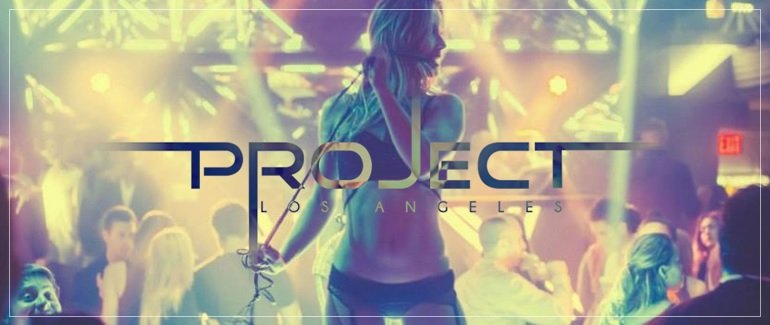 Best Exclusive Clubs in Los Angeles · LA Top Club Nightlife Destination 2017:
Project Nightclub Saturday
Address: 6356 Hollywood Blvd
Los Angeles, CA, 90028, USA.
Capacity: 700
Venue Type:
Nightclub · Live Music · Bottle Service · Dance Club
Hours of Operation:
Sat: 10:00 PM – 2:30 AM PST
---
Still looking for plans this weekend? Don't spend another Saturday night with "Netflix and Chill." Instead, take them to a date they'll remember at Project Nightclub in Hollywood. And if you really want to impress them, snag a bottle service reservation with the team at BottleMenuService. We can hook you up with the best seat in the house at Project. Grab a table, grab a drink, and take the snap-chats of all snap-chats. Even your mom will be impressed by your evening at Project Nightclub.Reserve a table at Project Nightclub this Saturday for the ultimate night out in LA. To RSVP, contact Jamie Barren at +1 (310) 749-9029.
---
The Party Scene
Bottle Service
Venue Profile
Dress Code
NYE 2017
Reservations
Project Nightclub · Saturday Party Scene
Saturdays at Project Nightclub will make you forget your troubles in an all inclusive outlandish environment while providing excellent service. This L.A. top club dazzles patrons with avant-garde performances, top-notch deejay entertainment and cutting-edge revelry.
Project Nightclub embodies world-class friendly service, exclusivity, fun, and the ultimate in Hollywood nightlife with a personal touch. Patrons pass through the venue's velvet ropes into an unforgettable experience. You walk in to a long hallway that opens into one large sized room. You have booth along the top and smaller tables on the dance floor. Out back there is a nice garden style patio, which is nice for getting some fresh air. In the last few months Chris Brown, Taylor Swift, Soulja Boy and Krewella have been at the venue. This venue is perfect for both Hip Hop Music and EDM. The door can be tough. It's best to arrive early with a good ratio of girls-to-guys. Bottle Service is always best to ease entry Saturdays at Project.
Project Nightclub · Bottle Service
One of the nice things about Project is if want to reserve bottle service there's the option on being on the lively dance floor or in large spacious booth. For large parties the booths are really nice and much appreciated by those visiting the club. Project Nightclub features 17 booths available for bottle service reservations and one main bar. The bar itself is quite a visual spectacle thanks to the wide and luxurious bar counter and the garish wine display at the back where each bottle is showcased in a blue-lit enclosure.
View Bottle Menu

Project Nightclub · Venue Profile
Project Nightclub embodies world-class friendly service, exclusivity, fun, and the ultimate in nightlife. Owned and operated by BNG, the 8,500 sq. ft. main room and outdoor patio was designed and built by architectural powerhouse Gensler, and features a state of the art Funktion One Sound System plus a custom lighting structure designed and built by award winning V Squared Labs.
Project attracts a sophisticated, sexy, yet fun and energetic crowd. Celebrities, musicians and world renowned DJs regularly party with guests at this one of a kind venue. Project delivers an interactive social experience with an emphasis on friendly all-inclusive fun coupled with a mesmerizing plethora of avant-garde performances. Project isn't just a dance club. It's a show. It's an experience that's fun for all.
Find your favorite VIP section reserve in the club
Project Nightclub · Dress Code
Dress Code Policy is strictly enforced. Fashionable, upscale attire is required to be granted entry. Project maintains the highest standards of dress attire for all of their patrons.
What's not allowed: As you now know, just because it is against the formal dress code doesn't necessarily mean it won't occasionally get through the door. Often times if you show up with a very stylish look, things are overlooked. Still, be mindful that these are things that are universally "not allowed" per official dress codes: baggy jeans, sports hats, tennis shoes, shoes that are considered too "sports like," shorts, cut-offs, Capri's, jerseys, and beanies. Jeans are completely acceptable at every club in LA. You just want to make sure that your jeans look good, as most LA top clubs frown upon torn, rugged jeans.
Dress Code for shoes: You are always safe with leather and dress shoes. You can even occasionally get away with low profile "tennis shoes" as long as they look dressy enough and don't have any huge logos on them. Most nightclubs are relaxing the rules on shoes as long as you compensate elsewhere in your outfit.
Project Nightclub · NYE 2017
This New Year's Eve, Project LA, the ultra-exclusive London nightlife import, opens its velvet-roped doors for a cutting edge and high-octane party. Innovatively designed in a future-chic concept and boasting next-level fittings, Project Nightclub is a LA top club that delivers an immersive experience and neon-glitz infused nightlife for L.A.'s jet-set and fashionably loud. Head to Project Nightclub for a next-generation NYE party packed with modern swank and high-intensity revelry. For more information, contact Jamie Barren at +1 (310) 749-9029.
Project Nightclub · How Can We Help?
For revelers with a taste for the high-life, Project offers VIP options that will make patrons feel like royalty. To inquire about availability and pricing, please fill out the below form or call our VIP Services team at +1 (310) 749-9029. Please be as detailed as possible about your event. We will reach out to you shortly. If you do not hear from us within 24 hrs, or if you desire a quicker response, please send us a text message at +1 (310) 749-9029. Want more and get more. Book a party bus LA club package online at www.partybusnightclub.com
---
Project Club LA
6356 Hollywood Blvd
Los Angeles
,
CA
90028
United States
---
Project Nightclub Saturday Nights
---