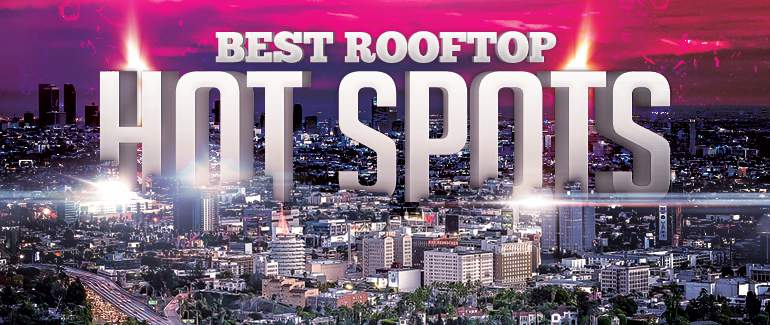 Top 17 for 2017: L.A. Party Spot Rooftop Bars
There's a special feeling at all the great rooftop bars in Los Angeles. You've taken an elevator or the stairs up to the deck, when it's revealed: a part of the city you've never seen from this vantage point. That feeling of discovery is, of course, made even better when it's abetted by a great drink. Start enjoying new views with our list of the best rooftop bars in LA.
If you haven't seen the L.A. metropolis from an awe-inspiring rooftop bar with the city lights brightened by an intoxicated mind, then you need to visit one of the best rooftop bars in Los Angeles to get your head correct. With a drink at these stunning L.A. rooftop bars, you'll be on top of the world. And if you ever get the urge to "shout it from the rooftops," these are the 17 Best Rooftop Bars in LA to give your lungs (and liver) a good workout. Here's our 2017 roundup list of 17 best top-ranked rooftop bars around Los Angeles.
Beverly Hills Rooftops
Downtown Los Angeles Rooftops
Hollywood Rooftops
West Hollywood Rooftops
TOP 4 BEST OF BEVERLY HILLS GLAMOROUS ROOFTOP BARS
Synonymous with Hollywood glamour, Beverly Hills enjoys an international reputation as the home and playground of A-list movie stars. The iconic city houses sophisticated rooftop bars and lounges. They offer a variety of fine cocktails and spirits, lavish decor and memorable experiences that only Beverly Hills can deliver.
From celebrity swims and private cabanas to specialty cocktails and Swarovski crystals, the Beverly Hills rooftop bars on this list set the perfect scene for the ultimate party or offer the utmost in luxurious pampering (whichever your style).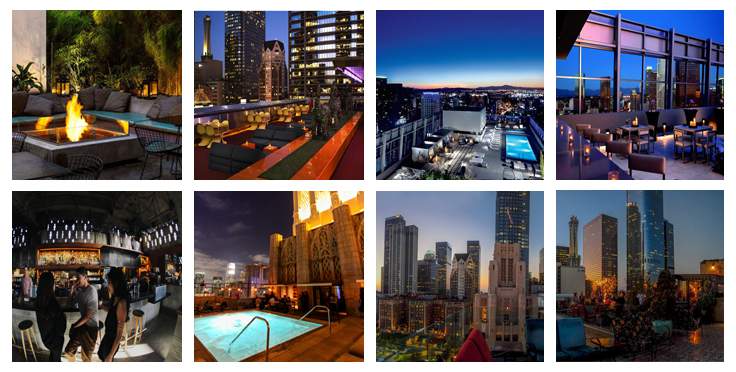 TOP 4 BEST ROOFTOP BARS LA DOWNTOWN
Downtown Los Angeles is definitely on the come up as a place to live and work. And it's without a doubt one of the best spots in town to throw back a few cocktails. We should know. After serious deliberation, numerous parking battles, and more booze than is healthy, we discovered the best rooftop bars in Downtown LA.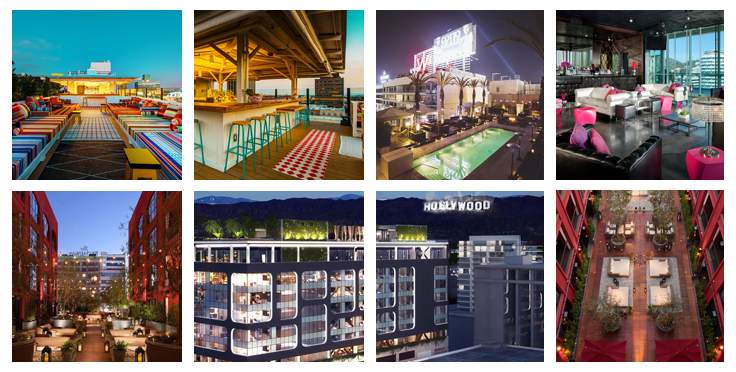 TOP 4 BEST LA HOT SPOT ROOFTOP BARS IN HOLLYWOOD
Hollywood is the Tinseltown land of glitz and glam. Luckily, there are more than enough rooftop bars in Hollywood where you can chill out with a drink and live the good life. Forget the four figure cost of staying overnight in Hollywood havens for the rich and famous. Instead, get a little outdoor action up on the roof where breakfast, booze, lunch or dinner can be yours for a lot less. Hollywood rooftop bars serve exquisite food, flavorsome drinks, and stunning view of the city.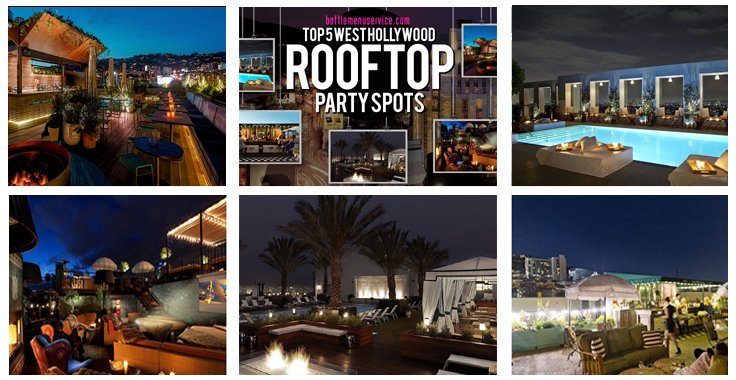 TOP 5 BEST ROOFTOP BARS IN WEST HOLLYWOOD
West Hollywood rooftop bars come in every style. They offer striking views, cool crowds and imaginative cocktail menus. Guests can relax in quiet sanctuaries, or go wild in lively clubs. West Hollywood has the highest concentration of rooftop bars in LA. And there's no shortage of options for exciting rooftop barhopping. Here are a few of our favorites.
---
Best Rooftop Bars Los Angeles
---