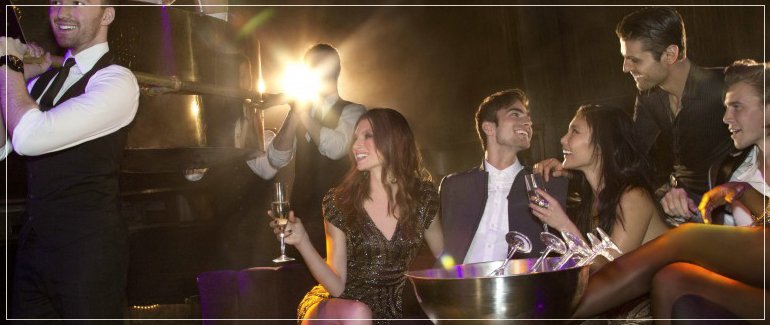 Plan your party night out with LA top club guides, direct host access, free guest list sign up, and top club reviews. Let us elevate your LA night out experience with one-of-a-kind VIP table service. Our experienced staff will cater to your every need while you enjoy your own reserved area inside a top nightclub. There is no comparison to BottleMenuService VIP table service!!!
The MORE FULFILLING VIP Table Service EXPERIENCE
Are you looking to be a Very Important Partier? Skip long lines, pop bottles, spray champagne, and enjoy top rated VIP in LA!!! Whether you are filthy rich or a baller on a budget, BottleMenuService provides that VIP experience you deserve.
Let us to take care of all your nightlife needs. As a result, you'll feel great. And your friends will be impressed. Hence, it's a real win-win for your any occasion event. Easily book tables at the best clubs in LA; and enjoy a great night of ultimate indulgence while your every need is catered to @ 310.749.9029.
---
I don't know where to go? Can I get help planning my night out?
Absolutely!!! Our concierges are available 24/7 by calling (310) 749-9029. They can help you find exactly what you are looking for, and they really shine when they are planning birthday or bachelorette parties. Plus our services come at no cost to you!!!
Is identification mandatory?
All patrons must be 21 years of age with proper and valid form of ID (e.g. Driver's License, Passport, or U.S. Military ID).
But I have a temporary paper ID? So what should I do? Paper IDs are not honored as proper proof of age.
How do I reserve Los Angeles nightclub table service?
Want a fast response? Send a text message at +1 (310) 749-9029 to let us know which venue/s you prefer along with your full name, party size, approx. arrival time, budget, and (optional) preferred table location. Contact us today!!!
What if I have to cancel my table?
Not a problem! Simply text your concierge at +1 (310) 749-9029 and let them know.
---
What is VIP table service?: FAQs | GENERAL QUESTIONS
What is VIP table service?
The purchase of bottle service typically includes a reserved table for the patron's party and mixers of the patron's choice. VIP table service can include the service of a VIP host, who will ensure that patrons have sufficient mixers and will often make drinks using the patrons' liquor bottle and mixers.
Table minimums. What are they and why are they there?
Table minimums can be confusing for those who have never ordered bottle service. If you have a $600 minimum for your VIP table, you are agreeing to spend that much * before tax and tip. In addition, your minimum can include entry, a private VIP area and any combination of liquor or champagne, or beer from menu that equal or surpass your minimum. ** Minimums vary on many different factors including the demand for tables, party size, table location, etc.
Will we all fit at the table?
While we are able to help find you the best table for your group, that doesn't necessarily mean everyone will have a seat. However, once you get in and grab your first drink, it's rare that everyone will stay at the table. You might have people on the dance floor, talking to a girl (or guy), in the bathroom or roaming around the club. ** Larger groups may want to consider multiple tables.
I booked a table, do I still have to pay cover?
Cover charge is included for the number of guests allowed at the table you selected. Any additional guests must pay cover.
---
Do I Really Need VIP Table Service?
There are many advantages to having bottle service at a club. One of the biggest advantages is the guaranteed entry to the club, which can be very desirable at hot spots where it is difficult to get in the door (e.g. Playhouse Nightclub).
Why get bottle service? Is it worth the cost?
Bottle Service Advantages
A BottleMenuService Host will personally walk you in.
A place to SIT. ** There are no bar stools nor open couches to sit on.
LADIES… You can come and go as you please. Hit the dance floor for a bit. Then recover back at your table. Leave that creepy guy who doesn't get 'the hint' on the other side of the rope. Have a seat. And take your shoes off for a second. Dance on the couches!!!
GUYS… Tables are prime real estate. Space in a crowded club it's like water in a desert. Moreover, it doesn't take much convincing to get new friends to join you for a drink; or to sit and chat … friends of the female persuasion … Need I say more?
A personal waitress assigned to your table. In most cases, before you finish you cocktail, your waitress will already have your new drink poured and ready. The staff is very efficient, attractive, and attentive.
Fighting to get to the bar is a real thing. At times it can take almost an hour to get drinks. A real buzz kill in the middle of a great night when you're forced to deal with the 100+ waiting for 4 bartenders to serve the thirst savages.
** Avoid the cattle call, reserve a table.
A security host will make sure that only people you approve are in your table area. Moreover, they will clear out those 'unwanted' away from your friends. They're around to help you enjoy your night.
If your night out is a special event then make it SPECIAL! Foggy memories of trying to hunt down your friends on the dance floor and getting bumped around in walkways…not what you want to walk away with. Party as a group, at a table.
---
VIP Table Service Features | Incentives
What's included with my table booking?
Additional perks change from venue to venue, but all bottle service packages include:
The bottles you ordered
Standard mixers (OJ, pineapple, etc.)
Express entry into the club for you and your guests
Waived cover charge
A private table for you and your guests
Private service from a personal waitress
On-call support from your personal BottleMenuService concierge
How Do You Get A Special Bottle Presentation?
If you have ever seen one of the very conspicuous bottle service presentations (e.g. where waitresses are riding on bussers' backs, the DJ making shout outs to the crowd, sparklers, names are on the big screen) that's considered a "special" bottle presentation.
While you will usually see this with more expensive champagne purchases, in terms of who (or what minimum spend) gets this, that's completely dependent on the club, your relationship with the host, and what you actually ordered.
* If you would like a special bottle service presentation, simply let us know while making your reservation at +1 (310) 749-9029.
---
What You Need To Know But Not Told | VIP Table Service
What Nightclubs will not tell you when making VIP Table / Bottle Reservation with them?
When you reserve a table through a nightclub they simple confirm your table RSVP. But when you arrive:
There are lines for bottle service / VIP Tables.
The nightclub will book your reservation no matter how small, but when you arrive you will have to negotiate where you sit and the size of the table.
There are gratuities or "table fees" not mentioned when you make the reservation with the club.
If you are late for your reservation, or do not show up by a certain time, you will lose it!
Common Nightclub tactic is to seat you at the worst table available; hence pressure you to increase the amount of bottles you buy, or maybe make you increase your spend for a "better" table and or location.
They sold it to someone with more money as well as raised your table minimum; or just sold it in general.
Why book with us and not the club?
We book the most VIP tables and, moreover, get special deals that other VIP hosts cannot.
When you book VIP table service with us you won't deal with long lines or hassle. Rather, you'll be dealing with true leaders in the industry. Furthermore, you will be treated with professionalism and respect.
We will get you any specials (e.g. discount offers) that Los Angeles nightclubs will not tell you about. Our goal is to maximize your budget; which is why we negotiate mandatory 'minimums' with clubs.
Since we know every LA top club intimately, we 100% advocate to secure the best table location for the amount you spend.
Get the personal attention and information you need and deserve. Don't be treated like another customer. Rather make a lifetime connection!!!
---
VIP Table Service From The Best in LA
Last Word. Some nights are more special than others. So give them the attention they deserve with the VIP table service.
Get access to the most popular LA top clubs in a city known for its celebrity nightlife landscape. LA clubs are where bottles of Cristal and Ace of Spades become the accessories the tables must have. Los Angeles sets the standard for nightlife while Hollywood is where to find that high profile glitz and glam. But BottleMenuService is how to experience the best of L.A.'s famous red carpet VIP table service.
Decadence is the name of the game. Therefore our staff is dedicated to the highest standards of customer service and satisfaction. So trust your nightlife experience to the L.A. clubbing pros!!!
Whether you are trying to shake off a bad week or celebrate a great one, having a birthday or bachelorette blast, BottleMenuService will provide the perfect party atmosphere to celebrate with your friends. So give us a call at (310) 749-9029.
---
---
VIP Table Service | Best LA Club Events
---