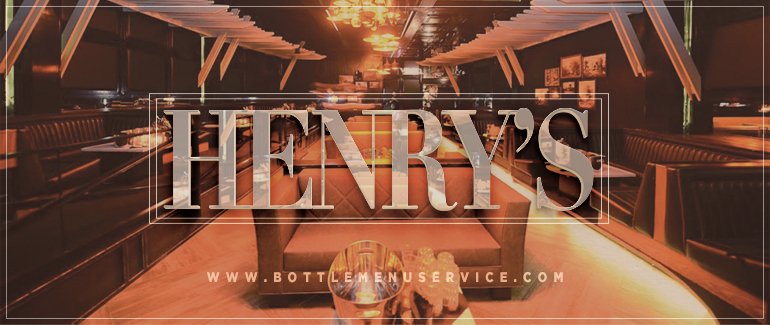 Hooray Henrys evokes the elegance and class of the archetypal London hotels and flats mixed with a quintessential, playful British flare expressed in every detail from the interior design to the uniforms.
Best Exclusive Clubs in Los Angeles · LA Top Club Nightlife Destination 2017
Hooray Henrys LA Club
Address: 8713 Beverly Blvd
West Hollywood, CA, 90048, USA
Capacity: 350
Venue Type:
Nightclub · Bar/Lounge · Upscale · Pickup/Singles · Dance Club
Hours of Operation:
Mon: 11:00 pm – 2:00 am, Fri-Sat: 11:00 pm – 2:00 am.
---
Hooray Henrys LA nightclub in Los Angeles is pure class. This place is a little smaller than your typical Los Angeles Nightclub, but it packs a punch. There is a very classy group of people that frequent Hooray Henrys (celebrities included). The door is VERY tough, but if you manage to make it past the doorman you're good to go. Bottle Service at Henrys is worth it. The venue is classy. You can dance. And they play every type of music. It's perfect for a night on the town if you're not looking to go completely wild at a place like Lure or Greystone. There is something for everyone here. Henry's LA is very upscale. Guest list is also hard to come by. Make sure you arrive early, wearing your best clothes, and bring an amazing group of people. You will love this place. Henry's offers a decadent nightlife experience in the heart of West Hollywood.
---
Venue Profile
Hooray Henrys to just Henrys
Bottle Service
VIP Concierge
Map
Hooray Henrys · Venue Profile
Hooray Henrys dance club and bar is a London inspired concept. This LA top club embodies British culture in name, decor and operation. The Beverly Hills space evokes the elegance and class of the archetypal London hotels and flats mixed with a quintessential, playful British flare expressed in every detail from the interior design to the uniforms. Horizontal lines, brass accents and smoky mirrors will be intertwined with splashes of color that convey an effortless charm. An upstairs private room will entertain our closest friends and family as a home away from home invoking a classic London hotel suite.
The visually-stimulating psychedelic lounge Hooray Henrys nightclub and bar is a far cry from your typical English pub, rather this West Hollywood hot spot is a dazzling futuristic playground replete with brass ornaments, handsome wood, black-and-white Warhol floors (straight through to the loo), and a fun house of mod mirrors.
A patriotic color palette honors blue and red by using actual automobile paint for that vintage-Jaguar shininess, Rolls Royce-esque banquettes sit on two-tiers of levels so there's no undesirable booth, and authentic cyclist trophies and equestrian lamps give dutiful nods to the UK. But there is more. A handmade 3D projection wall—never before used in a nightclub—broadcasts computerized images like abstract moving shapes, and lascivious, less-abstract body parts. Bartenders serve up signature libations like The Oxford Lad: a mix of gin, lemon juice, mint, cucumber, and honey syrup. Spherical openings in a wall-length wooden sculpture light up in neon upon touch, and servers are outfitted to resemble the King and Queen and infamous Buckingham Palace guards.
VIEW VENUE FLOOR PLAN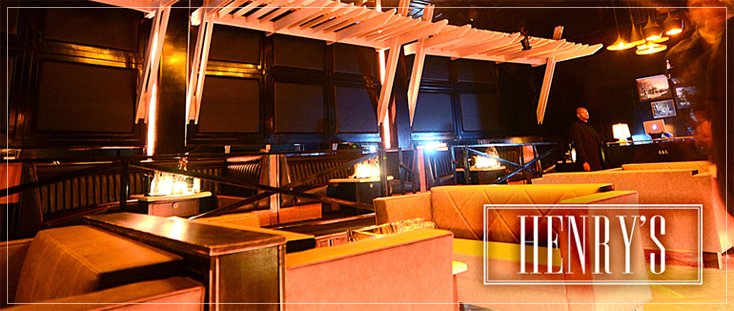 Hooray Henrys · Remodeled And Relaunched As Henrys
Formerly Hooray Henry's, this modestly sized L.A. haunt has been going through a few changes. Beyond the obvious name change, Henry's has dropped the controversial UK theme and opted instead for a more nourish black and white vibe. The change seems to be working, as this West Hollywood mainstay is running with renewed energy.
Fully remodeled and equipped with the best in sound and light technology, Henry's is a decadent nightlife experience accentuated with a sleek decor and welcoming atmosphere. The club sports shining black booths, beautiful wooden floors and comfortable lighting. There's a private art exhibit room that offers a colorful new take on the Los Angeles nightlife scene. And for those looking for the ultimate party perch, Henry's features incredible VIP tables and the best bottle service in Los Angeles. It has taken Henry's a while to find its voice, but we think this is one nightclub you should be paying attention to.

Hooray Henrys LA · VIP Tables · Bottle Service
Hooray Henrys invite high rollers to partake in bottle service that come in giant, ice-filled brass buckets helmed by molded silver horse heads on tables piled with tiny tea cakes and lemon-lime garnish.
---
The British themed sensation, Hooray Henrys, is for the party-goer that wants something a little more upscale. Beautifully redesigned they have renovated the old plain look of the Beverly. If you want to get into this hot high profile venue that holds about 300 people bottle service is your only way. Expect to see young Hollywood getting tipsy and line of paparazzi crowded outside to get a prize photo.
Table pricing begins around $1500 but can fluctuate depending on promotion. Henry's LA Nightclub (aka Hooray Henrys) is located at 8713 Beverly Blvd in West Hollywood. Government issued I.D. attesting to the fact that the guests are 21 years of age or older is always required for entry to the venue. Please arrive as close to opening as possible (10PM on most nights) and proceed to the table reservation entrance. Public parking, including metered parking and paid lots, are available within several blocks of Hooray Henrys. Valet parking is also an option.
Hooray Henrys LA · VIP Clubbing Concierge Service
For revelers with a taste for the high-life, Henry's LA offers a variety of VIP options, including VIP table service that will make you feel like royalty. Need more information or help booking your bottle service? Let us know. We'd love to hear from you. Need help selecting the right party? Try our personalized concierge service. Call or text us at +1 (310) 749-9029 or enter your reservation below. Please be as detailed as possible about your event and we will reach out to you shortly. If you do not hear from us within 24hrs, or if you desire a quicker response, please send us a text message. Want more and get more. Book your party bus LA club package online at www.partybusnightclub.com
---
Hooray Henrys
8713 Beverly Blvd
West Hollywood
,
CA
90048
United States
---
Hooray Henrys LA Club
---