NYE 1OAK LA · L.A.'s Most Glamorous New Year's Eve
Celebrate this New Year's Eve with L.A. nightlife royalty at a glamorous, high-energy party happening at 1OAK LA. For partiers with more opulent tastes, 1OAK will have VIP packages that offer exclusive access to a mezzanine section, reserved VIP seating, and luxurious tables with bottle service. This New Year's Eve, treat yourself to a One-of-A-Kind party experience. 1OAK NYE megawatt bash will be brimming with swanky revelry and L.A.'s most fashionable party crowd.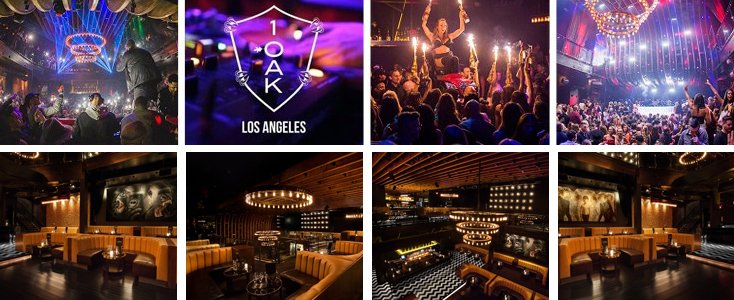 1OAK LA · Venue Profile
A crown jewel in New York City's swanky indulgence, 1OAK has earned its acclaim as a truly "one-of-a-kind" nightlife brand, setting the standard high for stylish sophistication and new-age glamor. At its L.A. outpost, 1OAK emulates the city's ritzy and fashionable elements for a unique nightlife destination that is truly a testament to the 1 OAK illustrious brand's reputation. Boasting two levels of grand party space, 1OAK LA is a lounge and nightclub which expertly blends contemporary and classically elegant designs. Splendid yet minimalistic chandeliers, modern ceiling, state-of-the-art lighting installations, avant-garde wall art and opulent saffron booths fill the space, highlighted by a spectacular, black lacquered wrap around bar. With a spacious dance area, 1OAK combines the posh lounge with a high-intensity club ambiance. 1OAK LA NYE will be a captivating experience for L.A.'s high-profile partiers.
View Venue Floor Plan
NYE 1OAK LA · Venue Policies
Government issued I.D. attesting to the fact that the guests are 21 years of age or older is always required for entry to the venue. No exceptions. Management reserves all rights. Please arrive as close to opening as possible and proceed to the table reservation entrance.
NYE 1OAK LA · Dress Code for Men
1OAK LA club dress code policy for guests is strictly enforced. Fashionable, upscale attire is required to be granted entry. 1 OAK maintains the highest standards of dress attire for all of their patrons. But don't worry, dressing appropriately for the club isn't rocket science. Follow these tips and you won't get you turned away:
First off, What's not allowed? As you now know, just because it is against the formal dress code doesn't necessarily mean it won't occasionally get through the door. Often times if you show up with a very stylish look, things are overlooked. Jeans are completely acceptable at every club in LA. You just want to make sure that your jeans look good, as most LA clubs frown upon torn, rugged jeans. Also, be mindful that these are things that are universally "not allowed" per official dress codes: baggy jeans, sports hats, tennis shoes, shoes that are considered too "sports like," shorts, cut-offs, Capri's, jerseys, and beanies.
What about my shoes? You are always safe with leather and dress shoes. Work boots or athletic workout shoes and sandals will also always be a no go. That leads us to a gray area. Have some trendy kicks that you want to wear out? Officially, they aren't allowed, but most LA top clubs are relaxing the rules on shoes if you compensate elsewhere in your outfit. Many sneakers are quite fashionable and expensive. These types of shoes are usually a go, but can depend on the club and the event. During holiday weekends and major events the nightclubs typically get stricter on the dress code. Have on a STYLISH collared shirt, jacket, nice pants with your fashionable sports shoes? Technically speaking it's against the "rules," but you might be just fine.
NYE 1OAK LA · Dress Code for Women
The dress code is simpler for the ladies, just wear whatever you look hottest in! You can go glamorous with a cocktail dress, or keep it casual with jeans and a dressy top.There is only one thing that you need to know – heels. Wear heels. In all seriousness, all that most girls need to do is make it look like they put in a little bit of an effort. If a girl is attractive enough, she can get in wearing pretty much anything. But if you're thinking those sparkly sandals or designer brand flats are going to cut it, think again.
NYE 1OAK 2017 · Customer Service
Get ready for the ultimate NYE 1OAK 2017 at 1OAK in LA. Ticket prices subject to change at any time without notice. And, most of all, this event is guaranteed to sell out. Customers should buy early bird discount tickets to save money. Feel free to contact us at +1 (310) 749-9029 with any questions or comments. We'd love to hear from you.