Memorial Weekend 2016 Las Vegas Event
Flo Rida 2016 Memorial Weekend (MDW) Las Vegas Foxtail Pool Party
Flo Rida Yo Gotti DJ Drama Memorial Day Weekend 2016 Foxtail SLS Las Vegas
Pool · Day Club · Las Vegas · Pool Club · Memorial Day Weekend · Concert
Event date:
Sat, May 28, 2016 at 10am-6pm
---
Las Vegas Memorial Weekend 2016
Memorial Weekend is one of the most eventful weekends in Las Vegas, filled with exclusive celebrity appearances, live performances from top-notch artists and eclectic sounds by world renowned DJs. And there's no better way to celebrate the MDW holiday than by partying at a Las Vegas pool party. The sun's out, the summer pool season is in full swing, and everyone is ready to get down. If you are thinking about heading to Las Vegas for 2016 Memorial Weekend, the Foxtail Pool at SLS Las Vegas guarantees to be the best Vegas MDW 2016 day club party destination. Get ready to party MDW 2016 with Flo Rida, Yo Gotti, DJ Drama, and Mark Da Spot at an upscale destination that's as much indulgent as it is luxurious, Foxtail Pool, found exclusively at SLS Las Vegas.
---
MDW 2016
Tickets
Foxtail Venue Profile
Vegas VIP Services
Vegas Pool Party Scene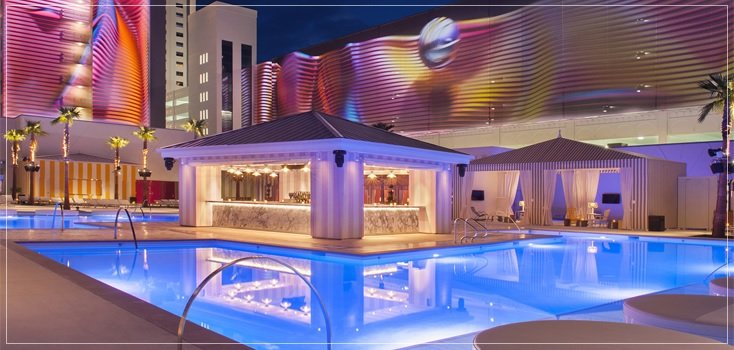 Flo Rida Yo Gotti DJ Drama Memorial Weekend at Foxtail Pool
Foxtail Pool at SLS Las Vegas Casino Resort celebrates Memorial Weekend (MDW) 2016 with a top notch celebrity hosted performance party in Las Vegas. To properly inaugurate the unofficial start of summer, Flo Rida, Yo Gotti and DJ Drama are scheduled to perform on May 28th 2016 (Saturday) 10:00 AM at Foxtail Pool SLS Las Vegas. Act fast and buy tickets now online at www.mademdw2016.eventbrite.com
Memorial Weekend marks the official beginning of swimsuit season and what better way to break out your bikini and trunks than with a party at Foxtail Pool featuring Flo Rida. Located at the famous SLS Las Vegas Casino Resort, this all-day party will include live performances by FLO RIDA and YO GOTTI along with music by DJ DRAMA and Mark Da Spot. Plus you will have access to pool amenities and a cash bar. Start soaking up that sun and get ready to party this Memorial Weekend in Las Vegas! Contact VIP host, Jamie Barren, for more information and VIP table reservations at +1 (310) 749-9029, or visit online at Vegaspartypools.com.
Flo Rida Yo Gotti DJ Drama Memorial Weekend Saturday at Foxtail Pool Party Tickets
Year after year, Memorial Weekend in Las Vegas continues to out do itself as one of the biggest parties of the year. There are more pool parties, new nightclubs, and all new DJs spinning over the weekend. If you have not already made your dayclub or pool party plans for Memorial Weekend 2016, you better start planning now. If you know you schedule and want the fastest and cheapest way to get into the clubs then buy pre-sale tickets. There are separate lines for ticket purchasers with minimal wait time and usually guarantees you entry as long as you do not show up several hours late. Bottle service, table reservations, and daybed/cabana reservations are highly recommended for groups of guys. Below are the Memorial Weekend 2016 pool party ticket options:
Female Early General Admission Ticket $25
Male Early General Admission Ticket $45
General Admission Ticket $100
VIP Ticket $150
Group of 5 VIP Ticket $625
PURCHASE TICKETS NOW
---
DISCLAIMER: Ticket holder must arrive prior to NOON (12:00PM) or entry will not be guaranteed. Must be 21 years of age or older with a valid, original and acceptable photo I.D. Upscale stylish swim attire required. No sports attire/athletic wear, offensive prints, see through clothing, chains, baggy clothing, hard soled shoes. All purchases final. Management reserves all rights.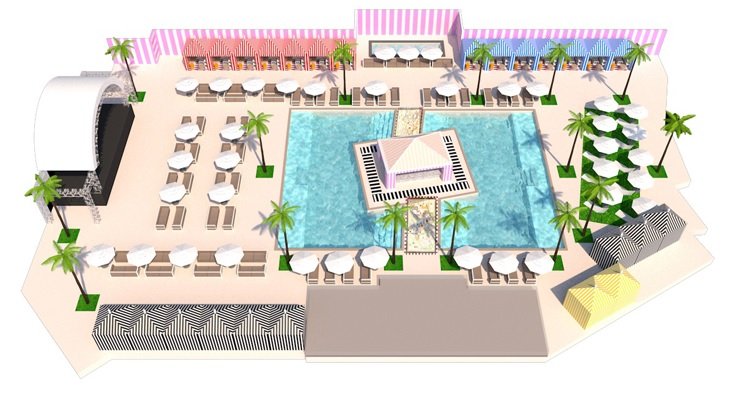 Foxtail SLS Las Vegas: Memorial Weekend Pool Party Venue Profile
Situated at the heart of SLS Las Vegas, Foxtail Pool expansive pool deck serves as an amenity to hotel guests, home of day and nightlife experiences, and a special events space where both programmed and private events can take place with a sophisticated splash. A highlight of Foxtail Pool evening atmosphere includes the transformation of the adjacent parking garage and hotel tower into a canvas for 3D mapping, featuring visually stunning content curated by Korea based KT Corporation.
Dress Code Policy: Pool Attire. No sports attire/athletic wear, offensive prints, see through clothing, chains, baggy clothing, hard soled shoes.
Memorial Weekend Vegas VIP Concierge Services
For revelers with a taste for the high-life, Memorial Weekend in Las Vegas offers a variety of VIP options, including VIP table service that will make you feel like royalty. Need more information or help booking your bottle service? Let us know. We'd love to hear from you. Need help selecting the right party? Try our personalized concierge service. Call or text us at +1 (310) 749-9029 or enter your reservation below. Please be as detailed as possible about your event and we will reach out to you shortly. When your request has been sent, you will be notified by email to confirm availability. If you do not hear from us within 24 hrs, or if you desire a quicker response, please send us a text message. Want more and get more – discover Vegas Club Guides for Vegas Top Nightlife Destinations online at www.vegasclubguides.com
---
Foxtail Pool
2535 S Las Vegas Blvd
Las Vegas
,
NV
89109
United States
---
---