Le Jardin Fridays 2016 April 8th
Best Exclusive Clubs in Los Angeles · Where to Party Friday Nights in LA
Le Jardin Fridays
Address: 1430 N Cahuenga Blvd
Los Angeles, CA, 90028, USA.
Event Date:
Fri, Apr 8, 2016 at 10:00 pm – 2:00 am.
Venue Type:
Nightclub · Bar · Lounge · Outdoor · Dance Club
Capacity: 650
---
Le Jardin Fridays · Best LA Club Destination
Get yourself down to Le Jardin Fridays, April 8th 2016, for an incredible start to weekend nightlife in Los Angeles! L.A.'s top deejays will be spinning all your favorite hip hop hits from Drake, Rihanna, Fetty Wap and more. The new outdoor lounge, located on 1430 North Cahuenga Ave, welcomes Hollywood celebrities, trendsetters and fashionistas to an unforgettable evening of mischief and mayhem, 10:00pm to 2:00am. There has been something missing in the Los Angeles nightlife, and this is exactly what it was, a chic outdoor lounge where you can look your best with fabulous people.
Blow off some steam at one of Best LA club venues, Le Jardin. And don't wait until it's too late! Grab your coolest outfit, call your hottest friends, and join us at the best nightclub in LA, Le Jardin. Contact VIP host, Jamie Barren, asap to join the party happening at Le Jardin Fridays in the heart of Hollywood. This club is taking the Los Angeles nightlife scene by storm, and you need to come see what everyone is talking about. To RSVP, call +1 (310) 749-9029.
---
Bottle Service
Venue Profile
Venue Policies
Reservations
Map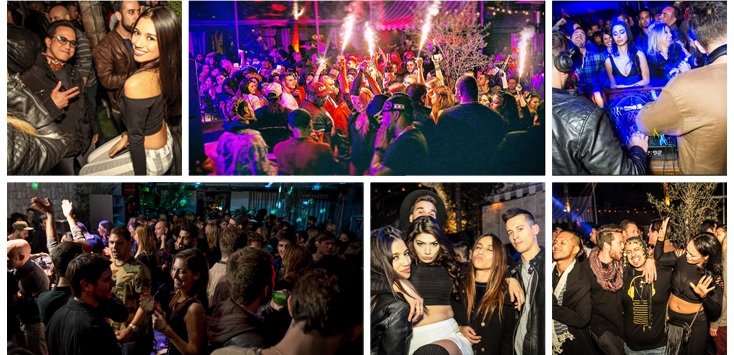 Le Jardin Fridays · Bottle Service VIP
Elevate your Le Jardin LA nightlife experience with VIP table service. Bottle service at LA top clubs is a guaranteed way to have an awesome Friday night! Want to book a table with bottle service reservation at LE JARDIN FRIDAYS? We're here to set you up with everything you need. We've got the best prices on tables and bottle service at every LA top club. Seriously, try us. Contact us for table service this weekend at LE JARDIN FRIDAYS. For VIP tables and bottle service reservations, call/text +1 (310) 749-9029.
Le Jardin LA is the newest lounge from Sunset Entertainment Group (Lure, Cabana Club, Green Door, White Lotus, the Sunset Room), and it features a garden inspired by the south of France. Since LE JARDIN LA is a fairly new venue, prices will fluctuate depending on availability and level of "exclusivity" for the night. Any table at LE JARDIN FRIDAYS is good as the garden provides an intimate setting where strangers become friends, friends become family. This venue has an amazing outdoor patio with great cocktails, amazing performers, and an awesome vibe. Cocktails include traditional Bellini and libations such as La Vie en Rose, which is made with rose, Belvedere citrus vodka and simple syrup. BottleMenuService currently offers the best bottle service Hollywood nightlife party packages for Le Jardin Fridays.
VIEW BOTTLE SERVICE PRICING MENU
Le Jardin Fridays · Venue Profile
Home and Garden meets high-voltage nightlife on North Cahuenga Blvd at the exceptional Le Jardin. L.A.'s very own villa oasis is the latest and greatest Hollywood hot spot from Sunset Entertainment Group (SEG). The new 9,000-square-foot outdoor lounge evokes the feeling of Southern France, which is accented with olive trees and vines, paved with tiles, and furnished with striped lounge seating and two outdoor fire pits. There is room for 600 with two full-service bars, an intimate dining area, and a Funktion 1 sound system.
The venue boast impeccable mixology and exquisite open-air ambiance complete with lush Eden-esque greenery. The garden itself has been designed to resemble a whimsical evening for the elite to enjoy cocktails, endless conversations and live acoustic music beneath the stars. Le Jardin Fridays is an exclusive destination for Hollywood's crème de la crème, serving as an unforgettable hideaway for A-list celebrities, socialites, and taste-makers.
There's been something missing in the Los Angeles nightlife and this is exactly what it is. Le Jardin is a chic outdoor lounge where you can look your best with fabulous people.
VIEW VENUE FLOOR PLAN
Le Jardin Fridays · Venue Policies · Dress Code
Government issued I.D. attesting to the fact that the guests are 21 years of age or older is always required for entry to the venue. No exceptions. Management reserves all rights. Please arrive as close to opening as possible (10PM on most nights) and proceed to the table reservation entrance.
---
Los Angeles Nightclub Dress Code. Le Jardin Fridays dress code policy for guests is strictly enforced. Fashionable, upscale attire is required to be granted entry. Le Jardin maintains the highest standards of dress attire for all of their patrons. The venue wants you to be comfortable while you are there, and that means looking your best. But don't worry, dressing appropriately for the club isn't rocket science. Follow these tips and your clothes won't get you turned away:
First off, What's not allowed? As you now know, just because it is against the formal dress code doesn't necessarily mean it won't occasionally get through the door. Often times if you show up with a very stylish look, things are overlooked. Still, be mindful that these are things that are universally "not allowed" per official dress codes: baggy jeans, sports hats, tennis shoes, shoes that are considered too "sports like," shorts, cut-offs, Capri's, jerseys, and beanies.
What about denims or jeans? Jeans are completely acceptable at every club in LA. You just want to make sure that your jeans look good, as most LA clubs frown upon torn, rugged jeans. Also, you shouldn't try to walk in wearing really baggy jeans. You will get rejected. Probably even laughed at. Bad idea.
What about my shoes? You are always safe with leather and dress shoes. Work boots or athletic workout shoes and sandals will also always be a no go. That leads us to a gray area. Have some trendy kicks that you want to wear out? Officially, they aren't allowed, but most LA top clubs are relaxing the rules on shoes if you compensate elsewhere in your outfit. Many sneakers are quite fashionable and expensive. These types of shoes are usually a go, but can depend on the club and the event. During holiday weekends and major events the nightclubs typically get stricter on the dress code. Have on a STYLISH collared shirt, jacket, nice pants with your fashionable sports shoes? Technically speaking it's against the "rules," but you might be just fine.
The dress code is simpler for the ladies, just wear whatever you look hottest in! You can go glamorous with a cocktail dress, or keep it casual with jeans and a dressy top.There is only one thing that you need to know – heels. Wear heels. In all seriousness, all that most girls need to do is make it look like they put in a little bit of an effort. If a girl is attractive enough, she can get in wearing pretty much anything. But if you're thinking those sparkly sandals or designer brand flats are going to cut it, think again.
Make sure your look matches the image of the venue. The bottom line is, you should do what you can to match the image of the crowd at the club you are going to. If you are going to a venue known for it's cool downtown crowd, definitely don't wear a suit. If you are going to a venue known for an upscale crowd, maybe a stylish sports coat is not such a bad idea. Tailoring your look to the venue you are going to goes a long way towards convincing the doorman to let you in.
Ultimately, dress code is always up to the doorman's discretion about what's appropriate for that particular nightclub and no amount of moaning will get you past the door. So if you don't feel confident that your style will pass the test, plan on playing it safe. For women, that means making sure to wear a nice dress with heels. And for men, sticking to dress shoes, a nice button down shirt and decently fitting jeans.
Le Jardin Fridays · Nightlife Party Packages
For revelers with a taste for the high-life, Le Jardin offers a variety of VIP options, including VIP table service that will make you feel like royalty. Need more information? Or help booking your bottle service? Let us know. We'd love to hear from you. Need help selecting the right party? Try our personalized concierge service. Call us at +1 (310) 749-9029 or enter your reservation request below. Please be as detailed as possible about your event and we will reach out to you shortly. If you do not hear from us within 24hrs, or if you desire a quicker response, please send us a text message at +1 (310) 749-9029. Want more and get more. Book your party bus LA club package online at www.partybusnightclub.com
---
Le Jardin
1430 N Cahuenga Blvd
Los Angeles
,
CA
90028
United States
---
---