Henrys LA Club Entree Fridays
Henrys LA Friday Nightlife Destination – Henry's Entree Fridays at Hooray Henrys LA
LOS ANGELES TOP NIGHTLIFE DESTINATIONS 2016
Bar · Dance Club · Pickup/Singles · Upscale · Lounge · Night Club
Event date:
Fri, Apr 15, 2016 at 10pm-3am
---
Entree Fridays At Club Hooray Henrys LA
Looking for a classy way to spend your Friday night? Join us at Henry's one of LA's most exclusive nightlife destination. Enjoy opulent decor, a top notch clientele, and all the greatest hip hop jams. You'll feel fancy at HENRYS LA #EntreeFridays Friday nights! Great drinks, amazing performances, and a seriously cool group of people. You never know what celeb might show up at HENRYS LA (formerly Hooray Henry's). Henry's is a great hip hop nightclub in LA, and Entree Fridays never disappoint. #EntreeFridays brings in top hip hop artists and DJs, with Lil John, Wiz Khalifa, and DJ Mustard all recently performing Friday nights at HENRYS LA. Their Friday night party is legendary. So join us at Hooray HENRYS LA #EntreeFridays Friday night for one epic evening. Brush shoulders with the rich and famous at Henrys Entree Fridays. HENRYS LA Nightclub doors open 10:00pm to 2:00am every Friday. Early Arrival is highly suggested.
Henrys Entree Fridays is always with crawling with celebrities, especially when they have big performances lined up. And if you want to get in to HENRYS LA you absolutely must book table service. This door is tight and the line can get crazy. And when the VIPs start to show up, you don't want to be left on the sidewalk.
Snag a Henry's bottle service RSVP for a guaranteed killer night. All Patrons subject to the doorman's discretion. BottleMenuService does not offer guest list on Fridays at Hooray HENRYS LA, strictly VIP table service only. Don't wait – contact us today for bottle service VIP to kick-off YOUR amazing weekend at HENRYS LA Nightclub.
---
Bottle Service
Venue Profile
Hooray Henrys to Simply Henrys
Entree Fridays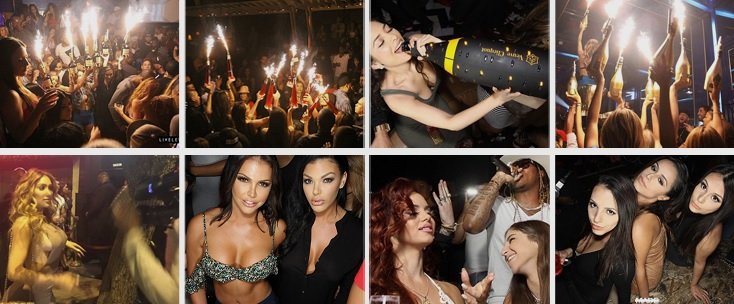 Hooray Henrys invite high rollers to partake in bottle service that come in giant, ice-filled brass buckets helmed by molded silver horse heads on tables piled with tiny tea cakes and lemon-lime garnish.
Henrys LA Club Packages and Bottle Service VIP
---
The British themed sensation, Hooray Henrys, is for the party-goer that wants something a little more upscale they have found their home. Beautifully redesigned they have renovated the old plain look of the Beverly. If you want to get into this hot high profile venue of 300+ bottle service is your only way. Expect to see young Hollywood getting tipsy and line of paparazzi crowded outside to get a prize photo.
How much is table service at HENRYS LA? Table pricing begins around $1500 [plus tax and operational fees (which is approx 32%)] but can fluctuate depending on promotion. The middle couch tables start at $2000 and booths at $2500 – plus tax and operational fees (which is approx 32%). Which is the best table at HENRYS LA? There aren't that many tables at Henry's – the club is pretty small. As a result, any table you get will be pretty good.
Government issued I.D. attesting to the fact that the guests are 21 years of age or older is always required for entry to the venue. Please arrive as close to opening as possible (10PM on most nights) and proceed to the table reservation entrance. Public parking, including metered parking and paid lots, are available within several blocks of Hooray HENRYS LA. Valet parking is also an option.
Hooray Henrys LA Venue Profile
Great Britain is so Right Now… Think Royalty! HENRYS LA is the latest "it" spot from the HWood Group and Hakkasan Group, including but not limited to David Arquette. From the Royal Guardsman who greets you at the door to the posh wood-and-brass décor to the gigantic 3-D screen above the DJ Booth. Henrys LA gives Hollywood nightlife something it's never been before.
Instead of sparklers, a candelabra might follow a magnum Grey Goose to a table. A man dressed as an old-timely British chap will twerk on the dance floor. This West Hollywood club boasts on of the tightest doors in the city, so dress to impress or be willing to splurge on bottle service.
Hooray Henrys Remodels and Relaunched as Henry's
Formerly Hooray Henry's, this modestly sized L.A. haunt has been going through a few changes. Beyond the obvious name change, Henry's has dropped the controversial UK theme and opted instead for a more nourish black and white vibe. The change seems to be working, as this West Hollywood mainstay is running with renewed energy.
Henry's is a decadent nightlife experience accentuated with a sleek decor and welcoming atmosphere. The club sports shining black booths, beautiful wooden floors and comfortable lighting.
There's a private art exhibit room that offers a colorful new take on the Los Angeles nightlife scene. And for those looking for the ultimate party perch, Henry's features incredible VIP tables and the best bottle service in LA. It has taken Henry's a while to find its voice. but we think this is one nightclub you should be paying attention to.
---
Hooray Henrys
8713 Beverly Blvd
West Hollywood
,
CA
90048
United States
---
---