1 OAK LA Tuesday 2016 April 26
1 OAK LA Tuesdays – 1 Oak Los Angeles – Bottle Service – 1OAK LA
LOS ANGELES TOP NIGHTLIFE DESTINATIONS 2016
Performance Venue · Dance Club · Pickup/Singles · Upscale · Night Club
Event date:
Tues, Apr 26, 2016 at 10pm-3am
---
1 OAK LA TUESDAY NIGHTLIFE PARTIES
Join us Tuesdays at 1OAK for an unforgettable Tuesday night. 1 OAK LA is one of the top nightclubs in Los Angeles, with other locations in NYC and Las Vegas. 1Oak also brings in top hip hop artists and DJs, with Lil John, Wiz Khalifa, and DJ Mustard all recently performing Tuesday nights at 1 OAK LA. Complete with an insane lights display controlled by the DJ, 1 OAK Los Angeles is the place to be for any special occasion or big night out. Their Tuesday night party is legendary, so join us at 1OAK's #MADEAT1OAK Tuesday night for one epic evening. 1OAK is always with crawling with celebrities, especially when they have big performances lined up. Brush shoulders with the rich and famous at 1 OAK LA Tuesdays. BottleMenuService does not offer guest list on Tuesdays at 1 OAK LA, strictly VIP table service only.
---
1 OAK LA CLUB VENUE PROFILE
1 OAK LA BOTTLE SERVICE
CONCIERGE SERVICES
1 OAK LA CLUB VENUE PROFILE
Owners Scott Sartiano, Richie Akiva, and Darren Dzienciol opted to redesign the former Key Club music venue into a sleek nightclub with a central DJ booth, ambient lighting, eclectic beats, and bottle service. 1 OAK, or 1-Of-A-Kind, is an intimate and trendy nightclub on the Sunset Strip in West Hollywood; a frequent destination of international celebrities and the Los Angeles local elite. Inside, the decor is unique and takes character from the creative artwork lining the walls. The nightclub combines a sophisticated feel with quality service and spirit. Due to its popularity, the club practices an exclusive door policy, with selective entry. However, those who make it in are sure to be impressed. Like any good debaucherous club, its entrance is a cavernous hallway engraved with Charles Darwin's writings—in case survival of the fittest wasn't properly demonstrated at the red rope out front. What this leads to: a massive ballroom of excess, with chevron floors, a massive marble bar, tan leather booths and… braille-studded paintings of gorillas. (Maybe to remind you again, as bottles swarm around you, of how far we've come as an evolved species). A suspended beam ceiling is strewn with industrial chandeliers and leather-trimmed banquettes carved out of the perimeter walls on both levels. Double-Decker bars offer straightforward bartenders that assist with bottle service that's the norm of the Thursday and Saturday night parties.
The 2nd level where the larger VIP tables can be found has a central open space where guests can look down onto the DJ booth. There is a full bar here, but no cocktail list. Along with the fabulous atmosphere and music, the club also offers an innovative menu of food, cocktails, wine and spirits and drinks. More importantly, there is still an old school bus in the back from the building's Key Club days. You will see it if you know where to find the private entrance. 1 OAK is a favorite among many celebrities, including Beyonce, Jay Z and Lindsay Lohan, among others.
VIEW VENUE FLOOR PLAN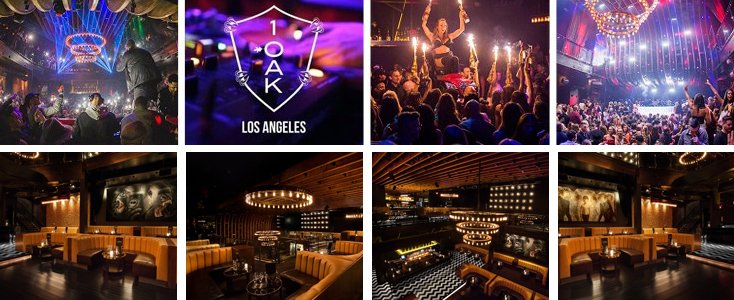 1 OAK LA TUESDAY NIGHTLIFE BOTTLE SERVICE
For the ultimate LA nightlife experience at 1 OAK, you need to reserve a table. Let our team set you up with bottle service Tuesdays at 1 OAK LA. You won't regret it!
---
Built around the idea that timeless design, attention to detail, and unrivaled hospitality will never go out of style, 1 OAK is the premiere destination for your bottle service reservation and/or next event. At 1 OAK LA, everything is done in excess. So when you're at 1 OAK LA, expect to bend the rules a little bit to fit your idea of fun. You'll lounge alongside some Hollywood's most notable fashion, sports, musical and celebrity icons. But play it cool; everyone's here to do a little something dangerous.
1OAK LA offers a unique experience for all guests, featuring: 9,500 square feet, 550 person capacity, deejay and live entertainment, sound and lighting by John Lyons, deejay booth with built-in LED screens, two full service bars, large plush bottle service booths, valet parking and event catering. 1OAK LA is located at 9039 Sunset Blvd in West Hollywood.
Layout: Two floors. Downstairs is the main focus of the venue where most of the tables are located alongside a large dance floor and huge DJ station. Upstairs there are more tables but it's not a preferred place to sit.
Vibe: Massive club, loud music, tons of people. This is what a club is or what a club should be.
Line situation: Long and hard to get in. Bottle Service Reservation highly recommended.
---
How much is table service at 1OAK LA? 1OAK has some of the highest table minimums in Los Angeles. The Downstairs starts at $2000-2500 to start – plus tax and operational fees (which is approx 32%). * If there is a celebrity performance that night, the downstairs rate is $2500 and up. The Upstairs starts at $1500 minimum – plus tax and operational fees (which is approx 32%). The best table at 1OAK is the dance floor table if you want to be the middle of the action, or the DJ table if you're trying to be a bit more exclusive. The table options on standard nights include:
Mezzanine table (small) – $2000, 4 bottles – 8 comps – VIP table on mezzanine with a view of DJ and dance floor.
Mezzanine table (large) – $2500, 5 bottles – 12 comps – VIP table on mezzanine with a view of DJ and dance floor.
DJ table – $3000, 6 bottles – 10 comps – Table located on stage behind the DJ.
Main floor VIP table – $3500, 7 bottles – 15 comps – VIP booth located along the wall of the 1st floor.
Dance floor table – $5000, 10 bottles – 15 comps – Table located on the dance floor and in front of the DJ.
1 OAK LA NIGHTLIFE PARTY CONCIERGE SERVICES
For revelers with a taste for the high-life, 1 OAK LA Nightclub offers a variety of VIP options, including VIP Table Service that will make you feel like royalty. Need more information or help booking your bottle service? Let us know. We'd love to hear from you. Need help selecting the right party? Try our personalized concierge service. Call or text us at +1 (310) 749-9029 or enter your reservation info and requests below. Please be as detailed as possible about your event and we will reach out to you shortly. When your request has been sent, you will be notified by email to confirm availability. If you do not hear from us within 24 hrs, or if you desire a quicker response, please send us a text message. Want more and get more – book your party bus Hollywood VIP club package online at www.partybusnightclub.com
---
1OAK LA
9039 Sunset Blvd
West Hollywood
,
CA
90069
United States
---
---