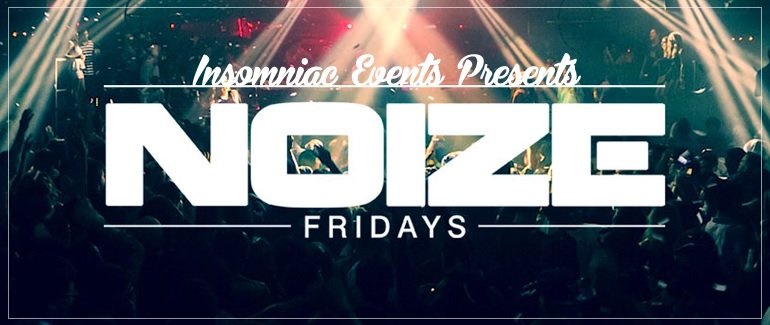 Best Exclusive Clubs in Los Angeles · Best L.A. Electronic Dance Music Clubs
Create Nightclub Fridays
Address: 6021 Hollywood Blvd
Los Angeles, CA, 90028, USA.
Capacity: 1500
Venue Type:
Nightclub · EDM (Electronic Dance Music) Venue · Bottle Service · Live Music · Concerts · Dance Club
Operating Hours:
Fridays: 10:00 pm – 4:00 am
---
Create Nightclub is a vibrant hot spot featuring well-known electronic dance music deejays and experimental emerging talent. Insomniac and sbe present the world's highest-profile dance music talent and undiscovered emerging artists showcasing at Create Nightclub Fridays in Hollywood, CA. If you're an EDM only kind of clubber, Create Nightclub Fridays are perfect for you. One of Hollywood's premiere EDM clubs with over 20,000 square feet of party bliss divided into three areas of nonstop nightlife action.
---
Noize Fridays
Bottle Service
Venue Profile
Venue Policies
Concierge Service
Virtual Tour
Create Nightclub Fridays · Noize Fridays
Get ready to make some NOIZE Friday night at Create Nightclub in Hollywood. This is a night you do not want to miss at Create Nightclub. Do you need to let off some steam? If you are tired of the quiet office all week, come make some Noize with us at Create. This venue is the answer for you this weekend. Create Nightclub Fridays, aka Noize Fridays, feature top-notch live deejay performances who play until 4am. And at Create nightclub the most popular EDM deejays are always stopping by every weekend. Create is located at 6021 Hollywood Blvd in the heart of Hollywood. Bottle service is always available at Create Nightclub Fridays, which is highly recommended in order to gain entrance.
Talent from around the globe creating the ultimate dance music experience in Hollywood while setting the standard for VIP Services. Insomniac and sbe have developed Create into a home for artist experimentation. While Create Nightclub Fridays showcase some of the world's highest-profile dance music talent, the venue also serves as a laboratory for emerging artists to explore their sound. The space also acts as a testing ground for developing technologies in sound and lighting systems, and innovative production techniques.
Create Nightclub Fridays · VIP Tables · Bottle Service
To experience the impossible opulence of VIP table service at its fullest, it is essential to make a visit to Create Nightclub Fridays in LA. Create Nightclub Fridays VIP table service ensure a night of decadence and attentive listeners. Nothing makes you stand out on a dance floor of beautiful people like a place to sit down, as most clubs in Los Angeles do not have open seating, so bottle service patrons automatically have the fantastic line of; want to sit down and have a drink? And whether it is a male or female you are interested in, staying on your feet all night makes the comfy couch inside Create Nightclub a difficult offer to pass up. Furthermore, sharing the amazing experience with your friends is arguably even more enjoyable. The advantages of having a bottle service reservation at Create Nightclub Fridays are amplified when a super famous, talented deejay is scheduled to kill it that night, and with a table reservation comes a meeting and hang out spot for you and your whole crew. There are a ton of different places to hang in the massive 20,000 square foot space, ranging from a typical GA sweaty-dance-floor ticket, to bottle-included VIP booths, to a multiple-bottles-included table that is actually on the stage and seats up to 15 friends. Main dance floor tables start at approximately $1500 minimums and above depending on the promotion. In addition to the main room, Create nightclub offers bottle service and VIP table reservation spots on their open-air patio, which features its own bar. And, finally, Create Nightclub Fridays bottle service is also available in the club's boozy back lounge.
VIEW BOTTLE SERVICE PRICING MENU
Create Nightclub Fridays · LA EDM Club Venue Profile
Located in the heart of Hollywood's upscale club scene, Create Nightclub has combined the lavishness of a luxury nightclub with the cavernous space and technology of a super-club music venue. Neon hues, sleek lounge areas, and glossy finishes accentuate the ultra-chic decor, while the real highlight comes from the main room; a dance floor and stage that take up the majority of the venue's whopping 20,000 square feet of floor space. Create Nightclub Fridays offer stylish patrons the option of both a pumping club with two dance floors and an intimate lounge experience. Meanwhile, a large, Asian-themed outdoor area provides refuge from the spacious interior when the sultry crowds start to really heat up. Create Nightclub main stage can hold nearly 2,000 party-goers, and brings in both A-list deejays as well as live acts to perform. DJs at Create Nightclub are mostly spinning thumping electronic music, but the venue also puts on shows of rock and hip-hop artists from time to time.
VIEW VENUE FLOOR PLAN
Create Nightclub Fridays · Venue Policies
Arrival Process. Government issued I.D. attesting to the fact that the guests are 21 years of age or older is always required for entry to the venue. No exceptions. Management reserves all rights. Please arrive as close to opening as possible (10PM on most nights) and proceed to the table reservation entrance.
Dress Code. Create Nightclub dress code policy for guests is strictly enforced. Fashionable, upscale attire is required to be granted entry. Create Nightclub Fridays maintain the highest standards of dress attire for all of their patrons.
First off, What's not allowed? As you now know, just because it is against the formal dress code doesn't necessarily mean it won't occasionally get through the door. Often times if you show up with a very stylish look, things are overlooked. Still, be mindful that these are things that are universally "not allowed" per official dress codes: baggy jeans, sports hats, tennis shoes, shoes that are considered too "sports like," shorts, cut-offs, Capri's, jerseys, and beanies.
What about denims or jeans? Jeans are completely acceptable at every club in LA. You just want to make sure that your jeans look good, as most LA top clubs frown upon torn, rugged jeans. Also, you shouldn't try to walk in wearing really baggy jeans. You will get rejected. Probably even laughed at. Bad idea.
What about my shoes? You are always safe with leather and dress shoes. You can even occasionally get away with low profile "tennis shoes" as long as they are solid black, if they look dressy enough and don't have any huge logos on them. Have some trendy kicks that you want to wear out? Officially, they aren't allowed, but most LA top clubs are relaxing the rules on shoes if you compensate elsewhere in your outfit. Have on a STYLISH collared shirt, tie, jacket, nice pants with your fashionable sports shoes? Technically speaking it's against the "rules," but you might be just fine.
Create Nightclub Fridays · Nightlife Concierge
For revelers with a taste for the high-life, Create offers a variety of VIP options that will make you feel like royalty. Need more information? Help booking your bottle service? Let us know. Whether you're a first-time visitor, or Hollywood nightlife veteran, we'd love to hear from you. Need help selecting the right party? Try our personalized concierge service. Contact us at +1 (310) 749-9029 or enter your reservation info below. Please be as detailed as possible about your event. We will reach out to you shortly. If you do not hear from us within 24 hrs, or if you desire a quicker response, please send us a text message at +1 (310) 749-9029. Want more and get more. Book your party bus LA club package online at www.partybusnightclub.com
---
Create Nightclub
6021 Hollywood Blvd
Los Angeles
,
CA
90028
United States
---
Create Nightclub Fridays
---